Belgian Dressage News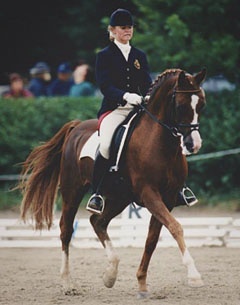 Renowned international FEI Dressage Pony and former European Pony Champion Fuego has passed away at the blessed age of 33. Fuego was one of the most successful ponies ever in Europe raking in eight medals at the European Pony Championships.
The Dutch NRPS pony gelding by Ismael ox made his claim to fame when became the 1991 European Pony Championship under the Dutch Bianca Westerhof. The Dutch duo won twice European team silver and one individual bronze alongside that gold medal.
Immediately after the competition the liver chestnut Arbian type-like pony sold to Belgium and continued his career under the talented Véronique de Baecker. "We first noticed Fuego at an international show in St Genesius Rhode in Belgium," De Baecker told Eurodressage. "Even though it was raining cats and dogs he still stood out with his beautiful expression. One year later, in 1999, we were able to buy Fuego. He was 11 years old at the time."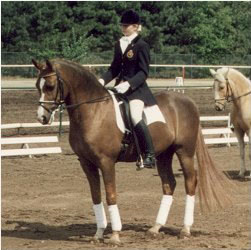 De Baecker and Fuego made an instant connection and were, at the time, a pair that were in a different league. The quality of the pony far exceeded other international ponies at the time and De Baecker was pretty much invincible. "The first feeling I got on the back of this drop dead gorgeous pony was that he felt like an airplane," De Baecker reminisced. "He always gave my highlights in my show career."
Under the Belgian rider, Fuego finished fifth at the 1993 European Championships. One year later, at the 1994 European Pony Championships on home turf in Hasselt, they earned team and individual silver. At the 1995 European Championships in Achselschwang (GER) they got individual bronze and team silver. They also won the CDI-P in Beek twice and were four times Belgian Pony Champion.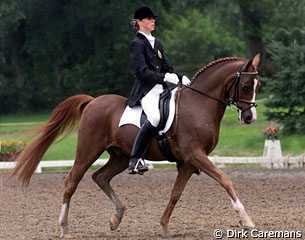 The very typey and expressive Fuego stayed in Veronique's ownership until he died. While he was eye candy in the show ring, De Baecker admits he wasn't the cuddliest pony. "Fuego wasn't really a teddy bear. He was a bit phlegmatic but never naughty nor mean. He hated vets and clearly showed that in the stable," she said. He was a textbook example of a pony willing to work. "He was always willing. He has pezzazz, moved like the best and above all was very controlled and highly rideable."
De Baecker and Fuego were trained by Hubert Rex their entire career together. After Veronique moved to junior rider's level with Herrzas,  Julie Verstraeten took over the ride on the liver chestnut gelding followed by Leen Cools, who rode on the Belgian team at the 2000 European Pony Championships. Fuego competed until he was 19 and was then retired to the field.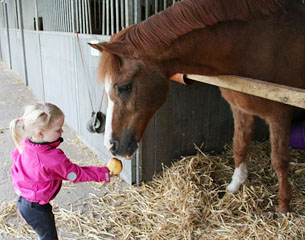 Fuego spent his retirement in good health. "He kept his beautiful appearance and still walked in-hand every day for half an hour. On some days he still behaved like a young foal. He was treated like a champion until his last day."
Fuego was euthanized on 30 August at age 33. "It was a very hard decision to say goodbye to this champion" De Baecker told Eurodressage. "He meant the end of an unforgettable chapter in my life. I'm very grateful to him."
The 34-year old Veronique de Baecker is now mom to two children, the 2-year old Marie and the July born baby Emilie. She still rides ocassionally.
Photos © Astrid Appels - Dirk Caremans - private
Related Links
Former European Pony Champion Fuego Offered For Lease
Rider in the Spotlight: Belgian Young Rider Veronique de Baecker
Scores: 2000 European Pony Championships
Volders, Verreet and De Baecker on top at 1999 CDI Mechelen
Scores: 1994 European Pony Championships
Scores: 1993 European Pony Championships