Dutch Dressage News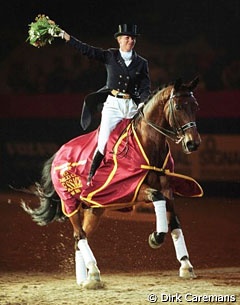 Anky van Grunsven's Olympic gold medal winning horse Bonfire has passed away at the graceful age of 30. The bay Oldenburg gelding, who launched Van Grunsven into stardom, suffered from Cushings disease and was euthanized today.
Van Grunsven announced the sad news today on Twitter with the words "my heart is broken, Bonfire died."
Bonfire was born on 21 March 1983. Bred by Karl Bernd Westerholt in Germany, the Oldenburg gelding was by Welt As out of Warine (by Praefectus xx). Anky's father Wim van Grunsven discovered the horse as a 2,5 year old.
Anky and Bonfire became Dutch sport legends when they won Olympic individual gold at the 2000 Olympic Games in Sydney, Australia. The pair was already member of the Dutch Olympic team in 1992 (team silver) and 1996 (team silver, individual silver).  Anky and Bonfire won kur gold and team silver at the 1994 World Equestrian Games, team and individual silver at the 1998 World Equestrian Games and they were four times the World Cup champion (1995, 1996, 1999, 2000). In addition they won team and individual silver at the 1997 European Championships and team silver and individual gold at the 1999 European Championships.
Van Grunsven retired Bonfire in 2002 at the CDI-W 's Hertogenbosch, which Anky always considered as her "home show".
Bonfire enjoyed a long and healthy retirement in the field at Anky's yard in Erp, The Netherlands. In March the gelding celebrated his 30th birthday. Only very slowly he started suffering from Cushings disease, which was kept well under control. A few weeks ago he started to show signs of laminitis, which first improved but then the last few days worsened rapidly. He was humanely put down on Monday 28 October 2013.
Photos © Dirk Caremans
Related Links
Eurodressage Photo Database: Bonfire
Bye Bye Bonfire - Bonfire Retired at 2002 World Cup Final
Gestion Bonfire Retires (Again) at Indoor Brabant
Bonfire to Retire
Anky Van Grunsven Talks About Bonfire
Dressage: Anky and Bonfire Out in a Blaze of Gold at the 2000 Olympics
Bonfire wins 1999 Amsterdam World Cup Qualifier with Royal 82.29%
Anky van Grunsven Wins Tenth National Title at 2000 Dutch Dressage Championships
Anky Van Grunsven, Supreme Goddess of the Kur, Wins 2000 World Cup Finals
Anky van Grunsven Makes Dream Come True: 1999 European Champion
Van Grunsven Wins 1998 Dutch Dressage Championships in Nijmeghen
Anky van Grunsven Shows her Collection of Horses