Swiss Dressage News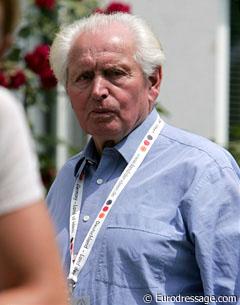 Legendary classical dressage trainer Georg Wahl passed away in his home in Kirchberg, Switzerland on 4 November 2013. Wahl was 93 years old and was hospitalized with pneumonia last month.
Georg Wahl is one of the last surviving "old" masters of classical dressage. He was also the last students from the Podhajsky era.
Wahl was born in Oberschlesien, Poland, and joined the German cavalry as a 17-year old. He was discovered by Colonel Podhajsky who took him to the Spanish Riding School in Vienna where he was trained as a rider from 1940 to 1951. Wahl then travelled to Switzerland to work for Fredy Knie senior at the famous Circus Knie. He also taught at the Riding Club of Berne, where he scouted his best pupil ever, the then 13-year old Christine Stückelberger. In 1967 Hans Handler invited Wahl to return to the Spanish Riding School. Wahl took on the job and he worked there as Oberbereiter till 1971.
Georg Wahl is well known for being the trainer of multiple Olympic champion Christine Stückelberger who has been under his tutelage for 50
years. Under Wahl's supervision Stuckelberger was 1975 and 1977 European Champion, 1976 Olympic champion and 1978 World Champion.
Wahl continued to be consulted by the Spanish Riding School throughout his life.
"I will always remember him as the generous person he was to people interested in dressage. He really devoted himself to you, when he felt interest. He did not ask if you have money or not or what you are able to do. He took everybody with an interest very seriously. He was very patient and he did not laugh at you if you had naive questions. He was so different to so many trainers today," a Wahl admirer and close friend told Eurodressage.
Photo © Astrid Appels
Related Links
Georg Wahl to Celebrate His 90th Birthday
George Wahl, 80 years old
Training With a Master: Georg Wahl
Georg Wahl Again Clinicing at De Steppe
Georg Wahl Clinics with Enthusiasm in Belgium
George Wahl's end of the year 1999 Clinic