2014 CDI Compiegne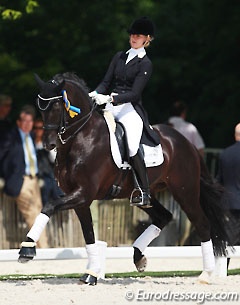 Young riders Denise Nekeman and Alexa Fairchild stamped their authority with three victories in the Young Riders division at the 2014 CDI Compiegne on 30 May - 1 June 2014. Holland's Denise Nekeman and her 8-year old stallion Boston took the team and kur tests, with Belgium's Alexa Fairchild and her 14-year old KWPN gelding Timor (by Matterhorn) rising to take the top spot in the individual.
Denise told Eurodressage that the Compiegne CDI is a great show, where everything is nicely arranged with arenas that have good footing. "There are lots of training arenas so it never feels crowded. Plus we had great weather this weekend," she told Eurodressage.
Nekeman and Boston (by Johnson x Quattro) won the team championship test with 71.447% and the kur with 76.833%. Denise dropped to third in the individual after a slip up in the rein-back. "My horse is really amazing. He has a super character and really good gaits. The first day we were pleased with the test, I didn't have any big mistakes. However in the individual test I forgot to halt and rein back 5 steps. I was enjoying the ride and just forgot. We only rode the individual test three times so we didn't have the routine we have in the team test."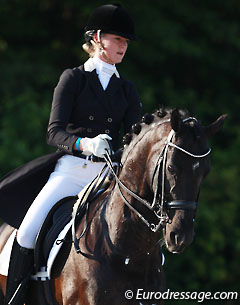 Feeling her horse was a little bit tense in the kur, Denise knows Boston gets hot because of the music. Still, the compact black stallion keeps listening to her despite his tension. "Plus, because he gets hot he's even more expressive than in the normal tests and so I got really high technical scores, one judge gave me 78,500% for technical," she added.
Working with coach Hans Peter Minderhoud, Denise focuses on the basics and on making the test more fluent and easy going. Her father Lens Nekeman acquired Boston as a foal at the Prinsjesdagveiling in Ermelo. Denise started riding him when the stallion was three.
"We went to the Pavo Cup and when he was 5 he made it to the World Championships for Young Horses in Verden with Hans Peter," Nekeman explained.
The 20-year old Denise is studying to become a dentist and is happy that her university helps a lot in her efforts to combine her dressage and dentistry lives. "I hope to achieve a place in the team for the European Young Riders Championships but you never know what will happen," said Denise.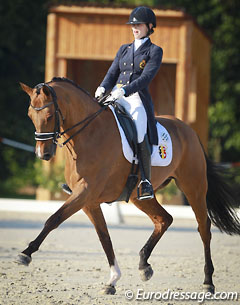 Also thrilled with her results in Compiègne, Alexa Fairchild has been steadily improving over the last month upon her return to the Young Rider division. She achieved a personal best score of 73,289% and won the individual test. 
"I was in Saumur, Kapellen and finally in Compiègne and since September, I have also been riding in the U25 GP division," Fairchild explained.  "It went very well at the CDI and I had a very good feeling the first two days. In the kur, he was a little more stressed as there was more electricity around the arena and this led to mistakes."
The Brussels based Fairchild explained that she aims to do a truly faultless test. "I feel I achieved that in the individual test," she said.
Trained by Virginie Deltour in Braine l'Alleud at her stables D2VF, Alexa has been with the same coach for about nine years. She is a member of the VLP Talent Team and has been taking part in regular clinics with Anky van Grunsven.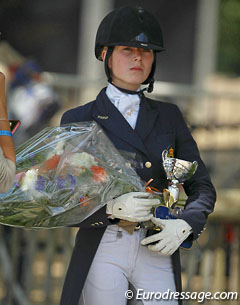 Her bright bay Dutch gelding Timor has a very sweet personality, he is willing to work and is always with her.  "We bought him in Holland about a year and a half ago after Virginie found him on the internet," Alexa explained. "With Timor, we are working on his tempi changes in order to make them more fluid and expressive. We had previously workied on his halts which have already really improved."

The 19-year old Alexa has been enjoying her gap year and chose to focus on her riding but will start studying fashion in London in the fall. "I aim to be in the final at the European Championships in Arezzo and to get a team medal, if I am selected on the team," she said. "My goal is to return to the U25 GP division with Timor in the fall and we will see whether we stay in the Young Rider division with Totall Tip Top or go to the small tour with him."
Text by Sarah Warne
Photos © Astrid Appels - NO REPRODUCTION ALLOWED (NO FACEBOOK!! If you want to use the photo, buy it)
Eurodressage's Astrid Appels was on the scene taking photos of (pretty much) ALL riders at the CDI Compiegne. Contact us if you are interested in photo prints, collages or albums.
Related Links
Scores 2014 CDI Compiegne
Photo Report: Hughes and Sherriff Make 2014 CDI Compiegne Big Tour British Affair