Oldenburg Breeding News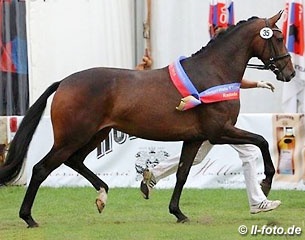 Funf Sterne became the champion mare at the 2014 Oldenburg Elite Mare Show in Rastede, Germany, on 24 July 2014, but the event was actually a major triumph for the 8-year old sire Furstenball, who had 13 daughters selected for the show and no less than 5 for the brilliant ring, including the champion and reserve champion.
The 3-year old mare Funf Sterne (by Furstenball out of Remember (by Rubin Royal x Donnerschlag)) is bred by Carsten Middendorf and owned by Rolf Moormann. She was the high scorer at the mare performance testing with a total of 8.67 and received a 10 for trot. She was named champion of the Elite Mare show and will be offered for sale at the 2014 Oldenburg Autumn Elite Auction in Vechta.
The reserve champion was the 3-year old Amelie (by Furstenball out of Auguste Victoria (by Sandro Hit x Plaisir d'Amour). Bred and owned by Britta Budeus-Wiegert, Amelie moved very well in Rastede. Her dam is the full sister to licensed stallions San Amour I and II.
The bronze medal went to 3-year old Calla (by Rock Forever out of C'Est Bon (by Furst Heinrich x Rubinstein), bred by Paul Wendeln. Calla is a full sister to the Bundeschampion Cindy and a half sister to the licensed stallion Sir Heinrich.
Photo © LL-foto
Results - 2014 Oldenburg Elite Mare Show - Brilliant Ring
1. Funf Sterne (by Furstenball x Rubin Royal) - Owner Rolf Moormann - Breeder: Carsten Middendorf
2. Amelie (by Furstenball x Sandro Hit) - Owner and Breeder: Britta Budeus Wiegert
3. Calla (by Rock Forever x Furst Heinrich) - Owner and Breeder: Paul Wendeln
4. Egalina de Luxe (by San Amour x Depardieu) - Owner and Breeder: Ulrike Finck
5. Fame W (by Furstenball x Lauries Crusador xx) - Owner: Thomas Wimpissinger - Breeder: Klaus Gustenberg
6. O2 (by Belissimo M x Gribaldi) - Owner and Breeder: Kristine Munch Nielsen
7. Fiscarya (by Furstenball x His Highness) - Owner and Breeder: Erwin Schaefer
8. Goldi (by Romanov x Aquilino) - Owner and Breeder: Paul Wendeln
9. Furstenqueen (by Furstenball x Jazzman) - Owner and Breeder: Quadriga
10. Wega Contessa (by Floriscount x Laurentio) - Owner and Breeder: Mischael Eser
11. Bonita (by Ampere x Donnerschwee) - Owner and Breeder: Gerd Sosath
12. Heide Queen (by Bordeaux x De Niro) - Owner and Breeder: JOhanne Gerdes
13. Marguritte (by Furst Romancier x Sir Donnerhall) - Owner and Breeder: Lone Boegh Henriksen
Related Links
Calamity Jane, Champion of the 2013 Oldenburg Elite Mare Show in Rastede
Fasine, Champion of the 2012 Oldenburg Elite Mare Show in Rastede
Fire and Ice Proclaimed 2011 Oldenburg Elite Mare Champion in Rastede
Fifty Fifty, Champion of the 2010 Oldenburg Elite Mare Show in Rastede
Carlotta Wins 2009 Oldenburg Elite Mare Show in Rastede
Weihegold Wins 2008 Oldenburg Elite Mare Show in Rastede
Rebelle Wins 2007 Oldenburg Elite Mare Show in Rastede 
Silberaster Wins 2006 Oldenburg Elite Mare Show in Rastede 
Loxana, Dancing Diamond at 2005 Oldenburg Mare Show in Rastede 
Love Story V, Champion of the 2004 Oldenburg Elite Mare Show in Rastede 
Fabina, Rastede Oldenburg Champion 2003 
1999 Oldenburger Champion Mare Lady Madonna sold to the USA 
Donna Doria, the 2000 Oldenburg Champion Mare at Radstede