A Walk on the Premises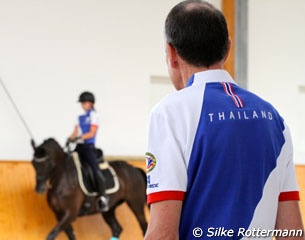 In preparation of the 2014 Asian Games in Incheon, South Korea, on 19 September - 4 October 4, four Asian dressage team candidates travelled to Saumur, France, in preparation of the event. They are proof of the fact that dressage has no boundaries. For decades riders from far away regions are seeking the help of renowned European trainers while the FEI waves the banner of "globality" and tries to spread the discipline all over the globe.
It all began with developing programmes such as The Hague Cup in the 1980s, which has developed into the FEI World Challenge. At the time these were competitions from L- to PSG-level, depending on the level of dressage practiced in those countries. Renowned FEI-judges travel to Asia, Australasia and Africa to judge these classes and provide lessons and video analyses to these riders who are eager to learn and grow in the sport.
Due to financial reasons or personal commitments it seemed impossible for most riders to come to the heart of the sport, Europe. Whereas countries like Australia, New Zealand and even South Korea have now developed into active dressage nations, other Asian countries are still making huge efforts to promote the sport and improve the level. One of these nations is Thailand.
The lush tropical, South East Asian country has hosted regular clinics with renowned European experts for almost twenty years. Now a whole team has come over to Europe to train and prepare for the Asian Games, three of those are stationed in Saumur, France.  Eurodressage reporter Silke Rottermann visited part of that team, which turned out to be a small group of dedicated riders.
From Bangkok to Saumur

At the outskirts of Saumur, close to the National Riding School, the estate "Saumur Dressage" is located. This brand-new gorgeous facility in Saint Hilaire-Saint Florent overlooks a wide valley with horse pastures. Here long-time Cadre Noir member Alain François and his partner, German Jörg Heinrich, have created a small, but perfectly designed yard with ten stables, a fantastic bright indoor arena and a huge horse-walker, complemented by several grass paddocks nearby.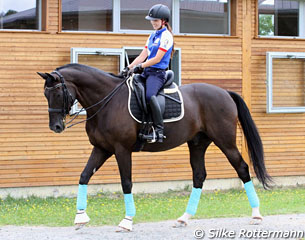 In this peaceful three Thai riders have taken permanent residence since April 2014 to improve their riding skills and gain valuable show experience at a few French CDI's as an effective preparation for the Asian Games. The latter are the most important opportunity for them to showcase their improvement and to assess their position amongst Asian nations in the sport of dressage.
The Thai troop differs in age and experience, but is uniform in their passion and dedication to a sport which not yet very well-known in their home-country. There's HRH Princess Sirivannavari Mahidol (daughter of Thailand's Crown Prince), the barely 17-year-old Ravisara Wachakorn (Sea) and at age 35 team 'veteran' Chalermcharn Yotviriyapanit (Thor).
All three came over in the spring of 2014 after organizing their lives back home and after some of the horses underwent a grueling 3-month quarantine to enter Europe. The fourth selected team rider, the experienced Pak Pantapa, who was already double medalist at the 2011 South East Asian Games, stayed in The Netherlands for her preparation trainining with Kim van den Velden due to family reasons. Her grey confirmed PSG horse is Tayutin, a 14-year-old KWPN gelding by D-Day x Caritas. The three Saumur based riders came from Thailand's bustling capital of Bangkok to the southwest of France.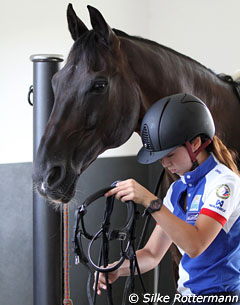 "In April Colonel Sam, general secretary of the Thai equestrian federation and an international three-day-event-rider, came to me and asked me if I am prepared to train Her Royal Highness," said Alain François in perfect English. Mahidol already got acquainted with Saumur earlier when she took part in one of their official training courses for foreign riders at the National Riding School (ENE). "A little later the Colonel came back with the request to prepare the whole team for the Asian Games, an offer I happily accepted."
The very experienced French trainer had been member of the prestigious Cadre Noir from 1975 to 1996 and is a regular international clinician. Also the upcoming new écuyer-en-chef, Patrick Tesserenc, has studied under François for a year when he became a riding instructor.
Quiet and empathetic, the Frenchman knows exactly what it needs to give each of his Asian students an individual treatment  which they appreciate. The pronunciation of the traditional Thai names is more challenging to him. "That is why they all have short forms which are easier for us,"  François added.
Three of the Thai Team
HRH Sirvannavari Mahidol, Princess of Thailand, started her riding career as a child in Bangkok. "I followed in the foot-step of my sister who had always loved horses and is a good jumping rider," she said.  Riding just for fun in her early years, Mahidol stopped riding and began playing badminton, which is one of the most popular sports in her home country. She became one of the best female players and medalist on the national team at the Asian championships.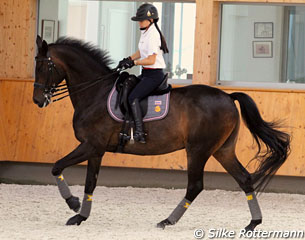 Three years ago she decided to pick up riding again and within a short time proved her talent by climbing to S-level, at the same time fulfilling numerous obligations for her country. She is in charge of the traditional "Royal Stable Unit" in Bangkok where approximately 18 horses are kept, mainly to be used for parades. Moreover she owns a renowned fashion company with her own label in Thailand after having successfully graduated from Paris' leading Design&Fashion School. Her outstanding creations were already twice featured during the world famous Paris Fashion Week.
On recommendation of Colonel Sam, Mahidol went to the National Riding School (ENE) of Saumur in 2012-2013 to train jumping and dressage in the international training course for riding instructors (FIME). Owning a jumper in Europe she also competes in jumping classes, but stated that what she loves about dressage is that "it is so academic. It is the basis of every riding and has something of an art as it is so elegant."
Her equine partner for the upcoming Asian Games is Prince Charming. Mahidol, who has a very good position, makes an eye-catching pair on her gentle Hanoverian gelding by Prince Thatch xx x World Cup I. One can hardly believe what the rider has achieved in just three years of practicing the discipline. Incheon will be her first international championships in the saddle, but not her first major competition at all. She can fall back on some valuable experience gained as an international sportswoman in Badminton.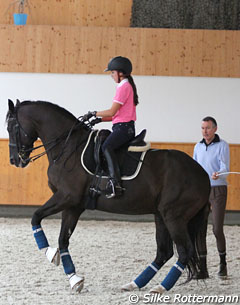 The youngest, Ravisara Wachakorn (short: Sea), is barely 17. The petite teenager has left her home country with her mother in attendance. Quietly grooming her 15-year-old Sir Carlos, she tells that it was more a coincidence than anything else that she turned to dressage. "At the beginning I only wanted to ride. There are not many facilities for that in Bangkok, so I landed in a dressage stable run by my first trainer, Suwat Boonlve," Sea explained. "Two years ago my family was looking for a schoolmaster for me, so we went to Holland and found Carlos there." The patient KWPN gelding by Welt Hit II was 13 then, a former Young Riders horse and trained to Inter I-level. "I am aware that I am here for learning and doing my best. I know that I will not sweep the boards of the CDI shows here, but I want to give it my best and collect many experiences which will be useful later on," Sea added. She might be the least experienced and by far the youngest, but her talent and feeling for the horses is undeniably obvious.
Chalermcharn Yotviriyapanit (short "Thor" which means "the second son") is by far the most experienced on the team. At just 35 he had debuted in his country's team already back in 1995 for the South East Asian Games, "back then on borrowed horses and on M- level." He came back with the gold medal in the team. Since then not only the level of competition at the most important Asian events, the SEA Games and the Asian Games, have raised enormously, as they are noow held on PSG and Inter I-level, but also Thor's own riding has improved.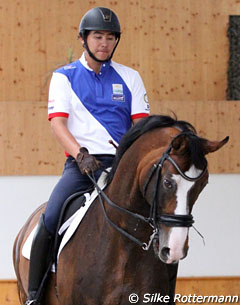 "My mother was a pleasure rider and she took me to the stable already as a toddler. I could only start riding myself when I was about 12 because in the military stables my mum was riding there were no ponies during that time and only as a bigger child I was able to mount the horses there." The man that inspired him to turn to dressage was the late Swiss O-judge Wolfgang Niggli, chair of the FEI dressage-committee for many years. "Niggli came to Thailand in the 1990s to promote dressage and he saw me ride and recommended that I should go to Switzerland to improve."
When his friends at school went on holidays, Thor has his very own work-holiday in the tiny village of Bäretswil in Switzerland, training with Swiss Olympian Hans Staub twice a year. "Before the Asian Games in 1998 in my home-town of Bangkok sponsors offered to buy me a horse to ride in the Games and for that purpose I was sent to Blue Hors Stud in Denmark. I had the unique opportunity to ride with Lars Petersen during that time. He gave me the honour of riding Silvermoon and I saw Don Schufro just arrive", Thor reminisced with fondness. "We also found the right horse there, Fernando. As part of the sponsorship deal he was sold on to the USA after the Games, but he is still doing well in retirement now." Whereas the SEA Games only cover the Southeast Asian area, the Asian Games are the ultimate challenge for the countries practicing dressage on the world's biggest continent. Thor was lucky to take part two times so far, on his home-turf in Bangkok in 1998 where he won team-bronze and placed 6th individually and in Korea in 2002 missing out a medal with a 4th team place. "After that I stopped competing and studied. I launched my own company in 2010 and since then have trained once a year for about a month with Hans Staub, mainly in September."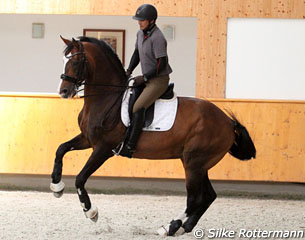 Riders from Thailand, like other Asian countries, have to overcome many obstacles to be competitive. Buying horses in Europe and bringing them over cost decent sums of money, let alone the quarantine regulations. "It is a European sport, no doubt," Thor remarked, "we have about 50 riding clubs in my country, but we almost have no competition scene and only few opportunities to start at higher level. The highest classes are PSG and there are about 5 each year with approximately 10 starters."
When preparing for important championships it is almost indispensable to come over to Europe for a training period. For the current Thai team it began this spring. Before Thor could join HRH Sirivannavari and Sea in Saumur, he had to get acquainted with his mount for this year's Games. "Mostly I have to rely on chance rides and even though I am grateful to be given these, it breaks my heart parting with the horses afterwards," he admitted. This year Thor's partner is the appropriately named 16-year-old licensed Hanoverian stallion Chance (by Cashman x World Cup I). The strikingly coloured bay with the expressive big eyes formerly belonged to Estonian international rider Grete Barake. "I tried Chance in April and then we came here." No doubt Chance is a horse that can read and write, having also competed up to S-level in jumping.
Praise for French Equitation
Experienced trainer Alain François, whose calm attentive attitude to his students, is much appreciated by the Thai. "Alain treats the horses with much respect. He is very calm and tries to explain everything to us," Thor stated.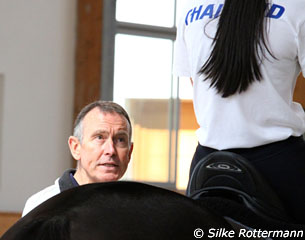 Actually the very tall Frenchman, mostly accompanied by the small hairy Spitz dog called Far West, knows his job. He is well aware that technical correct riding brings valuable marks and asks his Asian students to ride parts of the programme to get more routine; also the walk-tour which is something often neglected. All horses show exceptionally relaxed walk extensions with an exemplary stretching of the top-line and collect back into the contact smoothly.
"Believe me, this is the result of quite some work. One of the horses did only show short scratchy steps and wouldn't stretch out at all when he arrived, the other started to piaffe as soon as the rider took only the slightest contact. Now they learnt to follow the hands of the rider and walk through their whole body, coming out of the shoulders," François explained. Above all technical correctness Alain never forgets that good dressage riding is much more, first and foremost the attitude in which a horse executes the movements: maintaining impulsion at all times and getting the horse light and up in the bridle.
So even if a movement looks rather well done, he will insist of having it repeated when the attitude of the horse was not sufficient.
"Lighter in the hands, you have to give more with your hands,", was an often heard indication. The term "command" might not fit the style in which François teaches. Not once did a louder word slip over his lips, everything was explained in the calmest of manners. Even when helping the riders getting more engagement of the hindquarters when collecting the horses as preparation for the half canter-pirouettes along the wall, it's nothing more than slight taps with the long whip. "I hate loudness. I cannot work like this. People tend to get nervous and tense when trainers are shouting and somebody in that state will not learn anything," said the trainer.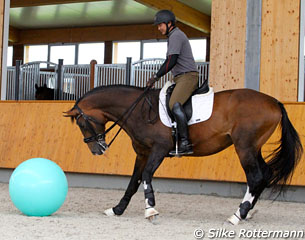 The experienced coach, who got a very classical education in the Cadre Noir of the 1970s, is not timid in using unconventional methods to succeed. Scared of a big green gymnastic ball in the corner of the arena, Chance gave Thor a hard time when they neared the object. Instead of removing the ball with which Francois' Grand Prix horse Dinky Toy loves to play 'football,' it was rolled in the middle of the arena. It took some time and patient persuasion to get the snorting stallion near the object of horror, but Alain was persistent that Thor didn't let his horse escape. He trotted the horse in a circle around the ball until Chance was used to it and even sniffed at it calmly in the end. Not only did the horse learn an important lesson that way, but getting him accustomed to the object also helped to do some lateral work around it on a circle.
Even though the Thai riders might not be at the top of the board right now, it is important for them to contest internationally and get experience on the European circuit. The CDI at Vierzon and Deauville in July helped in that regard, even though none returned with a rosette. "It is also a matter of having a name internationally or not, of course. Unknown riders have to work twice as hard to get the marks, but this is dressage," Alain Francois said as a matter-of-fact.
The Thai riders take it philosophically. For them it is the time to learn, see and draw their conclusions, not to blaze the scene here in Europe. In the end it is only the road to the aim for which they sacrificed so much already. At the 2014 Asian Games they will face strong opposition from nations like Japan and Korea, which have already proven themselves at Olympic level. Never mind, the journey is the reward, and there is nothing more true for the sport of dressage.
Text and Photos by Silke Rottermann © Eurodressage
Related Links
Scores: 2013 South East Asian Games
Scores: 2011 South East Asian Games
Team Indonesia and Gading Go for Gold at 2011 South East Asian Games
Asian Dressage Riders Set New Standards
Scores: 2014 CDI Deauville - Scores: 2014 CDI Vierzon
Historic Asia, Far East and Oceania Collaboration on Movement of Sport Horses