New Zealand YDH Training Trip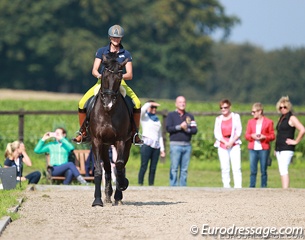 Eight New Zealand and Australian judges have been on an in-depth Young Dressage Horse Training Trip in Europe in pursuit of knowledge. These "Down Under dressage dames" attended the 2014 World Equestrian Games in Caen, France, and travelled around Germany visiting breeders, young horse trainers, Grand Prix riders as well as the 2014 Bundeschampionate to immerse themselves in the horse culture.
"After a recent trip to Australia to take part in their Young Dressage Horse programme for judges, I became very aware of the importance of the further development, focus and commitment to the YDH programme in New Zealand and how important it was for NZ judges to have education about Young dressage horses at the highest level," Linda Warren-Davey told Eurodressage. "And whereelse but Germany, the Capital of Dressage."
Warren-Davey originally approached Alison French, an organiser of boutique tours and horse buying trips to Germany, to put together a Young Dressage Horse training trip so she could further develop her judging skills at both young horse and Grand Prix level to help her towards becoming an FEI judge in the future. "We then thought it would be an ideal opportunity for other interested judges, and it grew from there," she added.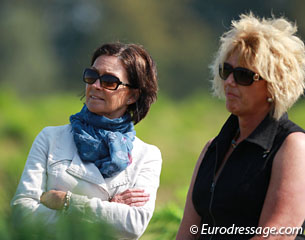 Five New Zealand and three Australian judges made up the group, including seasoned Australian judge Jane Ventura. Over seven days they visited the Oldenburg Breeding Centre in Vechta, where the team of the Verband gave them a presentation about the history of the Oldenburg breed as well as disclosed its goals and objectives. It ended with a tour of the facilities, where the Stallion Licensing, Mare Performance Testing and Elite Auctions are held
Then continued on a private tour of the impressive Dressage Horse Performance Centre and stallion station at Lodbergen and watched some training of their young and more established stallions. They also visited young horse trainer Josef Freese in Hogenbogen and observed some in-hand and ridden training of young horses.
The group of enthusiastic ladies were also welcomed at Italian Grand Prix rider Silvia Rizzo's Hof Marabunta in Bissendorf, Germany, in the heart of Oldenburg country. "I had become friends with Silvia Rizzo through her website, so it was too good an opportunity to miss when Silvia invited me to visit and observe the training of her young dressage horses and her Grand Prix horse. And what a memorable day we all had," said Warren-Davey.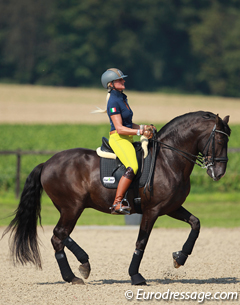 One of the highlights of the Euro-tour was the 2014 Bundeschampionate in Warendorf. German judge and young horse specialist Christoph Hess was instrumental in organising formal training there for the Down Under group. He provided an interpreter, who was also a Grand Prix judge.
"He led discussion on the formalities of judging young horses over the three days we were there. Plus after the completion of the final young dressage horse classes, time had been set aside for us to discuss the class with the judges from each class. This was an invaluable experience," Linda explained.
Hess also organised for them attend the German Federation's annual judges' seminar at the show, where they could shadow-judge some of the final classes, after which the marks were discussed with the judges.
"The highlight for the group was being at the Bundeschampionate and seeing such top quality young horses trained and ridden at a high level, in an electric atmosphere, by many super riders," she explained. "For me personally it was obtaining an insight into the dressage world in Germany; something we only hear and read about from far away New Zealand, and being a part of it for a short time."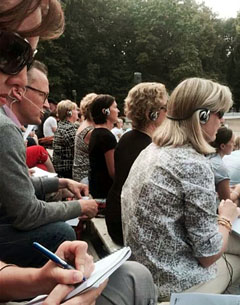 Warren-Davey stayed on two extra weeks to attend two dressage shows and be part of the judging team on the Prix St Georges class at the regional show at Anakenenhof as well as attended the show at Klosterhof Medingen, where she undertook more training at Grand Prix level.
"The friendliness and helpfulness toward me personally and the group, from everyone we have met has been overwhelming," Warren-Davey admitted. "It goes to show what a small family the horse world is."
Photos © Astrid Appels - private
Related Links
A Royal Win for Bill Noble at the 2014 New Zealand Horse of the Year Show
Catherine West Wins 2014 New Zealand Young Riders Championships
Dressage New Zealand Announces 2014 Senior and Young Rider Squad Selection Criteria