A Walk on the Premises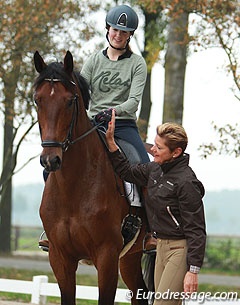 Coby and Marlies van Baalen's "Dressage Stable Van Baalen" is nested in the flat, rural countryside in Brakel, The Netherlands, located in between the rivers Maas and Waal. Based on fertile farmer land with fields stretching as far as eyes can reach, this quiet dressage yard has been a centre for cultivating young dressage talent from grassroots level up to Grand Prix. The training centre was proclaimed "Dutch Equestrian Entrepreneur of the Year" at the 2014 Horse Event in Deurne, The Netherlands, rewarding Team Van Baalen for its professional and successful management of their thriving dressage business.
Dressage Stable Van Baalen is run by Dutch Olympic team riders Coby van Baalen (57) and her daughter Marlies (34) supported by a team of highly enthusiastic staff members of which the majority has been nurtured and trained as riders from a young age and are now integrated into the company. The office is part-time run by 2013 Dutch Young Rider team medalist Debora Pijpers, alongside Laura Meyer, while Marlies is in charge of the accounting.  The young horse training is headed by Lisanne der Nederlanden and Coby's cousin Marrigje van Baalen, an U25 Grand Prix rider and former Dutch youth team medalist, is in charge of the general stable management, training of the interns, and youth coaching abroad. Her student Clarissa Stickland became the 2013 and 2014 French Pony Champion and was a kur finalist at the 2014 European Pony Championships.
"We have a very complete team here which complements each other. The key is to find the right people for the ideas that you have," Coby van Baalen told Eurodressage about the efficient management system at her yard.
From Dairy to Dressage
Married to dairy farmer Arie van Baalen, Coby Dorresteijn began her professional equestrian career in 1978 training dressage horses with all kinds of backgrounds; naughty ponies, harnass horses, young stallions and a few dealing horses. With 150 dairy cows filling majority of the farm, a few stalls were reserved for brood mares.
"Arie and I lived in a caravan here at the dairy farm when it all started," Coby explained. "I began riding dressage horses round the time dressage was gaining ground in Holland and we were able to ride on that growing wave of popularity. We slowly started developing that small breeding section of the farm step by step."
Coby's dressage career moved into a slip stream when she started riding licensed stallions, such as Ulft and Zonneglans, for potato farmer and stallion owner Henk van Tuyl. "He had an indoor arena and I was able to gain my first successes with his horses," Coby reminisced. "My first own major dressage horse was Natrial (by First Trial xx) with whom I became Dutch Small Tour Champion."
Coby had ambitions in the sport and after the successes with Natrial, who injured himself in an accident, Coby's second star horse Biraldo (by Rinaldo x Exilio xx) was the first with which she reached Grand Prix. He had all the talent and potential for the big time, but he got sold. At the time Coby was training with Henk van Bergen and Jo Rutten, but in 1989 she had moved to Johann Hinnemann in Germany to get tutored.
"I had really hoped to make it with Biraldo," Coby remembered, "but he was sold to Christilot Boylen-Hanson who rode him in the 1992 Barcelona Olympics. I had a contract with the owner and the money I got was important, but of course I would have preferred to ride the Olympics myself."
Third Time's a Charm
For Coby third time was a charm when the Dutch warmblood stallion Ferro came her way. He was the golden ticket to stardom as the majestic black stallion took Coby to the 2000 Olympic Games in Sydney, where they won team silver and placed fifth individually, after finishing third in the Grand Prix. They also earned team silver at the 1999 European Championships in Arnheim and finished sixth at the 2002 World Equestrian Games in Jerez de la Frontero, alongside booking numerous top placings and victories at international dressage events.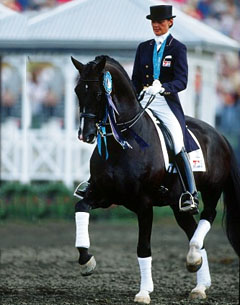 "Ferro was an incredible chapter in my life. I learnt so much from him and what it is like to ride at the top," Coby explained. "It was a very taxing time in my life. We were fully developing the dressage business at home, we had two teenagers going to school and I was working on the yard alone; teaching, training. It was a beautiful but heavy time to combine all that," she admitted.
"Ferro also had a double life then: breeding and sport," she added. "The possibilities to ship semen are far superior now and back then most breeders wanted to bring their mares to him instead, which we also had to cope with. However, breeding meant money. Otherwise he would have been sold too. In hindsight, if the management of the breeding part could have been done the way it is handled now I think we would have achieved an individual medal."
Coby's partnership with Ferro came to an unfortunate and abrupt end in 2002. "I try not to look back on it. I just stay positive and continue to look at the future," Coby commented on parting ways with Ferro.
Marlies van Baalen in Her Footsteps
Focusing on the future, Coby concentrated on her daughter Marlies who had gradually become one of Holland's most successful young dressage riders.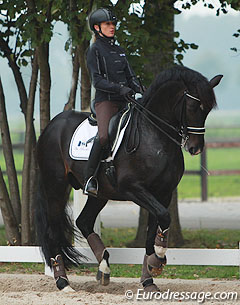 Aboard the chestnut Dancer she was the 1993 and 1994 Dutch Pony Champion and won team silver and bronze at the European Pony Championships. As a junior she rode Arthur, Finesse, Habibi and Inspekteur claiming the National Junior Champion title in 1996, 1997, and 1998 as well as triple team silver at the Europeans. In 1998 she won individual and team gold at the European Junior Riders Championships with Habibi.  Her career as a Young Rider was equally marvellous with a team gold, silver and bronze medal and an individual bronze in 2000. Aboard the American owned Dutch stallion Idocus (by Equador x Zonneglans), Marlies made her transition to Grand Prix in 2002 and finished fourth with the Dutch team at the 2004 Olympic Games in Athens. She has competed ten horses at Grand Prix level and contested the World Cup Finals four times.
"Marlies had such a glorious time as a youth rider," said Coby. "When she was in her last year at high school she wasn't entirely sure what to do next: study or ride. So she took a gap year as I wanted her to make the decision herself. She went to Johann Hinnemann for a year and then began the courses to become a Bereiter in Warendorf. The day before her final exam she called me and asked for a job in the stable at home next Monday."
Spotting and Developing Talent
It is one thing to train one's own daughter to become a star rider, it is another to do it with students from various backgrounds, non-horsey to horse farm kids, with normal backgrounds as well as a wealthy family backing. Coby's first success' story was Dutch Leida Collins-Strijk who went from groom to an international dressage rider at Van Baalen's.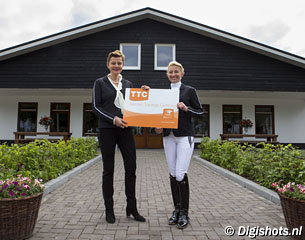 "Leida had such a beautiful style of riding. With her my love for coaching bloomed," Coby admitted. "Through my experience - the good and the bad - I wanted to prepare and spare the young kids for the low points you can suffer in the sport. Talent development, mental and fitness training are now institutionalized in the programmes of the Dutch Equestrian Federation, but we've been doing it here already for twenty years."
Coby followed all the required courses to become a certified coach (ORUN degree) and went to in-depth seminars on socio-psychology. "It's not only about training the kids, but also managing the parents. They are the sponsors and you have to be able to communicate well with them. We do mid-season evaluations and discuss the kids' progress regulary so there are no issues nor sudden disappointments," Coby stated.
Several of Coby's prodigies that have made it to the big time, besides Marlies, are current Grand Prix riders Danielle Heijkoop, Danielle van Mierlo, Marrigje van Baalen, Delphine Meiresonne, Lorraine van den Brink and Mara de Vries. They went from novice to Grand Prix level at Stable Van Baalen. They climbed the ladder gradually and systematically from the youth levels to Under 25 into senior Grand Prix.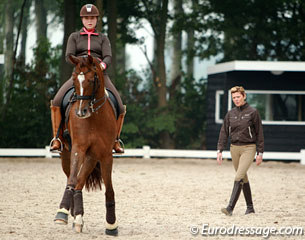 "This is the essence of our business," Coby stated. "We lay a solid foundation and work our way up through the levels, from ponies to junior/young riders, into the Under 25 Grand Prix and then hopefully straight into the senior division. We plan for the long-term and try to teach them as much as possible at an early age so they are well prepared and go for their goals."
Other prime examples of talent spotting from grassroots to the medial podium are European Pony Champions Antoinette te Riele and Sanne Vos. Both achieved individual European gold on their ponies (Golden Girl, Champ of Class) carefully trained under Coby's supervision. Both girls are now successful junior riders. Te Riele will be progressing to the young riders' division in 2015 on the home bred 6-year old Oldenburg Pimpernel (by Weyden x Placido), just like Vos on her mom's home bred Amazone (by United).
"We try to get each rider as far up to the top as possible. Our barn works according to a 'sport piramid'," Coby stated. "The little pony kids look up to the juniors, the juniors to the young riders, the young riders to the Under 25 riders and they to the Grand Prix riders. At each level there is success and disappointment; a failed test, a horse injured, slow progress, problems with weight, etc. The small ones are motivated by the bigger ones and the big ones help the smaller kids, for instance by training their pony once in a while. They mutually help and support one another and only like that can you build a strong foundation to climb your way up."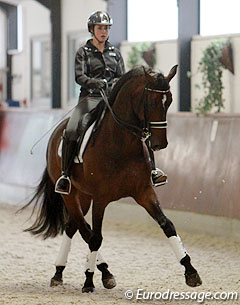 Without the big budget to buy super stars Coby and Marlies established a small but prospering breeding programme at the yard and try to focus much on locally bred horses to bring into the sport. Their young horse rider Lisanne der Nederlanden is currently schooling the talented 3-year old Go Legend (by Totilas x Ferro) as well as the 6-year old Don Johnson (by Johnson x Ferro). Johann Hinnemann's student Stefanie Wolf competed Van Baalen's licensed KWPN stallion Elton John (by Jazz x Fidermark) at the 2014 World Young Horse Championships in Verden, Germany. Coach Hinnemann received the stallion from Coby and Marlies as a present for his 65th birthday. Marrigje is preparing Chigali (by Kigali x Chronos) for the Under 25 division and Marlies has no less than three Grand Prix horses to campaign herself: the more experienced Miciano (by Medici) and the upcoming Grand Prix stars Zigeuner (home bred, by Gribaldi x Ehrentusch) and Zinidi (by Gribaldi x Wisconsin). Marlies revealed that she is also very excited for her new small tour ride, the 8-year old rising star Bløf (by Uptown x Inspekteur).
Coby and Marlies have been matching the right ponies and horses to riders for year. She paired ponies such as European medal winners Power and Paint and Champ of Class to numerous successful riders. Power and Paint won team medals with Marrigje van Baalen, Mara de Vries and Angela Krooswijk. Champ of Class won individual medals with Sanne Vos and Lisanne Zoutendijk. Young riders horse Habibi won trophies with Marlies van Baalen and Delphine Meiresonne and KWPN stallion Inspekteur was a top Young Riders horse for Marlies, Marrigje, Wendy van den Helm, Daniëlle van Aalderen and Kimberley de Jongh.
"We really do our best to make combinations; matching the right rider to the right horse," said Coby. "If you have a horse in training for many years you know which type of rider would fit him. You also know what the goals of the rider are and can find the perfect horse for them." Coby recently sold European Pony champion Champ of Class to German Valentina Pistner and is very hopeful of their future together.

On to the Next Level

In order to fulfil the needs and requirements of an international clientele that seeks total professionalism in training and horse care, Dressage Stable Van Baalen underwent a major overhaul in 2013. The old dairy farm was demolished and replaced by two brand new stable buildings that merge with the existing top notch indoor arena. The construction of the new farm is very well thought through. Due to the financial crisis, Dutch constructors were eager to work and the building of the new farm happened in a swift 8-month period from 1 April 2013 till 1 November 2013.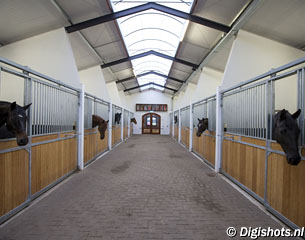 "We had three key concepts in mind when we started constructing the stable: air, light and space," said Coby who has paid attention to the smallest detail with horse welfare always in the back of her mind. "We wanted the stalls to be big, airy, light, roomy for the horses and the building to be cosy and warm. We created short lines so the horses can be brought from the stall to the washing bays and tack place as easily as possible. There is enough room for horses to cross without bumping into one another. There is a separate area for the farrier and vet to treat the horses so they are never in the way of daily business. The route to the indoor arena is fully covered, so when it rains nobody gets wet. These are all small details you think about and by visiting other stables you gather all their best ideas for your own barn."
The stable can board 43 horses and the stalls are 3.5 m x 4 m. There is even is a special pony barn section with equally big stalls but the waterers, feeding bucket and windows installed at pony height. At the far end of the farm is a special building with quarantine stalls, a covered lunging ring and storage space for hay, straw and shavings.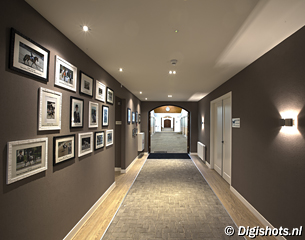 Dressage Stable Van Baalen breathes professionalism with its state of the art interior design. There is a wonderful reception area with wifi where parents can have coffee, work on the computer or read a magazine while their kids are training. For the DVB Days of Business, there is an educational room available with all multimedia, so that even non-horse related companies can have business meetings for up to a 100 people in the warm atmosphere of a dressage stable.
"We have mainstream companies meeting here as well as equestrian companies hosting informational and theoretical evenings. We have friends who take care of all our catering needs. It's the ideal platform to attract new companies into the horse world," Coby explained.
Under age youth riders who stay over for extended training periods are welcomed into three local guest families, where they can enjoy a family atmosphere, home cooked meals and have their washing done, instead of being alone in an apartment or hotel room.
DVB Foundation, Paying it Forward to Disabled Riders

With the yard running like a well oiled machine, Coby and Marlies have been expanding her interests to charity and non-profitable work within the industry. She is member of a local foundation which aims to establish more hacking trails for riders in the area. Marlies is chair of the Athletes' Committee of the Dutch Equestrian Federation and teaches the training sessions for Dutch B-team youth riders in winter.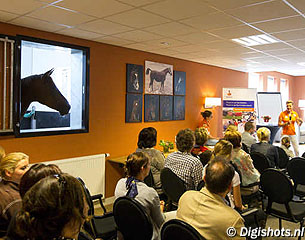 Ten years ago Coby was invited to give a clinic at a stable for disabled riders. It became a turning point in her life.
"When I taught the clinic there, I was so impressed by how much they benefit from interaction with horses, the amount of volunteers dedicating themselves to helping them," said Coby. "I decided then and there that I wanted to do something for the less fortunate. I wanted to mean something more with the network that we had established. We started teaching the volunteers for free and train them on a regular basis in Amsterdam. It was beneficial for both rider and horse. Not only were the riders getting more knowledgeable but the horses were better trained, more obedient, looser and more supple to ride."
During an annual open house day one of the demonstrations featured the disabled riders and guests in the crowd came up to Coby willing to sponsor and raise money for that purpose. To manage the funds are fairly as possible and to develop the initiative, the DVB Foundation was created in 2002. It has a board of directors, several advisors and "buddies" which each take three to four riders under their care. Forty volunteers have joined the foundation and work tirelessly to promote disabled horse riding.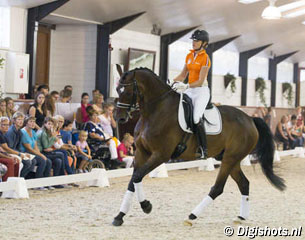 "We help find sponsors for them, raise money by auctioning a breeding. We have boot company Derby design custom made leather boots for the riders," Coby enumerated. "I'm the ambassador of the Prins Willem Alexander stable for the disabled in Amsterdam and for the Bio Manage in Arnheim. Marlies has stepped up as ambassador for "Het Paardrijk" in Berlicum and Marrigje is ambassador of the Princess Maxima Stable in Den Dolder. We are all very committed to the foundation because we see that therapeutically and mentally horses are such an asset to their life."
Coby and Marlies van Baalen's passion to provide a high quality service at their stable is apparent. Whether she is talking about disabled riders, young pony kids, or ambitious youth riders, she wishes them all to succeed and have joy in horses.
"It is great to have all levels of riders here at the stable, to see them work with respect for the horse while gaining in depth knowledge of the sport that is a profit their entire life," said Coby summarizing the stable's goal and motto. "That is what we aim to achieve with each rider."
Photos © Astrid Appels - Leanjo de Koster
Related Links
Heijkoop and Van Baalen Win the 2014 Dutch Indoor Dressage Championships
Zinidi Gazelle, New Grand Prix Prospect for Marlies van Baalen
Champ of Class Sold to Germany
Coby and Marlies van Baalen Received German "Goldenes Reiterabzeichen"