2014 Danish Young Horse Championships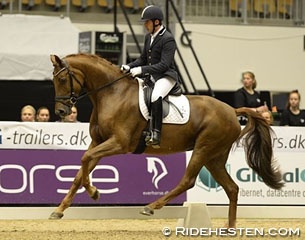 The 4-year old Fiontina, the 5-year old Litvinenko Sjaelstofte and the 6-year old Rossetti, were the title snatchers at the 2014 Danish Young Horse Championships held right before the World Cup qualifier in Odense, Denmark on 14 - 16 October 2014. These three youngsters were the winners of the finals test capturing the titles and giving their rider's the hope of a dressage future.
Each year there are two Danish Young Horse Championships held in the Scandinavian country: one exclusive for Danish warmbloods held in March at the annual Stallion Licensing and one open to all breeds held at the World Cup Qualifier in Odense in October. The bigger and more important one are the October Championships for which a series of qualifiers are held throughout the country during the summer. In Odense the format used is the same as at the World Championships. A warm up round to determine the top contenders for the Finals test, a consolation Finals in which the top ranked horses are eligible to contest the Finals afterall and then the Finals class to determine the winner.
The 4-year old Danish warmblood mare Fiontina (by Fassbender / Romanov), bred by Henrik Hansen and ridden by Spanish Severo Jurado López, dominated the 4-year old division, winning the preliminary round as well as the finals. The pair earned a 9.8 for trot, a 9.5 for walk and canter, 9.1 for submission and 9.6 for general impression, to finish in lead spot with a 9.5 total.
The Spanish Grand Prix rider Severo Jurado Lopez, who has been working as an assistant trainer at Andreas Helgstrand's dealing yard in Denmark, felt very confident in his mare's qualities in Odense.
"I was in the final and I knew I had a really great chance to do well," saids Severo. "However, for me, what I enjoyed most was not the winning, but to produce my horses and my riding, with feeling."
Winning the Danish Young Horse Championships has helped Severo to finalize his decision to stay in Denmark. The rider had initially announced that he would be returning to his former employer in The Netherlands, but he changed his mind last minute. According to Severo at Helgstrand Dressage they are a team and everyone helps each other.
"I've never worked in stable like the one here," Jurado Lopez told Eurodressage. "There are top horses, a super working team. I still have a lot to learn here. This is why I decide to stay. Why go from a place where I have everything. The last few months I got some big offers and they confused me. I forgot what was important. The last show in Odense was good for me, I realized what I really wanted. Everybody is with me here and I see how comfortable it is to work here. Also, my girlfriend will move up to Denmark to be closer to me."
Steep Climb to the Top Spot for Litvinenko Sjaelstofte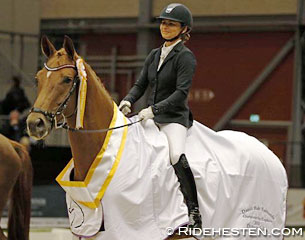 For 5-year old champion Litvinenko Sjaelstofte by Imperio x Pidroneur) and rider Anne Troensegaard it wasn't all smooth sailing at the Championships. The combinations, which represented Denmark at the 2014 World Young Horse Championships in August, finished 'only' 13th in the preliminary round, scoring a low 6.0 for submission after a failed start. The pair won the consolation finals though with 8.82 and then topped the leader board in the finals. In the class that really counter, the chestnut Trakehner earned 9.5 for trot, 9 for canter and general impression, 8.9 for walk, and  8.6 for submission, to end with an 8.9 total.
"On the first day Zgander from Helgstrand dressage won and I had a very bad start," Troensegaard explained. " 'Kaj' was very impressed by the settings and rode not at all like at home. He was very tense. In the main final, Kaj had a superb trot, and a more relaxed walk, and while it was a bit choppy in the transitions, I was very happy when we finished. The judges gave us such a great critique, I think they liked him!"
Troensegaard's refined chestnut is known as a very sensitive horse. "He is still growing and enjoys his walks in the woods. My good pony student, Caroline, who is 13, loves to ride him," she said.
Anne has been trained by Rune Willum for the last four years and she is very thankful for his help. "In the winter time we will get ready for medium level, and hopefully we will be back her in the spring of 2015," she stated.
Rossetti Rises to the Top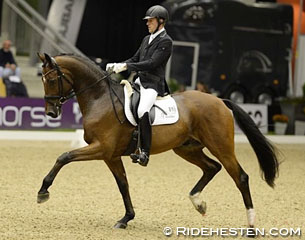 Rising star Rossetti, sired by Romanov x Midt West Ibi Linght and owned by Stutteri Lyng, continued to impress the crowds and judges after delivering great performances at the World Championships in Verden in the summer. Rider Jan Møller Christensen was delighted how his long legged sporty bay gelding presented himself in Odense, finishing fourth in the warm up round and winning the finals with a 9.2 for trot, 9.5 for canter,  9 for walk and submission, and 9.5 for general impression, to finish on 9.24 points.
"It was of course very nice to win this competition, particularly as many of the best riders in Denmark participate," Jan told Eurodressage. "The horse I rode is, unfortunately, not mine, but I am lucky to have him here in training since December 2013."

Moller Christensen described Rossetti as a fantastic horse with a great personality and three exceptional paces. 
"He is always happy to work," Jan added. "My wife Sophie helps me with the daily training at our training stable with 40 horses, and together we train horses of many different ages."
Jan aims to prepare Rossetti for the 7-year old developing Prix St Georges horse classes next year.
"I hope Rossetti will be fit and ready for the Scandinavian open in Falsterbo next year as well as Verden were he is qualified to compete in the class for 7-year olds, since he was in the final this year," said Jan.
by Sarah Warne for Eurodressage
Photos © Ridehesten
Related Links
Scores 2014 Danish Young Horse Championships
Sezuan, Svalegards Hottie, South West Rocazino Win 2013 Danish Young Horse Championships
Zonik, Holballes Deeba, Samba King Win 2012 Danish Young Horse Championships
Sobakkehus Mia Bella, Dafne, Torveslettens Stamina Win 2011 Danish Young Horse Championships
Scores: 2009 Danish Young Dressage Horse Championships
Atterupgårds Cassidy, Polka Hit Nexen and Horsebo Smarties Win 2007 Danish Young Horse Championships
Tardi, Schianto and Clearwater, 2004 Danish Young Horse Champions