2014 Equine Elite Auction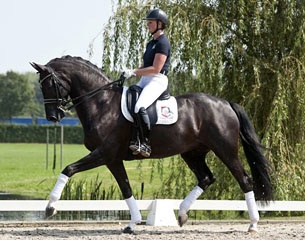 The 6-year old Duchess, previously named Disney (by Painted Black x Hamlet), became the top selling horse at the 2014 Equine Elite Auction in Weert, The Netherlands, on Saturday 25 October 2014. The black mare sold for 270,000 euro.
It is rumoured that an American buyer has acquired Duchess, but the mare will be shipped to the United Kingdom to be trained and competed by Spencer Wilton.
The second most expensive horse was Finja, a 5-year old German bred chestnut mare by Flatley x Rotspon. This A-level trained and competed mare sold for 230,000 euro.
Danish Grand Prix rider Anders Dahl bought the 7-year old black gelding Cayenne (by Johnson x Rousseau)
British former Grand Prix champion Nicky Barrett snatched the 3-year old black Dutch warmblood stallion Ganymedes (Cadans x Jazz) and British Grand Prix riders Gareth and Rebecca Hughes and their business partner Julia Hornig acquired the 3-year old chestnut gelding Goldstrike (by Tango x Krack C).