Dutch Dressage News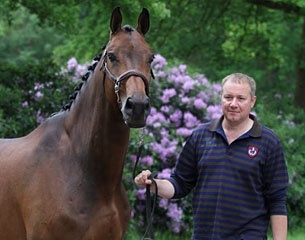 After losing the title sponsorship of Antonia Ax:son Johnson's Axel Johnson Group at the end of 2014, the World Dressage Masters show series went in search of a new sponsor. WDM has found their new title sponsor in the Ukrainian company Vian Group.
Tinne Vilhelmson's Swedish sponsor Antonia Ax:son Johnson supported WDM for four years
Over the past 10 years Vian Group  has become well-known as the organizer of a number of international dressage and show jumping competitions in Ukraine. Vian Group's chief dressage rider is Ukrainian Inna Logutenkova, who is based in Malle, Belgium, with her Vian owned horses.
"We are delighted that Vian Group will be our new title sponsor and is ready to support the further development of international dressage with us," said Camil Smeulders of WDM. Since the inception of WDM in 2008 in Cannes (FRA) WDM and her partners invested a dazzling 3 million euro in the WDM shows.
Mykhaylo Parkhomchuk, Vian Group director and former Secretary General of the Equestrian Federation of Ukraine, stated that "our company invests a lot to develop dressage and therefore it is with great pleasure that we have accepted the invitation from WDM to become the new title sponsor. We would really like the number of international 5 star dressage shows to increase in the world as it gives an impetus to the development of this Olympic discipline, its capitalization and globalization. Dressage broadcasting on a TV channel as Eurosport allows a greater amount of viewers to enjoy this marvelous sport. We are happy to make our contribution to this common goal."

At the 2014 World Dressage Masters CDI in Mechelen on 26-30 December 2014, WDM has scheduled a tribute ceremony for the Axel Johnson Group for their 4 years of inspiring and loyal support. The 2015 WDM line-up will be announced during the winners press conference in Mechelen.
Related Links
2014 World Dressage Masters Lose Florida Station
World Dressage Masters Return to Florida in January 2013
World Dressage Masters to Return to Florida in 2012
2011 World Dressage Masters in Florida Cancelled
World Dressage Masters Studies Brazilian Leg for 2011
IDRC and World Dressage Masters to Collaborate