What's in a Name?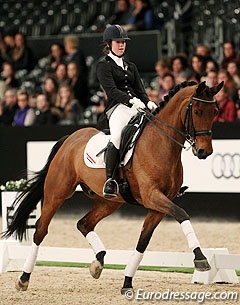 The 12-year old Dutch warmblood Whoopydoo made his way into Eurodressage's "What's in a name" series not only for his colourful title, but also for his family orientated competition life as the ride for Dutch sister team Kyra and Rivka Klinkers. The strapping bay gelding, who is out of Kyra's Under 25 Grand Prix horse Tara, is home bred, reared and trained.
"My father gave Whoopydoo his name, " elder sister Kyra Klinkers told Eurodressage. "In the past he saw a horse named Scoobydoo and thought it was a funny name, but it had to begin with a W so it became Whoopydoo."
Placing second and third in the Prix St Georges and Intermediate I kur at the 2014 CDI Mechelen on 27 - 28 December 2014, Kyra and Whoopydoo earned themselves the very tidy scores of 71.500 %  and 72.775%. Kyra describes him as a natural in competition.
"At the stable we call him Whoopy or Whoop. He is very sweet and kind and a real show horse," said Kyra. "When he is in the arena he is always on his best behavior."
Kyra says that this happy name is very fitting for his happy nature. "He is always really forwards and wants to work; easy to ride," she added.
Hoping to start him in the Under 25's next year, Kyra revealed that the canter work is easy for him, but the piaffe he finds a bit more difficult.
Younger sister Rivka agrees that Whoopy is easy to ride. She really enjoyed learning from him in the junior competitions
"My sister rode him when he was younger and taught him everything," said Rivka. "I started riding him for the junior competitions at the same time to gain experience. We made agreements who could ride which show. At the time I rode juniors I competed him the most because I had the most shows." 
Having turned 18 Rivka is now too old for juniors and is off to college. Shewill only be home on weekends.
"As I can only ride on the weekends I will not be riding in the shows anymore, but I still do like to ride Whoopy when I am home and Kyra doesn't have a show with him," said Rivka. " It wasn't really difficult to decide who got to ride him every day. It depended the most on who had a competition with him. Kyra wants to start riding him in the U25 competitions so she is currently teaching him piaffe and passage."
by Sarah Warne - Photo © Astrid Appels
Related Links
What's in a Name: A Spider Bite
What's In a Name: Furst on Tour
What's in a Name: Wunderkind