2015 CDI Madrid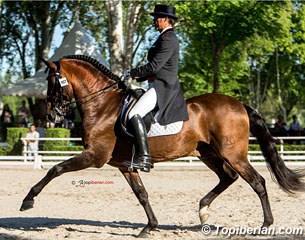 This year for the first time, the IX International Madrid Dressage Festival brought together two top events under its umbrella at the Club de Campo Villa de Madrid; once again it was a great venue and the largest dressage competition of the year in Spain. This ninth edition has achieved a new record of 380 combinations participating on 2 weekends, from 21st to 24th May with the CDI3*, a CDN3* and a CDT, a regional competition, followed as of today by the Spanish National Dressage and Para-equestrian Championships until 31st May.
Although the festival has become a not-to-be-missed event on the Spanish peninsula for national and international riders, festival director Dalia Saliamonas and Federico Padrón from Topiberian won't give up until this venue becomes an international top diary date. It certainly looks like the future is bright for this Dressage-Fiesta, as it offers visitors sunshine, space, every tech device or gadget one can dream of and important sponsors participating for the first time, placing their bet on dressage.
"The event is likely to become a must for other international riders, as Spain is working on its reputation as an organiser of quality shows. In just a very short time, five CDIs have risen like a phoenix from the ashes and now there is no doubt they will garner audiences and participants. Efforts are centring on continuing to grow and that is why we are placing so much emphasis on getting top-footing for the arenas. People love this show and attracting more international dressage stars to the festival is the future goal for 2016," Federico Padron stated.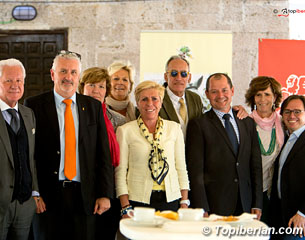 Dalia Saliamonas went on, "it is very convenient and a serious option for athletes from Mediterranean countries to compete in the south of Europe, in their neighbourhood. And why not, if the facilities and the judges are really good? The festival is now working towards reaching the status of a top international competition not only on the calendars of inhabitants of the Spanish peninsula and their close neighbours but also for northern Europeans and any international riders."
One must understand that we southern Europeans love huge events, socialising and being with other people, and the more of us there are, the more we like it. When we have visitors from abroad and we take them out into the centre of Madrid, it is funny how straightaway we pick out amongst the bars the busiest place of all. However, that is a whole other story, to be explained on another occasion! Let's get back to business and take a look at what happened at the IX International Dressage Festival in Madrid, besides Eurodressage's Sara Warne riding her Batialo in the small tour and enjoying the show. By the way, we weren't able to get hold of her for an interview, but we'll be sure to catch up another time.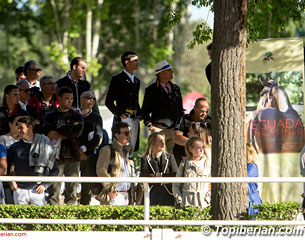 Before starting to delve into the next thrilling show, we must quickly wrap up the story of this past weekend, of the biggest dressage event ever held in Spain, located at the beautiful and green oasis of the Casa del Campo country club in Madrid. Just one suggestion after this first week in these lovely surroundings – do bring your bicycle or plan on doing some jogging.
The first competition was very intense on an international level but also a very important place to be for the national competitors, as the festival is another show for the national federation's selection process not only for Spanish combinations but for Portuguese riders as well.
Many participants were aiming for a spot on their national teams for the European Championship in Aachen in a couple of months. At the same time, it also acted as a rehearsal for the National Championship and Paraequestrian Championship, which start today and continue over the final weekend in May at the same location. The festival offered a special treat for fans of Iberian horses, which showcased their strength at this show. There were 20 PRE versus 25 PSL and observers could see them all working to reach their habitual top form; we saw many interesting combinations and some of the pillars of the Spanish and Portuguese national teams.
Dani Martin Dockx and Grandioso took two out of three in the Finca Tineo Big Tour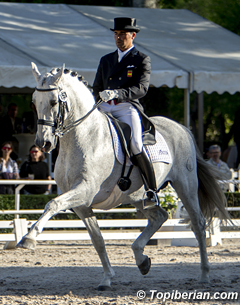 In the Grand Prix, 25 competitors went into the arena. José Daniel Martin Dockx and his PRE Grandioso (by Adelante out of Grandiosa) were one of the big attractions of this CDI 3* at the IX Dressage Festival. They won the Grand Prix on Friday with a score of 71.960% and, moreover, their second Special this season, with a score of 72.353%. Aachen is two months ahead and their competition schedule is well thought-out. Their performance was beautiful and very correctly given, but it was a shame that a slight miscommunication led to a mistake in the tempi changes, which made their score drop a little bit. Later, they showed a flawless Grand Prix Special performance.
Just on Friday, we enjoyed a beautiful show from another habitual team member, usually representing Spain internationally throughout the last years, José Antonio García Mena with the PRE Norte (by Cortesano VII  out of Iluminada VII). This pairing finished very close to the winner with a score of 71.720%. Exceptional once again were their extended trot, half passes and a beautiful piaffé. We will see them again this coming weekend.
Later, audiences were able to appreciate some of the up and coming new combinations. The third position on the podium went in the Grand Prix and the Special to a couple that has shown great improvement lately – we are talking about Jordi Domingo Coll with the KWPN mare Wonder (by Waterford out of Rose), who exceeded the 70% barrier and achieved a personal record in international competition for them, implying that their spot in the team is getting much closer. Overall, they seemed to be much more relaxed.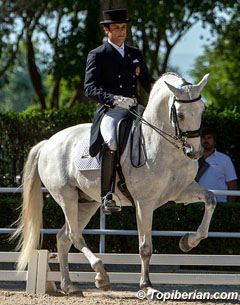 In the Grand Prix and in the Grand Prix Special, second place went to another combination that has shown huge progress, the young Portuguese rider Manuel Veiga with his PSL, Ben Hur da Broa (by Quinteiro da Broa out of Embaixatriz), bred by his father. They also surpassed the 70% barrier and finished with a personal record of 71.353%, a significant rise from last year's result when they scored just over 66% at their debut at the 8th edition of the International Madrid Dressage Festival.
The winning combination of the Finca Tineo GP Freestyle, Diavolo II de Laubry (by Alibi de Laubry out of Imandra de Laubry) ridden by Cristóbal Belmonte, although the performance had its ups and downs, showed us a beautiful freestyle with certain, very refreshing changes made in the music which fitted DIAVOLO perfectly, especially in the passage-piaffé tour. Their final score was 72.500%. They were the real highlight of the Grand Prix Freestyle.
One very young rider was extremely successful this weekend in the Grand Prix but also in Juniors and Young Riders. Juan Matute Guimón won almost every class he showed in. Riding Don Diego (by Don Frederico  out of Wie Platine) in the Big Tour, he obtained a score of 70.700%, offering a very nice ride with well-fitting music. Some improvement can still be made in the piaffé where Don Diego moved a bit forward, but there were beautiful exercises to watch, such as the tempi changes which looked very relaxed and secure. He is without doubt a future prospect for the national team, with the YMAS horses. Now only presenting warmbloods, he is showing a great deal of potential.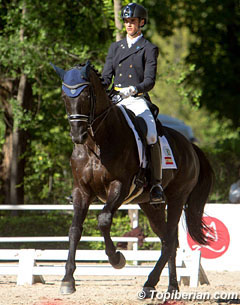 Very close to the podium on each day of the competition was María Caetano with Xiripiti (by Qualificado x Moscatel) and the flying changes of this couple were very nice, straight and uphill. Maria is well-prepared in this class; Vendaval (by Navalheiro  out of Murta) – the grandson of Novilheiro – is her second Grand Prix horse, which she made her debut on not long ago, and he shows a lot of potential. Daniel Pinto presented his PSL crossbred Santurion de Massa (by Münchausen x Estoiro) and this horse and rider made their debut at a CDI just a few weeks ago.
José Daniel Martin Dockx was again third in the Grand Prix Freestyle, this time with the PRE Bolero CXLVIII (by Uterano VII  out of Felina XVIII) another up-coming PRE from Hampton Green Farm. This was only their third international competition and they finished with a personal best score: 70.300%. Claudio Castilla with Alcaide is improving, with the talent for piaffé and passage of this PSL from the Spanish Lusitano stud La Perla and Claudios technical riding improve their presentation every time. Raquel Falcao and Real did not miss the competition either, and nor did Spanish Olympic veteran Juan Antonio Jimenez with Sunny Boy and Elevado.
Infinity Small Tour

Who remembers Manchego the bay PRE grandson of Ermitano III, the first-ever and only PRE elite stallion? He reached the best score ever for a PRE at the World Championships in Verden back in 2011 with Angel Dorado, his former rider. He has now been for a while with his new owner Cristina Duran, a young lady based in the south of Spain and training with Isidro Maldonado. This partnership surpassed the 70% barrier, showing good walk and lovely trot extensions. Jordi Domingo and Statesman came close in second place, while PRE mount Kafu III and Antonio Verdejo were some distance behind.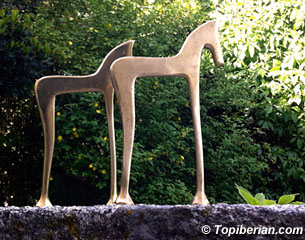 Oldenburg Horse Society Trophee for 5 and 6 year classes

In the six-year-olds class, Sir Hohenstein (by Sir Donnerhall), from Michelle Widner, now presented by Fidel Díaz Amor, showed spectacularly with results over 80%. Belconi (by Belissimo) owned by Irina Zakhrabekova and José Antonio Garcia Mena won the Final test. In the five-year-olds class, there was Omnium Team's Sarotti (by Sarkozy out of Janira) with Juan Carlos Díaz Amor, winner of the class. The first PRE came in fourth place, Jara FS, from Aroyomonte presented by Alberto García. Claudio Castilla with a Warmblood, a son of Rousseau, called Forte MG and Juan Manuel Muñoz with Falsario LS, a Lusitano were climbing up in the classification of the finals. The Kwpn Fiolijn (by Jazz x Democraat) presented by Hugo Pereira from Portugal was the winner of the Final five-year test.
Medium Tour Trophy Federacion Hipica de Madrid
This was the category of several promising young horses moving up to Grand Prix, where a tiny but difficult battle took place within the combinations. There was one winner every day, José Antonio García Mena with Sir Schiwago (by Sir Donnerhall  out of Dajana), a horse owned by Eduardo Zakhrabekova, with scores around 70.190%; very good extensions were one of their highlights.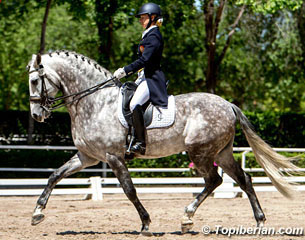 The Lusitanian couple showing great potential for Grand Prix was Finca Tineo's combination with the beautiful grey Coroado (Rubi  out of Luxelia) presented by María Caetano Couceiro. These two have an impressive curriculum, as not only were they representing the breed in Verden in 2013 at the YH World Championships but they were also last year's small tour winner. Sandra Peña and Sabbatik Rubi (Rotspon  out of Waldfee) are another promising Spanish combination, as well as Laura Yubero and her Rialto Star (Royal Diamond  out of Carina) in this class.
U25 AUDEVARD Trophy

Young Swedish rider Josefine Gyllenswärd and her Don Angelo (by Danone x Donnerschwee) swept the podium every day in this class. The U25 rider is based in UK and is working very hard towards a successful sports career in Dressage.
Generali Pony Trophy

Last but not least, young Carla de la Fuente and her Kronprinz (by Kaiserjaeger  out of Golfy) were once again the stars of the pony class. She is heading to the European Pony Championships.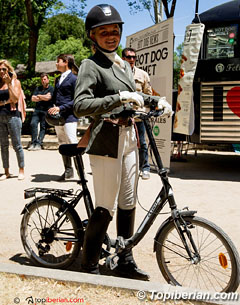 Up to seven competition arenas could be run simultaneously, with their corresponding warm up rings, at this vast country club in the middle of a green oasis which has already played host to the European Jumping Championships.
Today everything is set and ready to go for the National Dressage Championships and the Paraequestrian Championship. Carmen Naesgaard and Ricardo are on the spot as well as Beatriz Ferrer Salat and her mounts Delgado and Sir Radjah. Yesterday afternoon the veterinarian inspection for the National Senior Championships and Young Horse Masters took place and all participants presented passed without no problem.
Dressage is going on in the heart of Spain. Come and watch the livestream on www.topiberian.com with commentary from Bobby Fernández de Bobadilla over the next days on the most important Spanish horse–rider combinations. For the schedule and results, please feel welcome to consult the scores.topiberian.com. At 9.00 am the Intermedia A will open the show and the Grand Prix takes place from 16.30 pm on.
Text by Katharina Braren - Photos © Top Iberian
Related Links
Scores: 2015 CDI Madrid
The International Dressage Festival in Madrid, the Fiesta of Dressage in Every Sense
Small Tips from the Top to Balance the Power at 2015 CDI Madrid