2015 U.S. Young Horse Championships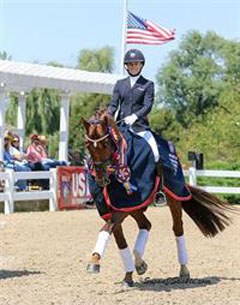 Competition at the 2015 U.S. Young and Developing Horse Championships came to a close on Sunday afternoon 23 August 2015 at the Lamplight Equestrian Center with the final two National Championship titles being awarded. In the Six-Year-Old division, Gallant Reflection HU ridden by Lisa Wilcox continued to impress and was named National Champion. Taking top honors in the Developing Horse Grand Prix, WakeUp and Emily Miles earned their third National Champion title.
Gallant Reflection HU Wins 6-Year-Old Championship
Winning the 6-year-old division, Wilcox (Loxahatchee, Fla.) and Gallant Reflection HU, a Zweibrucker stallion by Galant du Serein x Rohdiamant, bred and owned by Horses Unlimited Inc., marked the second win for the partnership of Wilcox and Horses Unlimited Inc. in this division, having won the Developing Horse classes on  Pikko Del Cerro HU in the past. The pair took the commanding lead on Friday in the preliminary test and elevated their performance further in today's final test to score an 8.200, for an overall score of 8.136. The final test was highlighted by the stallion's trot tour, which earned a score of 8.800.
"I was very happy, especially with my canter tour, which was better today. The trot tour was also very nice and flowing. In the walk, I was able to let him out more than I trusted to let him out in the first test. I also liked my walk pirouettes, they felt rhythmic and forward," said Wilcox.
Also maintaining her position on the leaderboard, Miles (LaCygne, Kan.) rode Floretienne (by Florestan x Jazz), owned by Leslie Waterman and bred by Judy Yancey, to the Reserve Champion title. The Oldenburg gelding earned 7.800 for both his trot and canter, exhibiting clear rhythm and cadence in today's final test for an overall score of 7.836.
"He was a really good boy. I had a mistake in the walk, but it was because I was maybe pushing too much to keep him active. I feel so lucky to have him," said Miles.
Climbing one spot up on the leaderboard, Patricia Becker (Wadsworth, Ill.) and Joan Pecora's KWPN gelding, Edward, put in a solid final test to finish second in the class on a score of 7.820, for an overall score of 7.740.
"Edward was really relaxed and obedient today. He scored the highest in his trot [an 8], which is typical for him, but I felt his canter was really obedient and uphill, which made the changes super supple and very confirmed. His transitions are always really good. He has a super temperament – just enough edge to make him interesting to ride and watch, but level headed enough to do the work," said Becker.
WakeUp Becomes the 2015 U.S. Developing Grand Prix Horse Championship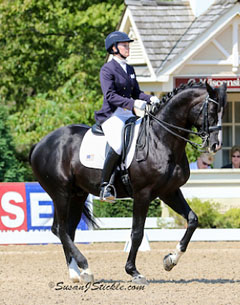 WakeUp, an American Warmblood stallion (by Wagnis x Macho) bred by Beverly McLean, earned his third National Championship title today with rider and owner, Miles. WakeUp previously won in the Young Horse division as a six-year-old in 2011 and the Developing Horse Prix St. Georges in 2013. Today's final test showcased the stallion's brilliant cadence to score a 68.458%, for an overall score of 69.934%.
"WakeUp was awesome. It was a clean test and he was a good boy, I am thrilled with it because it's an excellent way to go out as his final test at these championships. Everything he has given me so far has been brilliant, so everything else is icing on the cake," said Miles.
Finishing as the Reserve National Champion was Equestricons Et Viola (by Earl x Matcho AA) ridden by Marcus Orlob (Annandale, N.J.). Equestricons ET Viola, a Hanoverian gelding, owned by Et  Adventure LLC and bred by Britta White, was consistent through the final test to score 67.333%, for an overall score of 67.628%.
"I gave him a little too much fire today, so that was an error on my part, otherwise he did a great job. He's a great horse and I am really happy with him," said Orlob.
Taking third overall was the 2012 Five-Year-Old reserve Champion, Elfenfeuer (by Florencio x Sion), owned and ridden by Alice Tarjan and bred by Ewald Grotelueshen. The pair was fourth after the preliminary test, but was  able to move up a notch on the leaderboard on the strength of a solid final test, scoring 66.375%, for an overall score of 66.509%.
"Today was definitely better than our first test even though we still struggled with balance issues. She's grown up so much this weekend, she's really come along," said Tarjan.
Photos © Sue Stickle
Related Links
Scores 2015 U.S. Young & Developing Dressage Horse Championships
Tiko, Rosalut NHF, Folkestone Take First National Titles at 2015 U.S. Young Horse Championships
Gallant Reflection HU and WakeUp Take Early Leads in 2015 U.S. Young & Developing Horse Championships
Tiko, Rosalut NHF, Ripline Lead Divisions after Day One 2015 U.S. Young Horse Championships
The Stage is Set for the 2015 U.S. Young and Developing Dressage Horse Championships