2015 U.S. Dressage Finals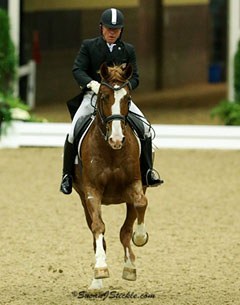 Colene Stevens, Heather McCarthy, Alice Tarjan and Michael Poulin were the title winners on the second day of competition at the 2015 US Dressage Finals, a unique America head-to-head competition for adult amateur and open riders of all levels being held November 5-8, 2015 at the Kentucky Horse Park in Lexington, Ky.
Stevens Wins Inter I Freestyle Adult Amateur Championship
In the Intermediate I Freestyle Adult Amateur Championship, Colene Stevens of Canton, Ohio (Region 2) rode her 11-year-old Hanoverian gelding Bonifaz S (Brentano II x Windgame by Weltmeyer) to the win with 66.125%. "I love riding to the music in the Alltech Arena, it really enhances the whole experience," she explained. "My gelding loves to show off in front of people, so it was fun. It was quite a process with a lot of laughs to find the right music for him – we tried song after song and even had votes at the barn to help choose the right ones, but ultimately is was my horse who picked the music." Earning her second Reserve Championship in as many days was Alexandra Krossen of Basking Ridge, N.J. (Region 8) who had another good performance with Heather Mason's Hanoverian cross mare Damani (Duvall x Gqdiva by Gesandt, bred in the U.S. by Virginia Godfrey) for 65.958%.
McCarthy Takes Intermediate I Freestyle Open Championship
It was a hard-fought and heartfelt win in the competitive Intermediate I Freestyle Open Championship for Heather McCarthy of Prairie Grove, Ill. (Region 2) as she rode John McGuire and Marilyn Johnson's Oldenburg mare Saphira (Florencio x Roxina by Chairman) to the win with 73.125%. "John McGuire recently passed away, so it was a hard show for me but this was his dream for Saphira to succeed like this," McCarthy explained. "I really went for it today and I think it was one of the most fun rides I've ever had. We look forward to coming to the Finals all year – when we're at Regionals we keep our fingers crossed hoping we're going to qualify because it's such a fun show to come to." Earning Reserve Champion honors with a score of 72.917% was also sincerely appreciated by Heather Mendiburu of Wantage, N.J. (Region 8) who wasn't sure she would be even able to come to Kentucky with her Hanoverian mare What Happen (Waldstar x Gina de Ro by Gloster, owned by High Point Solutions). "Things were a little up in the air for us coming into this because my mare had an injury right after Devon, so we only had about three decent rides before we came here so didn't know what to expect," she said. "But once we got going everything was clicking and I knew that we were in sync and that it was going to be a good ride. It's such a privilege just to be here."
Tarjan Wins Grand Prix Freestyle Adult Amateur Championship
Alice Tarjan of Frenchtown, N.J. (Region 8) has proven to be unbeatable in the Grand Prix Adult Amateur ranks, and today added the division's Freestyle Championship to her list of accomplishments. With her eight-year-old Oldenburg mare Elfenfeuer (Florencio x Elfensonne by Sion) she earned a score of 71.083% for her Alice in Wonderland freestyle to accept the Calaveras County Perpetual Trophy presented by artist Olva Stewart Pharo. "I'm just thrilled to be here again and I had so much fun," said Tarjan. "It's so exciting to meet people from all over the country, share a passion with horses and talk to people about their stories and how they got here. I really enjoy it." Candace Platz of Auburn, Maine (Region 8) was thrilled to earn 66.750% and claim the Reserve ribbon with her 11-year-old American Warmblood gelding Fynn*/*/*/*/*/, who was a PMU rescue horse. "I'm really thrilled – my goal with this freestyle was to touch people's hearts. It's really important to me that the message of how I feel about my horse and our relationship as best friends and partners comes through, and tonight it did."
Poulin Wins Grand Prix Freestyle Open Championship
Closing out festive evening performances, Olympian and USDF Hall of Fame member Michael Poulin of DeLeon Springs, Fla. made the crowd come alive with Pineland Farms, Inc.'s mighty Dutch Warmblood gelding Thor M (Mirakel x Debora by Westvoorn). After finishing second in Friday's Grand Prix Open Championship, Poulin was not to be denied top honors on this special night and the pair earned a unanimous victory from FEI judges Axel Steiner, Lilo Fore and Natalie Lamping with a score of 72.583% to claim the Grand Prix Freestyle Open Championship for their performance featuring music from the Brave movie soundtrack. No one in the audience as able to tell that Poulin had barely rehearsed the routine and even improvised movements as he went along, including 37 consecutive one-tempi's. "I really didn't practice it at all – I ride a freestyle by the numbers in that I do it by ear and by timing, counting the number of beats. That's just the way I do it and it works for me. And tonight I also threw new things in the test and just said 'let's give it a whirl'," said Poulin, who emphasized he had every faith in his mount. "He's quite a clever horse and a tremendous giver. You have to treat him with respect and kindness because he's hot and sensitive, but that's what makes him great." Emily Miles of Overland Park, Kansas (Region 4) and her long-time partner Weltdorff (Hanoverian gelding, Weltmeyer x Luna by Ludendorff) finished a solid second with 71.208% earned for their precise routine also highlighted by single-handed one-tempi's on the final centerline that even prompted a grin from judge Lilo Fore. "I don't love the music but it works so well for him – he may not be the biggest mover but it highlights his precision," she noted. "It's not the first time he's come through for me – I've had him for ten years since he was a three-year-old and here we are. That's pretty cool."
by Jennifer Keeler - Photo © Sue Stickle
Related Link
Hicks, Knollman, Tarjan, Poulin Win First Titles at 2015 U.S. Dressage Finals