Eurodressage F.O.C.U.S.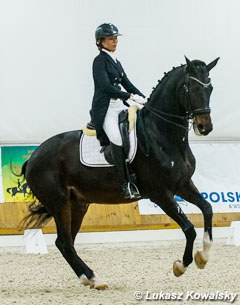 For 23-year old Philippine Ellesse Tzinberg enterting the international Grand Prix dressage scene has been a road filled with hurdles. Based in Sweden, Tzinberg combines a job as a professional model with fulfilling her goal of riding at the Rio Olympics. She is proud to compete for the Philippines and says the Philippine nation are full of very loyal and supportive people.
"It's really exciting and a very unique experience being a rider from the Philippines," the 23-year old Ellesse told Eurodressage. "The people of the Philippines are so loyal and supportive they never stop sending me encouragement and moral support. My dream of going for an Olympic Games and striving for international recognition in dressage is such a huge part of Philippine equestrian history. There has never been any Philippine dressage rider to go for such a big goal and to be so close!"
Ellesse admits there are many challenges associated with being a rider from the Philippines. When she first moved to Sweden she came alone with no idea of what living in Scandinavia would be like.
"I was millions of miles away from home, away from my family and friends and anything familiar. Fortunately, being in the saddle is like home to me," Tzinberg explained. "The biggest challenge I've experienced so far though, being a rider from the Philippines, is that no one in the equestrian community knew who I was in the beginning. It was quite comical to hear the questions people had for me like "you have horses in the Philippines?" It's no surprise that reputation is a big part in a subjective sport like dressage, so I began the biggest show season of my life and my first ever Grand Prix season as a complete underdog."
Another huge issue that affects Ellesse is that many events and competitions, especially events she needs to compete at in order to achieve her qualifying points for Rio, have very limited space for entries and rarely give an opportunity for an unknown Philippine rider to compete.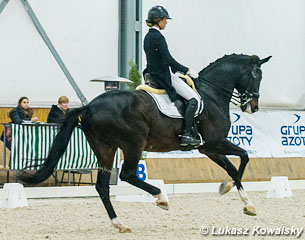 "I have written several personal emails practically begging show committees to let me in so that I can achieve qualifying points.  I understand that OCs want to allow bigger named riders to compete but it's been such a struggle convincing them to give us a chance.  To qualify for Rio 2016 I must compete in very specific events, but I am finding it so difficult for a newcomer like me to get into these events."
Fortunately, she is delighted that some shows have opened their arms and their draws to Ellesse who is campaigning the 18-year old KWPN Pavarotti (by Ferro x Saros), a Grand Prix schoolmaster she bought from German Victoria Michalke.
"Just recently we have been able to compete in CDI events and now that we are starting to build a positive reputation and after  placing in all the Grand Prix tests so far, we hope that more opportunities will be opening up and slowly we will get more invitations to compete," she confessed.
Ellesse Jordan Tolentino Tzinberg is a true cosmopolite. She has an American father with Russian roots, while her Philippine mom is from Spanish descent. Ellesse began her international equestrian career in 2006 as a show jumping rider. In 2012 she suffered a very severe car accident in which she injured her spine and neck making riding very painful. Only after she fell in love with a unique 6-year old Dutch KWPN mare (full sister to Carl Hester's Utopia) she was confident enough to begin riding again.
"She was special and needed time to heal mentally. In a way she helped me get back my passion and I did some dressage with her but she because of his previous trauma she preferred jumping," she explained. "We jumped successfully in young horse classes, young rider classes and international show jumping events in California."

In 2013 Ellesse decided she wanted to represent her country in dressage (her first love) and she had to make the move to Europe to be among the best.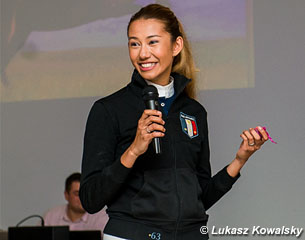 "The second hurdle I have faced was this year with Pavarotti my current horse. I was already in a precarious situation having an older horse, and only one horse, starting quite late in the game and preparing to debut at Grand Prix after a long long break from dressage. Unfortunately, after only a couple weeks of owning my boy, he injured himself in the stable, forcing him to rest from November 2014 to March 2015.  There were many times as I walked him and iced him and did everything I could to help him, that I pondered to myself how I was going to recover from this?  Everything I am currently doing is self financed by me and my family so another horse wasn't an option. It was starting to look like the dream would have to wait."
Extremely grateful to the vets and everyone at Rasmus and Charlotte Haid-Bondergaard's stable where she is now training, Ellesse says without them she may not have stayed.
"Thank goodness my horse has made a strong recovery and has come back better than ever. During his recovery, we have developed such a strong bond and faith in one another.  In July 2015 we started with some local Swedish shows at a low level to get some show experience and quickly, within a couple months, we debut in the Grand Prix circuit!"
With quite the schedule coming up, Ellesse's immediate goal are the Rio Olympics. They are really working hard towards making this goal a reality.
"Many people believe in us and support us so we are not going to let them down. I also really hope we can start to get a strong team together for events in Asia and internationally.  There's a lot of talent based in the Philippines and I hope we can bring Philippine dressage to the forefront across the globe! We are a small country with very big dreams."
Tzinberg works as an agency represented model and has signed up with agencies in LA, NYC, London, Sweden, Singapore and Malaysia. Modeling is a intense profession but that it's quite perfect to do along with dressage. "It allows me to be flexible with my schedule, travel, and network with  companies relevant to our sports like Nike and Gucci," she added.
by Sarah Warne - Photos © Lukasz Kowalski
Related Links
Scores: 2015 CDI Zakrzow
Scores: 2015 CDI-W Kaposvar
Scores: 2015 CDI Malmo
Scores: 2015 CDI Perl