A Walk on the Premises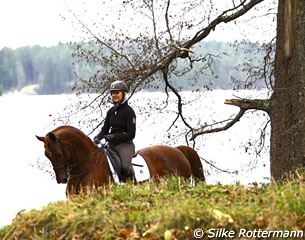 There are more pleasant months than November to visit Finland, the Scandinavian country with its checkered history high up in the North of Europe. However climate change doesn't stop there and binary plus temperatures greeted us on arrival, even though the early pitch-black darkness made the drive from Helsinki airport an unusual adventure for somebody from middle Europe. Eurodressage's way to one of Finland's young up and coming international dressage riders led through seemingly endless lonesome woods, with villages and some civilzation only now and then to be seen.
The journey went 200 km south-west of the capital with destination Björkboda, a huge property with a lake in the middle, an impressive manor house and several other buildings around. It is the home of Anna von Wendt and her partner Ilari Törönen.
Dressage in the Middle of Nowhere
Walking towards the equestrian section one passes several small houses painted in the typical dark-red colour of Scandinavia. To the right a small valley opened where numerous slightly hilly fields became visible—empty during that wet time of the year. Crossing a rocky stream the first attentive horse heads could be seen. The appropriately dark-red painted paddocks were crowded with thickly blanketed horses of which some did not feel bothered by the approaching visitor, happily munching the heap of hay on the ground. Nestled between the ever-present bare birch trees, the brand-new indoor arena and the stable-block came into sight.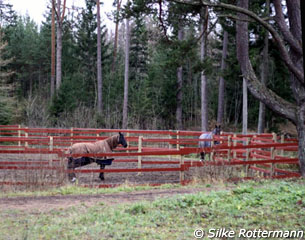 The main stable block consists of 10 boxes and a cosy tack-room. It was more or less empty on arrival. "It might be a bit different in Germany, but here in Finland we usually put our horses in a field or paddock several hours each day," Anna explained while tacking up Denzel in a kind of wash-box opposite the entrance. The 13-year-old Hanoverian is the horse which put her name on the international map this autumn. Like his stable-mates "he spends most of the day outside. The horses do not mind cold weather, snow or rain. They are used to it." At first look the shiny chestnut might not be the most modern type of Hanoverian breed, but this fact hasn't hindered him from becoming a promising Grand Prix-horse, something "we did not always expect through the years we trained him."
With "we" Von Wendt first and foremost refers to Germany's former national coach Jonny Hilberath. On Hilberath's recommendation, her trusted trainer for almost ten years, the 28-year-old bright blonde bought Denzel as a youngster at the auction in Verden and spent considerable time in Scheeßel, her trainer's base, throughout the years.
A young horse and young rider, who grew together into a pair, could now potentially strengthen Finland's position on the European dressage scene; this position, which not a so long time ago mainly depended upon the country's legendary "dressage flagship" Kyra Kyrklund. Already in the 1990s Finland's Young Riders made the dressage scene sit up and take notice. Since then Finland has established a certain dressage scene, even though some of their top riders have moved south and closer to the heart of European dressage.
Anna von Wendt chose a similar path first when she decided to pursue a career in dressage which "at the very beginning started with Uno, my Shetland pony. I was a child and my first ever dressage competition was the easiest class. Due to a misunderstanding we warmed up three hours with a teenage friend of my family and it ended that poor Uno was pretty pumped out." Coming from an animal-friendly family, Anna, the youngest of three daughters, picked up riding with her sisters and "even though I started with some jumping and eventing I never had the guts to tackle the real heights." As the most ambitious out of three, according to her mother, Anna had her cautiousness turn her to dressage.
First trained by Olympian Mikaela Lindh until she moved to Hasse Hofmann in Denmark, Anna switched to Finnish Olympian Maarit Raiskio. "I always aimed to be on the team then, but my horse at that time was difficult and I didn't know how to ride him. When my last year at the Young Riders approached, we decided to sell this horse as he was too difficult and instead bought Figaro at the end of 2005. He was no highflyer, but a solid horse who knew his job and gave me the security I needed," von Wendt explained. Figaro launched Anna's international career by taking her to the Nordic Championships in Norway and to the European Championships for Young Riders in Stadl Paura. "I rode my third ever PSG class there," Von Wendt reminisced. More so, Figaro saved her future as an equestrienne as "I swore to myself that if I would not make the team, I quit competition riding altogether."
On a Journey With Denzel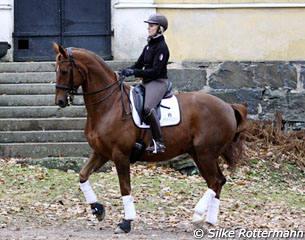 Back to Björkboda. Anna had Denzel ready for his daily exercise. From the stable to the brand-new indoor arena were just a few steps, but first the compact gelding got a short hack around the property. Even at age 13 the exuberant energy he displayed from a young age on and which had challenged his rider at the beginning, has not faded. On long reins with pricked ears and accompanied by Anna's young Rhodesian Ridgeback Lily Denzel strode out into the forest, passing the paddocks without looking at his mates and taking a brisk trot over the bridge at the edge of the lake.
"Denzel did several Grand Prix tests last month, three CDIs in a row as the opportunities arose, so now it is time for some well deserved winter break," Anna smiled. However, for some shots she shortened the reins and her long-time partner easily picked up the piaffe in front of one of the historical buildings. Even though the weather was grey and rather dark, the expression of the overall picture was heart-warming. The horse was as calm as can be in a movement in which many horses reveal their stress-level. The clear diagonal rhythm of Denzel's hoof-beats echoed in the silence which pure nature at Björkboda provided, tail loosely swinging in the wind.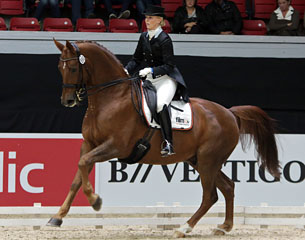 In 2006 Anna started to train with Lilli Luoma as she was closer to Björkboda than Maarit Raiskio. She was the first Finnish rider to train with Jonny in Germany, so she organised for Anna to go there in the winter 2006/2007. "With Figaro aging we went to the Verden winter auction in February and on Jonny's recommendation I bought Denzel (by Don Frederico x Wonderland). I will never forget what Jonny said, 'That's a good horse, but it will entirely depend on my riding and correct training if he turns into a successful horse or one for a riding club.' Denzel has a rather difficult conformation, I had to learn a lot to ride him properly, to bring him more into his own balance. He also has a tricky character as he owns so much energy. In the first years he needed to canter as fast as possible around our trails through the woods here once a week—then he was calm for the rest of it."
While outside the the wind whistled and heavy rainfall set in, the bright indoor with the typical Scandinavian windows protected perfectly against the elements. High up at the short side at the entrance a camera is installed. "Film Me" is a small company in the North of Finland and which camera-system-invention takes the long distances Finnish riders sometimes have to travel to get proper training into consideration. "They are my first real sponsors, which is great. My trainer Lilli usually comes once a week here to train me, but thanks to FILM ME we prepare also via Live-Streaming, in particular before shows," Anna mentioned while pointing to her wrist. There a shiny black watch was fastened, which directs the position of camera at all times.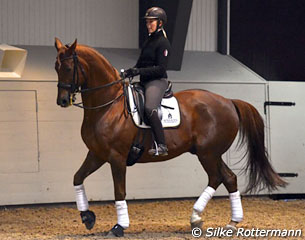 Denzel might have had a rather busy winter, but that did not show. Instead he showed off his potential. It is not only his clock-work-like piaffe, his fluent transitions into passage, but also his really centered and even canter pirouettes which impressed. Anna took great care to have him up in the bridle and light in the contact and she succeeded with her horse displaying a beautiful silhouette.
Though smiling all over her face she was still self-critical: "Now we are getting more routine with the Grand Prix as such. At the beginning of the season I thought how on earth being able to ride all these movements in such a short succession and on a certain spot. Of course we still make mistakes and we have to further improve, especially in the contact which had always been a bit an issue with this horse. Now he has much improved in comparison to a few years ago." Anna had her horse in a double-bridle, but mainly rode on the snaffle bit and had the curb-rein significantly longer than the bridoon, using both bits separaretely. "Denzel also needs to gain more strength, then he will lift the withers even more and put the hind-legs more under which will earn us even better results," Anna remarked while taking over a huge black horse from her long-time groom Laura Tsernov.
"The Double Lottie"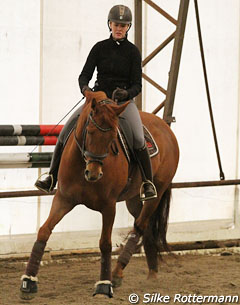 Not yet playing the music Denzel is able to display, Anna's second Hanoverian, the chestnut mare Donna Lottchen, also revealed talent and class. Donna Lottchen (by Don Henrico x Wolkenstein II) is a compact mare with beautiful head. She was also acquired at the Verden auction "to become my fun hack," Anna laughed. The red lady's sensitivity as well as her good movements prevented her from a main job strolling through the extensive woods. Now trained up to M-level and working PSG, the 7-year-old is a kind of "double Lottie" at the moment. She is not trained seriously day by day because she is in foal with Anna' s former stallion Almaz, a late Ukrain warmblood. Lottie is expected to foal in July "to settle down her sensitive mind".
The horse, which enabled Anna to start for the first time internationally at a senior championships for her country, is Schubert (by Sandro Hit x  De Niro). Both represented Finland last summer at the World Young Horse Championships in Verden. The pitch-black Hanoverian started in the 6-year-old division and came home with a respectable 4th place in the consolation final. At Björkboda French trainer Christian Carde worked with Anna and two other Finnish competitors, Sara Maattola and Heidi Huurinainen. All three students of Jonny Hilberath, they support each other in Finland the best they can. "I used to go to Jonny for intense training over the winter for several years. But now with my own business it isn't that easy anymore. I have at least 7 horses in permanent training and then often about two more of clients," remarked Anna.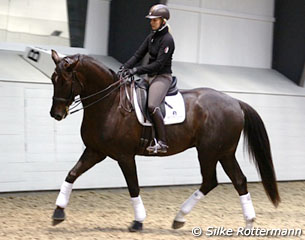 While Denzel is Anna's undisputed no. 1 horse, she hopes to take Frederik (by Fidertanz x Donnerhall) along to international shows for small tour classes next year. Owned by her sister and by partner Ilari Törönen, himself a dedicated dressage rider, the 2008 born Hanoverian liver chestnut is pretty confirmed already in the movements at S-level. "I hope he might be a horse for the small tour next season, but we have to see. In principle he knows the stuff now."
Here's To The Future
The horses at Björboda showed calmness and contentment. A team of three girl grooms take the utmost care of their four-legged charges who enjoy a pretty natural life-style and a training which also includes long hacks and some jumping every week. Head groom Kukka-Maaria Salokannel, 32, took over from Anna's long-time groom Laura Tsernov, who at 26 decided to study business in Turku this autumn. She still strengthens the team on the weekends. Milja Koistinen completes the trio; she is a riding instructor by profession.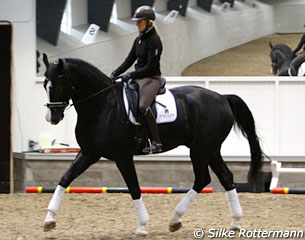 Located so far away from Finland's main competition venues, let alone from the most important CDI shows in Europe, Anna needs equine partners  that travel well. So far she remains modest in her plans for the future: "I had an amazing season, the more so as one year ago it looked like Denzel's career would be over when he severely injured himself on the transport to Germany. So my plan is to train some weeks with Jonny last winter were shattered, but Denzel recovered and I found a way to train him which keeps him fit and happy. I was very proud when we achieved our first placing in the World Cup at the CDI-W Siauliai last month. Then I surspringly got permission to start at the CDI in Helsinki where intially we had only been second reserve. Denzel placed third in the freestyle there. From Helsinki International Horse Show we went to our last show, the Finnish indoor championships in Ypäjä on 1 November. It was the icing on the cake when he won it for me."
Currently submitted to the Finnish B-team (called Challenger 2-team) Anna soon gets an evaluation if she and Denzel will be allowed to take part in the clinics with British Olympian and Finnish national coach Emile Faurie. "Even though I am an ambitious rider and want to achieve the best possible result, I also regularly need somebody to kick my ass," Anna said with a twinkle in her eyes. For that reason she began taking part in clinics with Christian Carde near Helsinki a year ago. Carde is convinced that Anna owns the determining factors to become a successful international rider: "Anna is talented, eager to improve and open minded, all qualities to get better."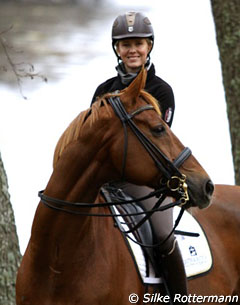 Carde will return once more before Christmas and then Anna hopes to have a training stay at her trusted trainer Jonny Hilberath in the North of Germany to prepare for 2016. "I have not yet made any plans for the next season. I have to quietly think about it and talk with my home trainer Lilli. I really only want to compete on the continent when I can be sure to be quite competitive," Anna mentioned. Lilli Luoma, herself about a decade on Finnish pony, juniors and medal-winning YR teams, and nowadays the Finnish chef d'equipe for those age divisions, is convinced that "a personal trainer of a rider should be an experienced team member and a diplomat. I always take it very personally, I live all emotions with "my" rider and I feel so privileged to be behind somebody like Anna."
How often and how highly the name Anna von Wendt will be found on the international result lists next year, nobody knows. But one is for sure: Finland has another young rider who has the guts to make this sport with little tradition in the country more popular. Not only through success and personality, but also through the way to achieve it: Correct work and passion for horses.
By Silke Rottermann for Eurodressage.com - Photos: Silke Rottermann - Leena Kahisaari
Related Links
Scores: 2015 CDI Helsinki
Scores: 2015 CDI-W Siauliai
Last Selected Horses for 2015 World Young Horse Championships
Eevamaria Porthan-Broddell Wins 2015 Finnish Grand Prix Championships
Scores: 2006 European Young Riders Championships