French Dressage News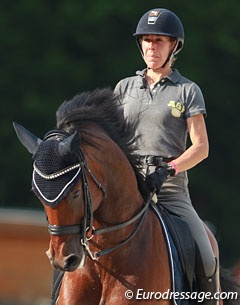 The French Grand Prix A-squad listed riders have been invited to ride in a 3-day training seminar with French team treainer Jan Bemelmans at the Le Mans equestrian centre on 18 - 22 January 2016.
For the first time in 20 years, French has qualified a team in all three Olympic disciplines (dressage, jumping, eventing) for the 2016 Olympic Games in Rio de Janeiro, Brazil, on 9 - 15 August 2016.
Sophie Dubourgh, the technical director of the French Equestrian Federation, has set the bar high and aims for France to get an Olympic podium place. In order to up the level of dressage in France, team coach Bemelmans will be closely following the team candidates who are submitted to the JO/JEM squad (Olympic Games/WEG squad).
Participating in the January training seminar are Marc Boblet (with the 8-year old Well Done, Noble Dream stayed home), Stephanie Brieussel (Amorak), Nicole Favereay (Ginsengue), Ludovic Henry (After You), Karen Tebar (Don Luis), and Pierre Volla (Badinda Altena). Arnaud Serre had to withdraw from riding there as his horse Robinson de la Font is still recovering from a colic operation.
Photo © Astrid Appels
Related Links
Robinson de la Font Recovering from Colic Surgery
Favereau and Ginsengue Submitted to French A-Team
French Team Selection for 2015 European Dressage Championships Not Without Controversy