Canadian Dressage News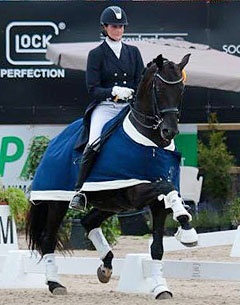 One of the most successful Junior/Young Riders Canada has ever produced in dressage, Naima Moreira-Laliberté, has just imported an exciting new mount, the 9-year old Oldenburg stallion Sancerre (by Sir Donnerhall x Rubinstein), with whom she hopes to rise to the highest levels of the sport. 
Moreira-Laliberté has won medals at the last four North American Junior/Young Riders Championships (NAJYRC) on a variety of horses, most recently earning the Gold Medal in the 2015 YR Freestyle as well as the 2015 YR Individual Bronze. The 19 year-old trains with Albrecht Heidemann and Janine Little, dividing her time between Quebec and Florida.
After an extensive search for just the right mount to accompany Moreira-Laliberté to the next level, Janine Little – a successful FEI rider and coach who was short listed to the Canadian team in 2011 – scouted the 9 year-old black stallion Sancerre on a video from Europe. Ironically, Sancerre was the Grand Prix prospect of fellow Canadian rider Dana Hewett – a World Cup rider who operates a training and sales facility in Ede, the Netherlands – whom Little first encountered while training with Anky van Grunsven in 2005-2006. 
"I immediately liked the elegance and fluidity Sancerre possesses, and thought he would be an excellent match for Naima, as she is a sensitive rider with good feel," Little explains. She showed the video to Moreira-Laliberté, who readily agreed. After contacting Hewett, the two flew to Holland to try the horse. 
Sancerre was immediately a good fit for the young rider and the pair complimented each other from the first ride.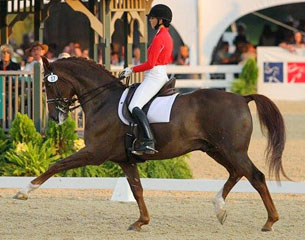 "Dana [Hewett] has done a great job bringing Sancerre up the levels," Little acknowledges. Hewett developed the horse since acquiring him in Germany at age two and a half. She has a strong record of top placings with him in Europe, including a Bronze Medal at the 2013 Dutch National Championships. "He's a lovely stallion with an exceptional temperament. He tries his heart out to please his rider."
"Sancerre is an incredible horse who will not be easy to replace," Hewett muses, referring to both his talent and his kind, willing nature. "But when I met Naima and saw her ride him, I knew she was the right person for him.  I'm excited to follow their future together!" 
"Sancerre and Naima are a highly promising partnership," Little agrees.  "It's wonderful that this special horse will be staying under a Canadian rider."
Moreira-Laliberté is excited for the upcoming season and beyond and is looking forward to making her debut with Sancerre at the events at Global Dressage Festival in February once he is released from stallion quarantine. 
Related Links
Davis and Moreira Laliberte Win Kur Gold at 2015 North American Junior/Young Riders Championships
McNulty and Pai Win Individual Test Gold at 2015 North American Junior/Young Riders Championships
Canadian Teams Selected for 2014 North American Junior/Young Riders Championships
Scores: 2015 CDI Arnheim