American Dressage News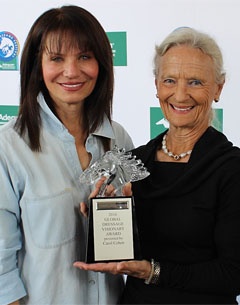 This past weekend, Carol Cohen, an Engel & Völkers real estate advisor, continued her exciting tradition of recognizing dressage visionaries during the CDI weeks of competition at the 2016 Adequan Global Dressage Festival. Cohen chose to honor "Wellington's First Lady of Dressage," Janne Rumbough, for her continued dedication to dressage as a rider, owner, and longtime supporter of the sport.
"I am so proud to give Janne this award," said Cohen as she presented Rumbough with a stunning Global Dressage Visionary Award trophy. "My daughter and I came to Wellington in 1998 and we both vividly remember Janne helping us figure out what we needed to get started in the sport of dressage," Cohen recalled.
Janne Rumbough, originally from Denmark, has been a staple in the Palm Beach, Florida dressage community since long before it could have been considered a dressage community. "I have always loved to ride dressage, so when I first came here to Palm Beach, I immediately looked for horses in the area," Rumbough said. "In the early 1970's, the only riding available was at the Delray Country Club with Colleen Blunt, so I went there."
After a few years passed, Rumbough was able to move her horses back to Palm Beach County and help organize the first dressage show ever held in Wellington, on Polo Field Number 1. "We had to pay a Prix St. George rider to come down from New York because there simply wasn't anyone here!" recounted Rumbough. "So to look at the Adequan Global Dressage Festival now and see all the people coming here from all over the world is really special."
The current Adequan Global Dressage Festival truly is special, with hundreds of internationally successful competitors from countries all over the world competing each week of the Wellington winter show series. As the stands around the International Arena fill each Friday night for the Grand Prix Freestyle competition, it's thanks to visionaries like Rumbough and Adequan Global Dressage Festival founding members like Cohen that the show has seen such immense success.
The Global Dressage Visionary Award was established by Carol Cohen to recognize dressage enthusiasts who have put an incredible amount of effort into the growth and promotion of dressage, especially in Wellington. This award distinguishes people who, like Carol Cohen, have followed through on their unique vision to make their beloved sport prominent in the world. Rumbough is widely acknowledged for not only being a Grand Prix level rider herself, but also for owning top level horses competed by other dressage professionals, and for her role as a breeder of PRE horses.
"I am so honored to receive the Global Dressage Visionary Award, and I would really like to dedicate this award to all the people who have been involved with dressage in Wellington," Rumbough smiled.
Carol Cohen is thrilled to be a sponsor of the 2016 Adequan Global Dressage Festival and present the Global Dressage Visionary Award to recipients like Janne Rumbough. Carol Cohen has also been instrumental in forming a leadline class at the 2016 Adequan Global Dressage Festival to help young riders get experience in the main arena and inspire a passion for all things equestrian. The leadline classes have been an enormous success. The Grand Finale Leadline Exhibition will be held on March 18 at 5pm before the Grand Prix Freestyle class. To enter your child in the event, please contact Carol Cohen at cfcohen55@gmail.com.
For more information about Carol Cohen and her business at Engel & Völkers Real Estate in Wellington, please visit http://carolcohen.evusa.com/. As a professional with a strong commitment to promoting the equestrian lifestyle through luxury real estate sales, Cohen's attention to detail and impeccable taste is sure to continue to transform homeowner's visions into realities.
You can also watch Carol's interview with Janne Rumbough.
by Johnny Robb
Related Links
Carol Cohen Presents Kimberly Van Kampen Boyer with Global Dressage Visionary Award
Olympian Carl Hester is Awarded Global Dressage Visionary Award by Carol Cohen
Engel & Völkers Advisor Carol Cohen Recognizes Dressage Visionaries at the 2016 Global Dressage Festival