2016 CDI Del Mar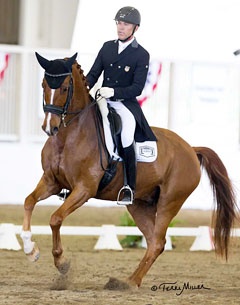 "It's all coming together now," said Olympian Guenter Seidel after his winning ride in the Grand Prix Special on the final day of the CDI Del Mar held from 11 - 13 March 2016. Next-to-last to go in the class order, he and his mount Zero Gravity easily cruised to the top of the leaderboard and earned the unanimous win under all five judges with a score of 73.471%.
Finishing in second with 68.176% was Leona Pollack's 12-year-old Dutch Warmblood gelding Zuperman (by Sir Sinclair x Inspekteur), whose CDI debut proved to be a successful one under the guidance of former World Equestrian Games bronze medalist Kathleen Raine.
Seidel and Zero Gravity (KWPN gelding by Royal Hit x Contango, owned by James and Charlotte Mashburn) proved they are on a roll. Prior to Sunday's Grand Prix Special win, they came off of a solid performance and second-place ribbon in Friday's Grand Prix test. This was preceded by a big win in the Grand Prix Freestyle at the CDI-W Burbank two weeks ago – a victory which also punched the pair's ticket as one of only two North American representatives to the 2016World Cup™ Dressage Final, coming up on March 23-27, 2016 in Gothenburg, Sweden.
"I'm thrilled. He's starting to mature now and everything's starting to fall into place," Seidel explained. "The Grand Prix was a good start on Friday, and then he came back today in the Special very relaxed and seemed to go through it with ease. I think we're also figuring out how to work together even better at the shows. For example, he can be a hot horse and a little fresh the first day and then be better the second, so I made some adjustments at this show to take him out for a short morning work before the afternoon's test, and it worked out well so we'll continue with that strategy for the future."
Now Seidel shifts his sights to making final preparations for the upcoming World Cup in Gothenburg, for which he departs on Wednesday. "My goal for this show in Del Mar was to use it as one more outing to further develop Zero Gravity's confidence and consistency in the ring, and it worked out perfectly. I'm super happy because today's ride was a great last test to have before we leave," said Seidel. "Of course the World Cup will be a whole new ball game - there are very few venues where you can simulate that type of electric environment. But it will be a great experience for Zero Gravity to get under his belt for the future."
Peters Bags Grand Prix Freestyle Victory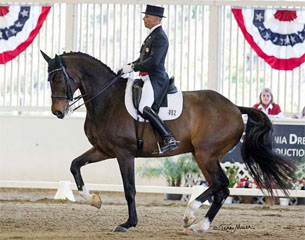 As the distinctive opening bass line of "Under Pressure" rang out in the covered arena at the Del Mar Horse Park with the voiceover "Hi, I'm Legolas, let's go!", there was no doubt that Legolas was back in top form as he and Steffen Peters posted the second-highest Grand Prix Freestyle score of their career. The veteran U.S. Dressage Team pair's winning score of 82.000% was also the best of any other American team contender in the current Olympic selection year, second only to their own career best score of 84.050% earned at the LA Winter Dressage CDI in Burbank in January.
"One of the judges spoke with me during the awards and said it was the best she'd ever seen Legolas look," said Peters of Four Winds Farm's Westfalen gelding (by Laomedon x Florestan II). "We had two clean, confident tests this weekend and I'm just thrilled with him. He feels great and hopefully we can keep him this relaxed for the rest of the season so he can continue to show at his best." Finishing in second was Kimberly McGrath riding Arianthi Ferronato's KWPN gelding Winslow (by Obelisk x Houston) with 74.002%.
Now the veterans of multiple championships together, Peters knows that his partner can be on the sensitive side when it comes to freestyles so he set Legolas up to succeed in Del Mar with a recent addition to his equipment.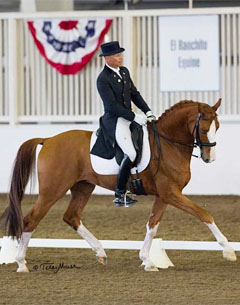 "Today Legolas was wearing new padded ear covers, and I'm so glad the FEI approved the use of them this year," Peters explained. "The jumpers are allowed to wear them and I always felt that it was only fair to allow some ear protection and make it a bit more comfortable for our dressage horses in the freestyle, especially the noise-sensitive ones. It certainly seemed to make him more comfortable, especially in the indoor environment where the loud music really echoes around in a smaller space. He responded positively when we worked with it at home, so we decided to try it here at Del Mar and now it will be part of our plan for the future. So I sincerely thank the FEI for allowing this, not just from me but especially from Legolas." Peters noted that Legolas will now take a short break before participating in one final prep show at Del Mar in late April, then head to Europe in late May to begin preparations for the final Olympic Games selections.
Bailarino Victorious Again in Intermediaire I
In a repeat of Friday's Prix St. Georges test, Peters once again impressed the large crowd that gathered with Four Winds Farm's flashy chestnut Oldenburg Bailarino (by Breitling W x De Niro), who made the more challenging Intermediaire I test look effortless and even improved his score from the previous day to dominate the class 75.737%, all despite this being the gelding's international debut.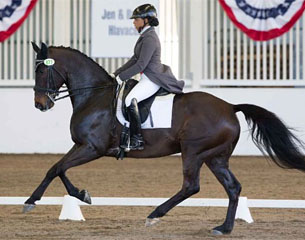 "It was really fun, especially since it was his first Intermediaire I test ever - we've practiced the movements at home but never put the whole test together. It was a very clean test, but he's so laidback he did make me work for the extensions - it's a good workout," Peters laughed. "He's so beautiful in the bridle and a very supple horse. His temperament is outstanding especially for an eight-year-old, and he's such a stunning horse to look at. I'm delighted that Akiko is letting me to ride him for a little while." 
Also demonstrating up-and-coming talent was second-place finisher Shayna Simon and her 11-year-old Hanoverian gelding Harley Davidson (by His Highness x Walt Disney I). After earning their first international victory at the LA Winter Dressage CDI in January, this talented pair took home reserve honors today with a personal best CDI score at this level of 71.868%. In the Intermediaire Freestyle, Shayna Simon anHarley Davidson powered to another CDI victory with a big score of 74.425%.
Buffini, Volk, West Earn More Wins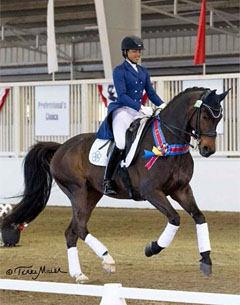 After sweeping the Under-25 division in Burbank last month, Anna Buffini and her KWPN gelding Wilton (by Jazz x  Contango) continue to be unbeatable at this level as they dominated the CDI Under-25 Intermediaire II class with 71.096%. Finishing in second with 62.675% was Cassidy Gallman with Grand Makana (Hanoverian gelding by Goodman). Buffini and Wilton continued their winning streak by topping Sunday's U-25 Grand Prix test with 65.426%. Finishing in second with 62.209% was fellow NAYRC Gold Medalist and
Buffini's Region 7 team mate Cassidy Gallman with Grand Makana.
In the CDI Young Rider Individual Test, Canada's Ehren Volk and the Westfalen gelding Weltino's Magic (by Weltino x Diamond Boy, owned by Jen and Bruce Hlavacek) rebounded from yesterday's second-place finish in the Team Test to turn the tables on their rivals and win with a big score of 72.544%. Lauren Asher and her Hanoverian gelding De Noir (Hanoverian gelding De Niro x Matcho AA) gave Volk a run for her money, but ultimately had to settle for second with 71.228%.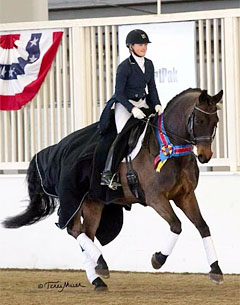 For the Junior division, Veronica West continued her winning ways in today's Individual Test aboard her Hanoverian gelding Nobleman (by Natiello xx x Wenzel II) with a score of 66.491% to earn the victory over Christian Simonson and the Hanoverian gelding Herzkonig (by His Highness x Weltmeyer) on 63.289%.
by Jennifer Keeler - Photos © Terri Miller
Related Link
Scores 2016 CDI Del Mar
Peters Earns a Confidence-Building Grand Prix Win at 2016 CDI Del Mar