2016 World Cup Finals
FEI Press release -- The Netherlands' Hans-Peter Minderhoud fulfilled a life-time ambition when clinching the World Cup Dressage 2016 title on Sunday 27 March 2016, riding  Flirt to claim the trophy and €50,000 winner's cheque in Gothenburg (SWE). The 42-year-old team gold and GP Special bronze medallist at the 2015 European Championships in Aachen (GER), gave it his all to earn a mark of 82.357 in front of a packed crowd in the Scandinavium Arena.
He had wanted this win for a very long time. "It was really special for me", the Dutchman said afterwards. "This was my sixth final and I've never been on the podium, although I was twice really close. I started off as a groom and it was always my dream to win it, so it's very emotional. My horse is almost like a dog, you can take him everywhere. He's very sweet and always tries for you, he's a really good boy!"
The win came at the expense of home crowd favourite Tinne Vilhelmson-Silfen, who finished just 0.928 per cent adrift with Don Auriello in second place. Germany's Jessica von Bredow-Werndl and the stallion Unee B, third-place finishers in Las Vegas (USA) 12 months ago, once again stood on the same step on the podium this time around.
Minderhoud posted the 13th Dutch victory in the history of the World Cup™ Dressage series which this year celebrates its 31st Final. The last time the title went to Holland it was Minderhoud's life-partner, Edward Gal, who claimed the honours with the much-loved stallion Totilas on home ground in 's-Hertogenbosch in 2010.
Great buzz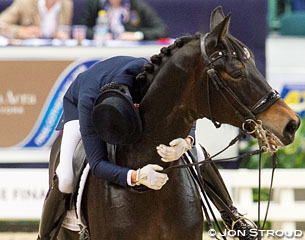 The spectators at Gothenburg Horse Show always play their part in every competition, creating a great buzz as they get involved with everything going on in the arena. And the intensity of it all certainly affected American rider, Gunter Seidel's, gelding, Zero Gravity, who looked ready to explode with the excitement of it all when fourth to go. But the three-time Olympian produced a masterful ride to finish his test with the lovely 12-year-old gelding who still managed to demonstrate his huge potential.
This pair were followed by the only other US representatives, Charlotte Jorst and Nintendo, who really set the arena alight with a performance that oozed energy and fun. The big bay stallion has exactly the same attitude as his rider who smiled her way through the whole test that was set against a rousing musical score. And Jorst's determination to complete on exactly the final note led to a sharp intake of breath, because she marched up the centre line and didn't stop until her music finished, which left her right up against the arena boards and staring directly into the eyes of Ground Jury President, Sweden's Gustav Svalling.
Her mark of 73.232 took the lead only to be overtaken by 73.589 from Australia's Lyndal Oatley and Sandro Boy. But it was the last rider to go before the judging break, Denmark's Agnete Kirk Thinggaard with Jojo Az, who held the lead at the halfway stage as they strutted their stuff to post 76.250 to the delight of the crowd.
 
Immediately relegated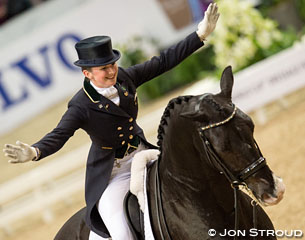 They were immediately relegated to runner-up spot when the action resumed however by Ireland's Judy Reynolds and Vancouver K who went out in front on a score of 77.339. It has been an historic week for the sport of dressage in Ireland, as this is the first time the country has been represented at an World Cup™ Final so the 34-year-old has been creating quite a stir. But Germany's Fabienne Lutkemeier posted 78.411 with D'Agostino FRH when next to go and then, with just five of the 18 starters left to take their turn, Sweden's Tinne Vilhelmson-Silfven reset the parameters when producing the first result over 80 percent.
After rolling out another technically brilliant performance that included super-tough transitions with her 14-year-old gelding, Don Auriello, she put 81.429 on the scoreboard and that really piled the pressure on the four remaining riders. Germany's Jessica von Bredow-Werndl challenged strongly when posting a mark of 80.350 with Unee BB despite a couple of errors, but, third-last into the ring, Hans Peter Minderhoud made no mistakes with his 15-year-old gelding, Glock's Flirt, to go well out in front on 82.357 which would prove unbeatable despite a valiant last to go effort from host-nation heros Patrik Kittel and Watermill Scandic.
 
Emotional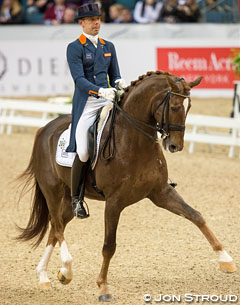 Minderhoud, who also won Friday's Grand Prix, admitted afterwards that he felt the pressure today. "It's been two long days since the Grand Prix. Normally I'm not really nervous but today I thought I really want this! So I'm really happy that I won!" he said.
He talked about Flirt. "I have him now for two years and when I got him he was a nice Grand Prix horse but I didn't expect him to be a winner but he's just getting better and better. He's such a great honest horse in the ring, he doesn't want to make any mistakes - you really feel that he gives just everything to you! I've also been riding around with not-so-easy mares and not-so-easy stallions, so it's so much fun to have a horse like him. You can really rely on him, and that's an amazing feeling."
Second-placed Tinne Vilhelmson-Silfven said she made an early mistake but that the Gothenburg experience is always special. "The feeling to get into the arena with all of that great audience here is indescribable, it's a very special moment, and I think Don Auriello felt great with that today, he had a lot of power in him but was still very controlled. It was a pity about my first halt, it was the only weak point I think, otherwise I was very happy with him!" 
 
Wide-open contest
Jessica von Bredow-Werndl said today's competition was a wide-open contest but that Minderhoud's victory was well-deserved. "Any one of us could have won today but you were the one who had no mistakes!" she said to him. "You were the best one today so you are the right winner! I had two very big mistakes, and that was a shame because you don't want to make a mistake at the Final but being third, even so, is great. It's my third final and my second time on the podium."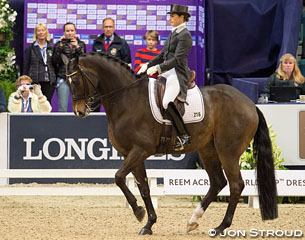 Ground Jury President, Sweden's Gustav Svalling, talked about the new World Cup winning partnership. "This horse (Flirt) is a very obedient horse, but it is also the combination between the rider and horse - you can see they really like each other" he said. And he laughed when asked about his close encounter with Charlotte Jorst's big stallion earlier in the day. "I really liked that American, even if she came a bit close to me! Her music and everything about her performance - it was a great show!" he said.
 
Minderhoud found himself alone in Gothenburg tonight because Edward Gal and his trainer Nicole Werner left the show after the prize-giving. But he was planning to celebrate with some of the Dutch jumping riders instead, and when asked how it would be to bring home the World Cup™ title which Gal claimed six years ago he smiled, and said, "I think it will be very good for our relationship that I have also won it now!"
by Louise Parkes for the FEI
Photos © Dirk Caremans  / Jon Stroud - Check out all 2016 World Cup Finals photos in Dirk Caremans' and Jon Stroud's wonderful database
Related Links
Scores 2016 World Cup Finals
Eurodressage Coverage of the 2016 World Cup Finals