A Walk on the Premises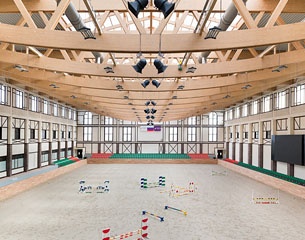 Russian real estate entrpreneur Nikolaj Aristov has a grand vision. He wants to restore Russian equestrian sport to its former glory and rekindle riding as a popular, accessible sport for children and adults of all social classes.  Aristov has spared no costs to realize his vision and is developing Maxima Park into one the most attractive equestrian centre in Russia and Europe. 
Sparing no costs to create the largest equestrian facility of its kind on the European continent, Aristov is building Maxima Park on 60 hectares of rolling land in Gorki Sukharevskiye, a suburb in the greater Moscow area half an hour north of the capital. The project is the initial seed of urban development in the area. The equestrian centre is fully operational and already hosting international competitions in dressage and show jumping, while the construction team is working on a fast-track schedule to complete the centre by 2018.
Maxima Park has quickly become an international hub for East Europe's top equestrian athletes. The centre aims to attract riders from Russia, Belarus, Poland, Ukraine, Finland and the Baltic states who want to tap into a pool of expertise, have the best facilities for their horses and themselves, and competition opportunities year round without having to travel thousands of kilometers. Maxima Stables is the perfect base to pass the harsh, cold winter months as the centre is fully heated.
Maxima Park Combines Comfort and Luxury at State-of-the-Art Facility
Maxima Park boasts the most amazing, state-of-the-art facilities for horse and rider and is designed to meet all standards. The park is one of only a handful of equestrian centres in the world, where facilities of this scale are all incorporated on one site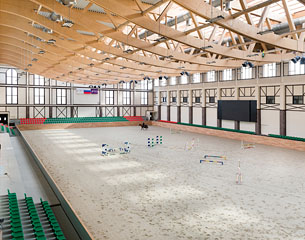 The centre has four indoor arenas: a 68 x 26 m  arena with the largest mirror walls in Europe and a 80 x 40 m main competition arena with a 20 x 40 m indoor warm-up ring, and another 20 x 40 m arena. The "Grand Manege" offers the comfort of elevated viewing areas for 1,000 spectators as well as private areas for riders and VIP guests with full catering. There are four outdoor arenas with all weather footing and lighting and a fifth outdoor is in the making. The main outdoor adjacent to the hotel has a huge grandstand complying with the demands to host future, prestigious (inter)contintal championships.
There is a 300-horse stabling capacity in the main buildings and competition stalls, there are two indoor 18m horse walkers, two outdoor walkers, two automatic walkers, 22 paddocks, and an on-site veterinary clinic for horses and small pets, as well as an insemination centre.
Aristov is currently building a country hotel at Maxima Park with 2*, 3* and 4* rooms, an indoor swimming pool, fitness area and wellness centre with sauna, hamman, massage rooms, and much more. One section of the hotel with rooms, studios and furbished flats is already finished and provides on-site lodging for riders, grooms, and family members.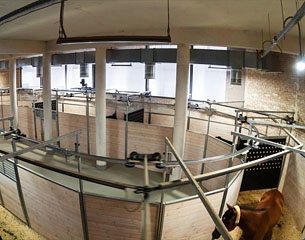 Maxima Stables boasts extensive capabilities in recreational and competitive horse sport. Maxima Park's hotel complex offers the possibility for private individuals and corporations to host fully catered social, family and business events. During competitions visitors can combine these meetings while equestrian action across the show grounds is underway.
"I have been to many shows and stables in Europe and looked around," Aristov told Eurodressage. "I have combined all the good things I've picked at Maxima Park. There is everything here that a rider wants to make his life in the saddle fun, easy, and successful. It also offers many upscale features for the non-horsey family members and friends, who might come along and enjoy themselves staying with us while a competition goes on or when they stay here for several months in training."
Bringing Horse Sport to the People
Russia was a bright beacon of greatness and succes in dressage from the 1950s till the 1970s with world famous dressage stars and Olympic gold medalists such as Elena Petukhova, Sergei Filatov, and Ivan Kizimov. The country was once known as the dominating dressage nation, but lost its status and top position in the 1980s during the fall of communism. The Soviet Union's declining economic strength at the time made the  states stud close down and ended the equestrian sport programmes on which the country thrived for years. By the 2000s the systemic nurturing of equine and human young dressage talent had disappeared.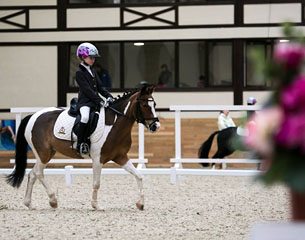 Nowadays a large amount of riding clubs still exists in Moscow with ever growing membership, but they do not form a unified front. Several private initiatives have been undertaken to promote dressage sport in Russia by developing young equestrian riders into international competition athletes. They are also labouring hard at making horse riding popular again from grassroots level up.
Aristov's new massive project at Maxima Park will support this development and will take a leading role. With its top of the bill facilities and unlimited array of social, and entrepreneurial opportunities through the hotel and show grounds the equestrian centre will trail blaze the future of equestrian sport in Russia.
Maxima Park will be the sportive anchor for the community as a unifying hub for the dispersed riding clubs in the greater Moscow area. Founder Nikolaj Aristov wants to connect residential Moscow neighbourhoods with the sport and attract children to the yard to take up riding.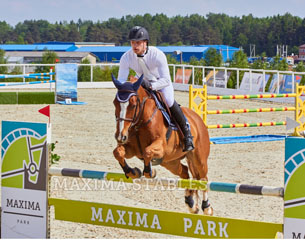 Maxima Park is fully staffed with experienced professionals to start, improve and develop a riding career. Show jumpers Victor Petrov, Tatiana Fedotova and Vladimir Shaverin, as well as dressage riders Polina Afaniesa, Marina Bozhneva, Maria Shigal and Dutch Dominique Filion form the permanent team of experts at the yard.
"My team is motivated to help any type of rider, whether it's a beginner or an experienced competition rider," Aristov explained. "They are willing to share their knowledge and years of experience with anyone who wishies to start riding or wants to develop their skills."
International High Standard Competition Venue
Nikolaj Aristov is a horseman at heart and rides almost daily himself. He usually appears at the Park or on show grounds wearing breeches, while pacing about supporting his three competitive dressage daughters: junior rider Anna Aristova, children's rider Ekaterina Aristova and pony rider Olga Aristova. Seventeen-year old Anna has represented Russia at the 2013, 2014 and 2015 European Junior Riders Championships and is heading to her fourth, consecutive Europeans this summer in Oliva Nova, Spain. Thirteen-year old Ekaterina is set to make her debut on the Russian team at the 2016 European Children's Championships this summer.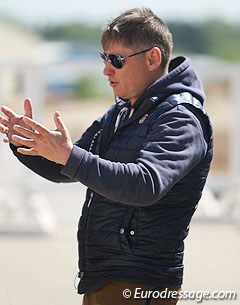 Aristov commutes between Girona, Spain and his home town Moscow where he heads a real estate company which manages a hotel chain and numerous office buildings. Wth his latest development project Maxima Park he is not just building a barn for his kids, but is aiming for the stars. He wants to propel Russian dressage athletes to the forefront in training and at international competitions.
"Maxima Park is the perfect stable for Eastern European or any equestrian athlete who wants to have a steady base for the summer or winter or when they are visiting Moscow for a shorter period of time and want to bring their horses for training," Nikolaj explained. "It's all about small steps, one at a time. First and foremost I want to attract kids to get them to ride horses, not just in dressage but they also should do a bit of  jumping. They have to connect with the horses, groom them, pat them, brush them, spend time with them, make a connection."
Aristov is closely involved in the building process of his equidome. His personal approach to the design and construction process allows the facility to be completed under a tight deadline, without sacrificing the integrity of his vision. In the grand scheme of things Maxima Park will be able to host international championships as it fulfils all the demands for a world class sports venue. Maybe a Euripean Dressage Championships in the not too far future? "Small steps, we'll see," the level-headed Aristov replied. For the horse-loving real estate developer it is all about building from the ground up.
by Astrid Appels
For more information, visit www.maximapark.ru or www.maximaequisport.ru
Related Links
Sudzhenka and Shvetsova, Junior Stars at Maxima Park's 2016 CDI Moscow
Scores: 2016 CDI Moscow
Dominique Filion Moves to Maxima Park in Moscow