History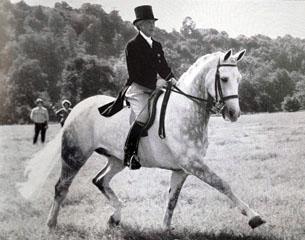 From all nations excelling in dressage nowadays, Great Britain had to take the hardest way to get to Mount Olymp in the most refined of all Olympic disciplines, dressage. Within less than 60 years dressage in Great Britain evolved from an ignored sport practised by a few passionate ladies to the country's most successful discipline, taking home two gold and one bronze medal at the 2012 Olympic Games on home-turf in London.
In January 2015, Eurodressage's Silke Rottermann interviewed the now late Diana Mason, a female pioneer for British dressage, to do a retrospect on her country amazing road from Cinderella sport to a discipline, now also well-respected by a non-horsey public.
Diana Mason Spear Heads British Dressage
Diana was European team champion in eventing in 1954 with her mare Tramella when she turned to dressage on the very same horse at a time when Great Britain lacked almost everything to succeed in this discipline. She was on the winning British team at the 1963 unofficial European team championships and went on to represent Great Britain twice at the Olympic Games as a rider (1976 and 1988) and as chef d'equipe (1972 and 1984). Mason was also an I-judge and chairman of the predecessor of British Dressage for almost two decades. Due to these varying commitments to the sport, Mason was awarded an OBE by Queen Elizabeth II. in 2009.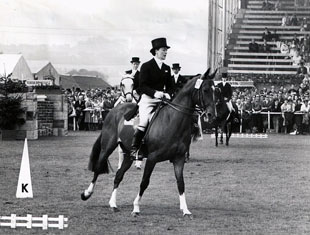 "To the best of my knowledge there hadn't been many competitive Grand Prix dressage riders in Britain before World War II (editor's note: Jennie Loriston-Clarke mentioned in her book "The Complete Guide to Dressage" that Joan Gold competed at Aachen 1938). Even at the 1948 Olympic Games in London we did not have one single dressage rider to represent our country in Aldershot (editor's note: probably as a result of the non-allowance of women as Joan Gold and Lorna Johnstone already rode higher dressage then). But maybe it wasn't that bad like one sometimes could read in continental media: that dressage was detested or even considered as animal abuse, but without a doubt it wasn't popular and very much ignored by riders and media alike," Mason told Rottermann.
However, even though we could not send a rider to our own Olympics in 1948 it was there that dressage got a first more serious acknowledgment. Colonel Podhajsky, the longtime leader of the Spanish Riding School in Vienna, gave a much noticed display on his Lipizzan stallion Neopolitano Africa. It attracted the crowds. He returned for the 1949 International Horse Show in the White City at London on invitation and it was there that in particular female riders got a keener interest in dressage.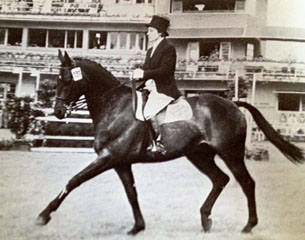 Podhajsky stabled his three mounts Teja, Neopolitano Africa and Pluto Theodorosta for his London displays at the private estate of show president Colonel V.S.D. Williams near Windsor where countless curious visitors came to see him work his horses. His rides at the White City became a big success as he purposefully demonstrated to the Brits that very different horses like his thoroughbred influenced Hungarian Teja and the baroque Lipizzans could all do dressage.
Brenda Williams Blazed the Trail
"I think one of the first who really started doing dressage was Brenda Williams, the Colonel's wife," Mason reminisced. "She had a thoroughbred called Piligrim xx who she trained with Podhajsky's help. The Williams' staged several clinics with him on their estate to which they also kindly invited me. They were very passionate about dressage and really started the whole thing going in the 1950s. We hadn't a rider at Helsinki in 1952, but already at Stockholm four years later Brenda Williams on Piligrim xx and Lorna Johnstone with Rosie Dream xx were the first Olympic dressage riders from Great Britain."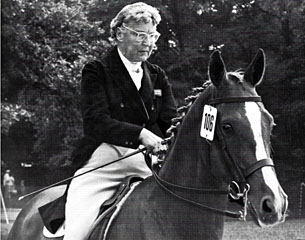 "Lorna was another of those pioneers back then. She lived not far away from me and always rode thoroughbreds which she bought very cheaply at the Ascot Sales and which usually were failed or too small race-horses. Even though Brenda and Lorna brought British dressage on the Olympic stage, there wasn't much recognition in the media and therefore in the public. There was one writer who published in Horse&Hound, but he really was the only one taking a certain kind of interest, most other media just ignored dressage."
"Dressage really had to be started from scratch back then. There were very few advanced dressage classes, about 4 or 5 each year to compete in and even worse, there were no serious dressage instructors. We had to teach our horses the dressage movements mainly on our own. There were few clinics with Colonel Podhajsky and Colonel Felix Bürkner (editor's note: One of Germany's best dressage riders and trainers before WW II; clinics had also been held by Major Frank from the Swiss Cavalry Depot and General Linkenbach, Germany's 1928 Olympic dressage champion) annually and the rest of the time one tried to support each other. We also read dressage manuals and this way I tried to teach my horse flying changes, for example! So to a greater part we were self-taught."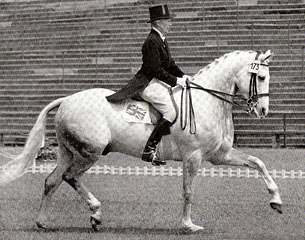 "But in the 1950s the British Dressage Committee (a kind of predecessor of British Dressage) was founded by the Williams' to get some structure and organization and enable us to start internationally. In 1958 British dressage set a first landmark when Joan Gold won the Grand Prix at Aachen with her thoroughbred Gay Gordon as well as four other classes there (unqualled to this very day!). But this came to our complete surprise as Joan, who later became an international judge, had lived in Berlin for a few years then. Her husband was in the army there and she had a very good German trainer."
Rising Interest in Dressage
"In the 1960s something changed for the better. We still had only about five combinations who could be considered for Olympic selection in 1960, but among them was Jook Hall, a native Dutch woman, who was married to Robert Hall. She was a most attractive girl and she rode a Lipizzan called Conversano Caprice. And both did very well at the Rome Olympics, so that was something! They also won the Hamburg Derby in the 1960s a few times. Brenda Williams set a sign by coming 3rd at the 1961 CDIO Aachen behind Filatov and Neckermann, riding the gorgeous grey Connemara pony Little Model (by Little Heaven xx). We were still lacking a broader basis and enough skilled dressage instructors throughout the 1960s, but in 1968 we could send the first (female) team to the Olympic Games and in the 1970s dressage in Great Britain really had the first breakthrough."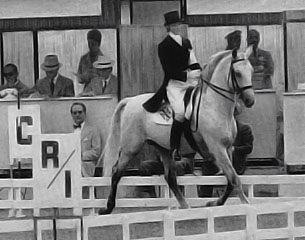 "I came to the Munich Olympics as chef d'equipe because I had no suitable horse back then and on her 70th birthday Lorna Johnstone became the first British dressage rider to qualify for the individual final on El Farucco xx, another thoroughbred, a lovely type of horse. Lorna was a most remarkable woman who trained with a Frenchman (Francois Cuyer) and hunted all her dressage horses over the winter."
"At the beginning 1970s more and more freestyle classes were introduced and took care that dressage became more popular in Great Britain, attracting more public interest and more media interest. Besides Goodwood, which turned international in 1973, there was the Birmingham International Horse Show in which kur classes were held to a live band playing."
Jennie Loriston-Clarke Upping the Bar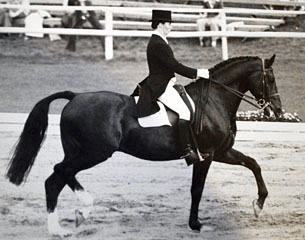 "It was also the time when more and more horses from the continent were presented in dressage classes in Great Britain. At the beginning everybody just worked with the horses available., but already at Munich 1972 a Swedish and a Trakehner were on our team. It was a Dutch horse that took care that the popularity of British dressage increased enormously: Dutch Courage whom Jennie Loriston-Clarke had bought as a 3-year-old in Holland. Both were spot on at the 1978 World Championships at Goodwood, the first time Great Britain hosted an international dressage championships, and won the individual bronze medal."
"One can say that from then on we never looked back. More and more young riders got interested in the discipline, the starter fields were growing through all age divisions. More qualified trainers secured a good training standard and Ernst Bachinger from the Spanish Riding School in Vienna was hired as the national dressage coach in 1977. Already in the 1960s another member of this prestigious riding group from Austria, Franz Rochowansky, had relocated to Britain and had a serious influence on several dressage riders."
Bartle, Faurie Pave the Way for Team Hester to Shine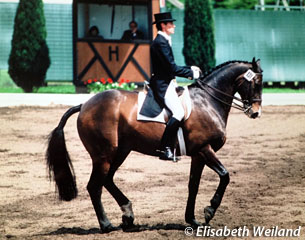 "In the 1980s young Christopher Bartle from Yorkshire embarked on the scene with his ex-eventer Wily Trout, a 7/8th thoroughbred from Ireland. He and also his sister Jane on the Belgian gelding Pinocchio further increased the discipline's popularity, in particular with their kur performances (editor's note: Chris Bartle was 2nd in the first ever World cup Final 1986, sister Jane came 2nd in the freestyle at the 1986 World Championships). Until the 2012 Olympics Chris and Wily Trout hold the highest ever individual placing of a British dressage rider at the Olympics, finishing 6th in 1984.
"The 1990s saw our first ever team medal at the 1993 European Championships in Lipica and Emile Faurie won individual bronze on Virtu. We couldn't permanently establish in the team medals then, but the overall level remained high and progressed continuously until it peaked in 2012."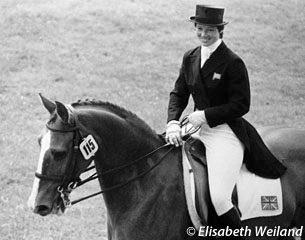 "I admit when I started dressage with my mare Tramella in the 1950s I never thought we would get there in 100 years. Still the development in Great Britain from the 1950s to these two Olympic gold medals in London 2012 had been a slow process. We got better trainers, attracted wealthier owners to buy warmblood horses and had some really outstanding horse-rider-combinations to inspire young riders who wanted to follow in their foot-steps. Success on the other hand attracted sponsors."
"During this process the biggest influence came from several personalities. Colonel Williams and his wife got dressage under way 60 years ago. Jook Hall was a successful rider at three Olympic Games and a very well respected judge later on. Same can be said about Domini Morgan who was a very respected I-judge and rode in two Olympic Games. Somebody whose influence spanned the longest period and still does is Jennie Loriston-Clarke. Not only was she the first to win an international medal, but a superior horse woman: trainer, competitor, I-judge and also extremely successful as a breeder. She was one of the first in my country to breed dressage horses who then went internationally."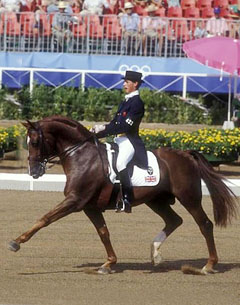 "And then it's Carl Hester, of course. As a young man he was once recommended by Joan Gold to the Bechtolsheimers for whom he first rode horses like Rubelit von Unkenruf (WEG 1990 Stockholm) and Giorgione (OG 1992 Barcelona). Carl is just great, a wonderful rider and a lovely person he is super with all his horses and for no uncertain terms did his part to get get British dressage where it is today."
- by Silke Rottermann, written for Eurodressage in January 2015
Photos © Private - Menzendorf - Elisabeth Weiland
Related Links
Tramella, the Unique Record Holder
Diana Mason Passed Away
In Memoriam Hans von Blixen-Finecke
Dutch Gold, Like Father Like Son
Dutch Courage, Pioneer of British Dressage