Danish Warmblood Breeding News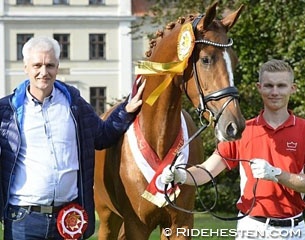 Sezuanna (by Zack x Don Schufro) was proclaimed 2016 Danish Warmblood Mare of the Year at the DWB Elite Mare Show held in Vilhelmsborg, Denmark, on 26 - 28 August 2016.
Twenty mares were awarded a bronze medal, 19 mares got silver and the remaining six mares were invited to the "gold medal finals" during which the
dressage mare of the year was named. The gold finals had six extraordinary mares, two show jumping bred and four dressage bred mares.
Sezuanna was not only crowned "Dressage Mare of the Year" but she also achieved the highest score at the saddle grading in Fyn this year. Under Emma Dahlberg she scored 948.5  points with 9.5 for canter, 10 for trot, 10 for capacity, and the test rider gave her 10 for rideability.
Sezuanna is born by embrytransfer and has a full sister, same age as her, named Ascenzione. Both are born on the same day in 2013 and bred by Mogens Pedersen of Straight Horse Brood Farm, who also owns the dam of Sezuan (and also the dam of Zonik). Both broodmares were formerly owned by Linette Jæger, who is recorded as Sezuan's breeder.
The 2016 DWB Gold medal mares in dressage:
3-year-old Straight Horse Sezuanna (by Zack x
Don Schufro) - bred by Straight Horse ApS and owned by the breeder & A. Helgstrand
3-year-old UNO Day Sun (by UNO Don Diego x Rosoff) - bred and owned by Stutteri UNO
3-year-old Aagaardens Darbie Zalene (by Zack x Don Romantic) - bred by Brian Grønkjær Bak and owned by Stutteri Aagaarden
5-year-old Nørregårds Famous (by Don Romantic x Fürst Heinrich) - bred by Ruth Knudsen and owned by Janni Rosenkjær Brolund
Photo © Ridehesten
Related Links
Delicious, Mildura, Schwarze Schwalbe, Tebaldo Winners of 2015 Danish Warmblood Elite Show
Lillevangs Pari-Diva Named 2014 Danish Warmblood Mare of the Year
Stigma Named 2013 Danish Warmblood Mare of the Year
Tirana Named Danish Mare of the Year 2012
Prima Donna Named Danish Mare of the Year 2011
Sirikit, 2010 Danish Warmblood Mare of the Year
Fabrix Miss Ésandri, 2009 Danish Warmblood Mare Champion
Bøgegaardens Don Romina, 2006 Danish Warmblood Mare of the Year