Dutch Dressage News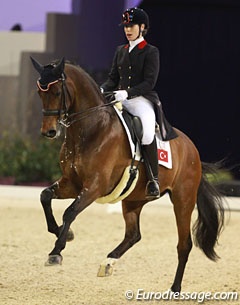 The soap story concerning the Dutch Grand Prix horse Zygrande Le Coupied continues ! After the Breda court ordered the horse to be delivered back to its rightful owner Theo Verboort, the 12-year old KWPN has disappeared from his stable.
This is the second time that Zygrande has been reported as "stolen". In 2011 Verboort picked up the horse from Avinal and the rider reported it as officially stolen. 
A legal dispute about the rightful ownership of the Dutch warmblood gelding has taken place the past year and on 31 August 2016 the court house of Breda ruled that Theo Verboort is the official owner of the Krack C x Ferro offspring.
Today Dutch media received a press release from owner Verboort that the horse has "disappeared" since last Friday 2 September 2016.
"The Grand Prix horse has last been seen with his rider, Ceylan Avinal. A legal procedure has been filed and the bailiff laid claim on the horse and its passport. After the judge ruled that the horse belongs to its rightful owner Theo Verboort, it has been taken away from the stable," the press release read. "Since then the horse has been missing and Avinal is unreachable."
One hour after Verboort sent out his press release, Avinal's lawyer responded with their own release in which it is stated that the "term set by court (to return the horse) has not yet ended". The court gave Ceylan 14 days to return the horse. Avinal's lawyer Stephan Wensing also stated that Ceylan acquired the horse in 2010 from Verboort and trained it to Grand Prix level. Verboort went bankrupt and in 2015 he claimed the horse in order to repay his creditors.
Wensing further mentioned that "all costs for upkeep, care, training and competitions were done by the mother of my client. She has a claim for an amount of approximately 6 years x 24,000 euro. If Mr Verboort thinks that he is the owner retroactively, he will have to bear the costs, which is legally arranged. Furthermore my client has trained the horse successfully to the high level and this will have to be rewarded as well. (...). In this case there will be further litigation."
Photo © Astrid Appels
Related Links
Zygrande Le Coupied Returns to Owner Theo Verboort
Zygrande Le Coupied Found
Avinal's Zygrande Le Coupied Stolen