2016 French Young Horse Championships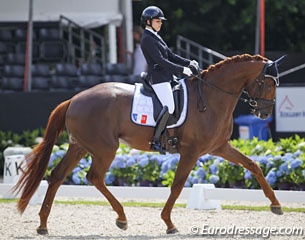 The 4-year old Valentin, the 5-year old Diamondgio and the 6-year old Barroso became the winners of the 2016 French Young Horse Championships held at the Cadre Noir during the 2016 CDI Saumur on 23 - 25 September 2016. Belgian riders snatched away two titles and two reserve championships at this French young horse event.
In the 4-year old division Belgian Larissa Pauluis and the Westfalian gelding Valentin (by Vitalis x Fidermark)  claimed highest honour as the high scorer of the division with an 86.2% in the preliminary round, 88.3% for presentation and 85.80% in the final round to win with a total of 86.2 points. French Julien Vincent became the runner-up with the Selle Français bred Countrymusic Crambery (by Don Juan de Hus x Donnerhall). The pair scored 83.2%, 77.5% and 87.4% to finish second overall on 85.8 points. Marion Perret and the Belgian owned KWPN mare Hannelinde (by Dream Boy x Sunny Boy) were third with 80.0.
French representative at the 2016 World Young Horse Championships, Lena Thouvenin and the Oldenburg bred Diamondgio (by Diamo Gold x Pik Noir) topped the board at the French Nationals in the 5-year old division. Owned by the TH DressValue, the horse scored 76.8% in the preliminary round, 77.2% for presentation and 84.6% in the Final round to total 83.6% for the gold medal. Belgian Dominique Mohimont won the silver on the Dutch warmblood Genie (by Zhivago x Sandro Hit) with 79.6%, 84.7% and 82.00% to finish second on 82.4 points. Julien Vincent and the Dutch bred Girello VWM (by Andretti x Royal Dance) were third with 79.6 points.
In the 6-year old division Belgian Larissa Pauluis grabbed the title aboard the Dutch owned KWPN stallion Barroso (by Bordeaux x Saros). The pai scored 79.9% in the preliminary round, which served as a warm up. The final round counted for the title and Pauluis earned 83.6%  on the bay stallion for victory. Belgian Amandine Prevost and the German Sport Horse bred Quaterdance (by Quaterback x Expo'se) were unable to complete a hattrick and win the third, consecutive French Young Horse title in a row. Instead they became the reserve champions after scoring 76.4% in the warm up round and 81.6% in the Finals. French Grand Prix rider Anne Sophie Serre ranked third on Actuelle de Massa (by Paston x Fuzilador) were third with 79.8.
Photo © Astrid Appels
Results - 2016 French Young Horse Championships - Saumur
4-year olds (top 10 only)
1. Larissa Pauluis - Valentin (by Vitalis x Fidermark) - 86.2
2. Julien Vincent - Countrymusic Crambery (by Don Juan de Hus x Donnerhall) - 85.8
3. Marion Perret - Hannelinde (by Dream Boy x Sunny Boy) - 80.0
4. Amandine Prevost - Ragtime (by Rifaisos x Garcon) - 78.6
5. Renaud Ramadier - Come Back de Massa (by Galopin de la Font x Quixote) - 78.3
6. Arnaud Serre - Caporal de Massa (by Rieto x Xaquiro) - 78.0
7. Alexia Stullein - Bella Josi L (by Johnson x Belissimo M) - 77.6
8. Mathilde Bayor - Full Monty LH (by Fidertanz x Donnerhall) - 76.9
9. Alizee Roussel - Bel Amour (by Bretton Woods x Donnerhall) - 76.5
10. Fabien Godelle - Devalero (by Dancier x Riccione) - 76.3
5-year olds (top 10 only)

1. Lena Thouvenin - Diamondgio (by Diamo Gold x Pik Noir) - 83.6
2. Dominique Mohimont - Genie (by Zhivago x Sandro Hit) - 82.4
3. Julien Vincent - Girello VWM (by Andretti x Royal Dance) - 79.6
4. Sarah Rogers - Flair Royal (by Fairbanks x Royal Diamond) - 77.2
5. Clemende Jean - Quickstep (by Quaterback x Rotspon) - 76.6
6. Chantal Klimmer - Big Bang de Massa (by Quazar de la Font x Xaquiro) - 76.2
7. Manuel Godin - Querida de Hus (by Quaterback x Furst Heinrich ) - 76.2
8. Alizee Roussel - Furstin Star JM (by Furst Nymphenburg x Lauries Crusador xx) - 74.8
9. Alizee Roussel - Donna LEea du Neuhof (by Diamond Hit x Carolus) - 73.6
10. Sarah Rogers - Schabernack (by Sandro Hit x De Niro) - 73.0
6-year olds (top 10 only)
1. Larissa Pauluis - Barroso (by Bordeaux x Saros) - 83.6
2. Amandine Prevost - Quaterdance (by Quaterback x Expo'se) - 81.6
3. Anne Sophie Serre - Actuelle de Massa (by Pastor x Fuzilador) - 79.8
4. Claire Gosselin - Aliz de Lauture (by Karamel de Lauture x Looping) - 78.0
5. Louise Vanbaeten - Forento (by Sorento x Negro) - 77.2
6. Pauline Vanlandeghem - Sertorius de Rima (by Sandro Hit x Voltaire) - 76.8
7. Arnaud Serre - Amadeus de Massa (by Furst Romancier x Mulato) - 76.6
8. Julien Vincent - First Time d'Echallens JV (by Damsey x Don Schufro) - 75.6
9. Aurelie Riedweg - Skate Moss (by Soliman de Hus x Jazz) - 74.6
10. France Touvron - Andiamo d'Heulecourt (by Olivi x Cap Vert) - 74.2
Related Links
Flair Royal, Quaterdance, Quaterbold du Payrol Win 2015 French Young Horse Championships
Quaterdance, Kojak, Hermes de Hus Win 2014 French Young Horse Championships
Kojak, Hermes de Hus, Django de Charry Win 2013 French Young Horse Championships
Don Juan de Hus, Danciero de Hus, Dona Primera Win 2012 French Young Horse Championships
Blacktime, Grand Passion, Socrate de Hus Win 2010 French Young Horse Championships
Rock N Roll Star, Socrate de Hus and Wodan are 2009 French Young Horse Champions
Jessica Michel, Triple French Champion with Prime Time, Noble Dream, Riwera at 2007 French Young Horse Championships