What's Happening in the Dressage World?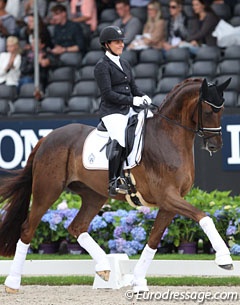 Cathrine Dufour has been given back the ride on the 6-year old Westfalian gelding Bohemian (by Bordeaux x Samarant). Owned by Dufour's long-time friend Louise Zinglersen, the chestnut Bohemian was trained and competed by Katrine Kraglund as of February 2016
and she rode him at the 2016 World Young Horse Championships and made it to the finals after winning the consolation class. Bohemian is now back in training with Dufour who aims to prepare him for the FEI levels.
Belgian pony rider Tess Wouters has made the transition to junior riders' level on a very special professor, former Belgian Grand Prix team horse Lucky Dance (by Lucky Lionell). Wouters has been competing at international FEI pony level on Hendi's Bolero the past two years, but she now has to make the transition to horses. Wouters is now tackling junior rider's level aboard Julie de Deken's Holsteiner licensed stallion Lucky Dance. De Deken is pregnant with her first child and due to give birth in January.
Dutch dressage duo Sjak Laarakkers and Vai Bruntink have relocated to a new yard in Vledderveen. For years Laarakkers was based at the Hoogeslag family's brood farm Sprengendal in Haarle, The Netherlands.
After losing her position at Stable Broere it seemed uncertain times for Dutch Grand Prix rider Kirsten Beckers, but she has now found a new, interesting ride on the KWPN licensed stallion Habanna (by Vivaldo out of Dimare, the full sister of Olympic team gold medal winner Cosmo (by Van Gogh x Fruhling)). Habanna is bred by Linda Rutten, wife of Kristen's coach Bert Rutten, and Kirsten will show him on the 2016-2017 KWPN Stallion Competition circuit.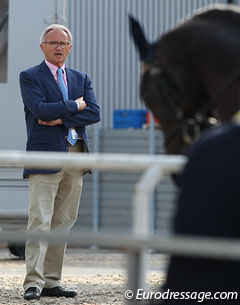 Christoph and Jurgen Koschel had to deal with a small fire that broke out in the evening at their yard Hof Beckerode in Hagen, Germany on 26 September 2016. The bedding in one of the boxes caught fire and smoke spread into the indoor arena. The fire guard came to the scene immediately and by 20h00 all was solved. None of the horses were ever in danger. It is still unclear how the fire broke out.
Four young horses were stolen from the fields at Silvia and Antoine Scholthus' Haras du Moulin in Edlinger Muhle, France. Amongst the theft was one liver chestnut gelding by Totilas owned by Arlette Jasper-Kohl of Gestut Peterhof. The horse was in France to be reared. Trailer tracks were found in the field and the thieves loaded up the four horses on the spot. All horses are chipped and registered. Five days later the horses were found in a shed in France. "We are incredibly relieved. Fortunately it wasn't the work of professional thieves," said Kohl.
It's more holiday time for a lot of riders. Newly weds Rob van Puijenbroek and Tommie Visser spent their honeymoon in the Seychelles. Spanish Olympic team reserve rider Borja Carrascosa and his partner Alexander Brenninkmeijer went to Abu Dhabi and were joined by German FEI rider Marcus Hermes. Belgian Grand Prix rider Mario van Orshaegen also spent a week on Ibiza relaxing in the sun. Former U.S. A-team rider Caroline Roffman and her husband Ben Meredith are visiting Rome, Italy and went to see the Vatican.
Horses.nl reported that the 6-year old KWPN licensed stallion Fashion Hill (by Uphill x San Remo) will no longer be available to breeders. The dark bay stallion was licensed in 2013 but never really sought after by the breeders. Under Grieteke Oldenburger, the stallion was then more focused on sport and began competing in dressage at the end of March 2016. He will now continue that sport career under the name Flabbergasted OSN.
Dutch small tour rider Andrea Villaverde fell off a horse on Monday 26 September and fractured a vertebra. She has to rest a lot and wear a corset for three months and will only be able to return to riding in four to five months time. In two weeks her back will be rescanned for a more precise diagnosis and whether an operation is necessary.
Belgian based Susan de Klein, who competes for the Dutch Antilles, has fractured her foot on Monday 26 September. De Klein relocated from Germany to Belgium a year ago and has been competing at national events in The Netherlands. On 25 September she won the Prix St Georges aboard the grey mare Deja Vu (by Dimaggio).
Adelinde Cornelissen danced a little bit too hard at the birthday celebration of her student Christiane Goes on Saturday night 24 September. "What started out as a great party ended painfully," Cornelissen wrote. "This saturday I got a calf strain on the dance floor. Walking is difficult, riding is better! To thank my team I took them out for dinner last night!"