Eurodressage F.O.C.U.S.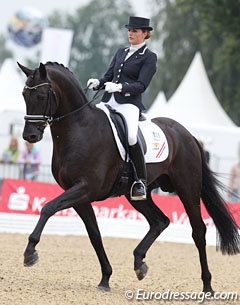 Astrix, the pretty black Dutch warmblood stallion who won the 2010 and 2011 World Young Horse Championships in Verden, Germany, was instrumental in Emmelie Scholtens' career as a confirmation of the young Dutch lady's riding skills and talent aboard young horses. After winning the 2009 World Championships on Westpoint, Scholtens went on to claim double gold on Astrix the following two, consecutive years. After Verden, however, Astrix totally disappeared from the scene. Where is he now?
Late Bloomer
The now 11-year old Dutch warmblood stallion Astrix is bred by Eef Ten Bosch. He is by Obelisk out of Upshot (by Olivi x Fruhling). Ten Bosch sold Astrix as a 2,5 year colt because he stayed too small. Peter and Marijke Perlee saw a stallion prospect in the young colt and acquired him. Unfortunately disease and slow growth kept him from being presented at the KWPN Licensing. Also when he was four the stars were not aligned for him to go to the approval in Den Bosch.
Under saddle Astrix developed well and grew muscle and posture. Marie Jose Hulsman competed him in the 2009 Pavo Cup Finals and finished 14th which was good enough to be invitied to the 2010 Dutch WCYH selection trials. Because Hulsman had to undergo surgery, Emmelie Scholtens took over the ride. 
Double Whammy in Verden
For newcomers Scholtens and Astrix, the 2010 World Championships in Verden were a dream come true. They won the qualification round with 8.84 points andt opped the finals with a total of 9.18. The horse was praised for his "good activity and uphill tendency in trot" (9.3) the good rhythm in the walk (9.5), and the "uphill canter, which was a little bit too hasty in the first counter canter" (8.9). With 8.9 for submission and 9.3 for general impression, Astrix and Scholtens totaled a winning score of 9.18.
Astrix competed in the 2010-2011 KWPN Stallion Competition and won the first two qualifiers, but did not participate in the finals. In Aprl 2011 he completed the 21-day stallion performance test in Stegeren, The Netherlands, with a total score of 83,5 points and was licensed for breeding with the KWPN society.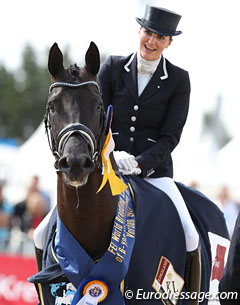 In August 2011 Scholtens and Astrix returned to Verden to defend their title in the 6-year old division. They scored a winning 9.16 points in the preliminary round and 8.7 for gold in the Finals. The judges praised Astrix for his "very elegant, lightfooted and expressive trot" (9.6). The walk was "regular, ground covering and relaxed" (9.2). The canter had a "clear spring, good ground cover but the collection could improve" (8.8). They believe that Astrix' "bending had to improve" (submission 7.4) and because of the problems with two flying changes, the general impression was 8.5.
After that Astrix has not been seen in the international show ring.
Where is He Now?
"First and foremorst I would like to say that I had an amazing time with Astrix and his owners at the World Championships and the successes we achieved with Astrix," Emmelie Scholtens told Eurodressage.
After Verden, Astrix went home to Perlee Stables for a few months, but then returned to Scholtens' yard where Emmelie continued to train the horse towards Prix St Georges level. In 2012 Emmelie and the 7-year old competed in three national Prix St Georges level tests and scored over 70%. Those three competitions in 2012 have been his last.
Astrix returned home to Peter Perlee's yard. "Peter wanted to train him to Grand Prix level himself," Scholtens explained. "Last year I had him back in my barn for a while but then you notice that you are no longer truly are a combination. It seemed better to me not to continue."
Owner Peter Perlee added that, "first of all, he is doing really well, he is healthy and fit. Because we really like to have him at home, it is hard to find the right rider. That is the only reason why he hasn't been competed at Grand Prix level."
Photos © Astrid Appels
Related Links
KWPN Offspring Inspection for Cachet, Dorado, Chagall, Don Tango, Astrix
World Young Horse Champion Astrix Licensed for the KWPN Society
Astrix Enables Second World Championship Gold for Scholtens
Astrix Marches to Second Gold and World Champion's Title by Winning 6-Year Old Finals
Astrix Enables Second World Championship Gold for Scholtens
Astrix: Little Star, Big Winner at 2010 World Young Horse Championships