FEI News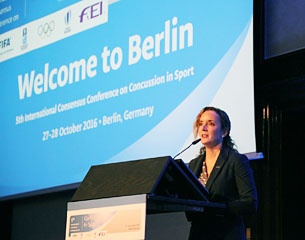 FEI Secretary General Sabrina Ibáñez was one of the leading figures from the international sports world who joined some of the world's foremost medical experts at the fifth International Consensus Conference on Concussion in Sport (ICCCS) in Berlin (GER) last week.
"The FEI is honoured to support the ICCCS and be a part of the debate that will improve athlete safety across the sports world", Sabrina Ibáñez said. "It is essential that there is an increased awareness of the safety issues we face in equestrian and other sports and we owe a big debt of thanks to the scientific communities for the research that will help us improve risk management protocols for athlete safety."
FEI Medical Committee member Allen Sills, who is also member of the ICCCS organising & scientific committees, was one of the panellists for a discussion on what advanced or novel tests could assist in the evaluation of concussion, as well as a debate on the evidence and effectiveness of specific treatment interventions.
The FEI was one of five co-sponsors of the conference, alongside the IOC, FIFA, the International Ice Hockey Federation (IIHF) and World Rugby. IIHF President René Fasel and World Rugby chairman Bill Beaumont also attended.
Dr Mark Aubry, IIHF Chief Medical Officer, opened the two-day conference, stating that the fight against concussions in sport is now at the centre of the player safety debate across the sporting world.
"This whole scientific meeting really brings sport and science together", he said. "The science and expertise delivers the knowledge that we in sport can use, and our athletes can be the beneficiaries of our knowledge. You have all the leading experts in the field of sport concussions under one roof, either in the audience or among the expert panel."
The conference drew over 400 international medical professionals and scientists, as well as representatives from a number of sports, including equestrian, hockey, football and rugby.
The development of the ICCCS has been an evolutionary process since the first conference in 2001 in Vienna and it is now recognised as the foremost scientific conference in this field.
Delegates at last week's conference were shown the latest research about concussions, including the definition of what a concussion is, and presentations about technologies and biomarkers that could aid on-site medical staff to diagnose a concussion near the field of play.
The three major accomplishments of the ICCCS have been the Pocket Concussion Assessment Tool (CRT), the Sport Concussion Assessment Tool, currently in its third version known as SCAT3, and the Child Sport Concussion Assessment Tool (Child-SCAT3). Click here for further information on these three tools.
A Consensus Statement on Concussion in Sport from the Berlin conference will be published in early 2017.
Click here to access the ICCCS website.
Related Links
FEI Joins Other Stakeholders in Concussion Conference
2016 Riders4Helmets International Helmet Awareness Day Draws Attention to Concussion
Fiona Bigwood Hospitalized with Concussion After Fall
FEI Co-sponsors Conference on Concussion in Sport