KWPN Breeding News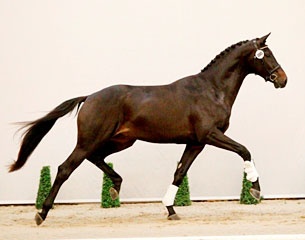 Twenty-two colts received a positive verdict on the second day of pre-selection for the 2017 KWPN Stallion Licensing at the KWPN headquarters in Ermelo, The Netherlands, on 1 December 2017.
The selected colts are eligible to move on to the second phase which takes place at the 2017 KWPN Stallion Licensing in 's Hertogenbosch the first week of February 2017.
While the KWPN stallion licensing committee was impressed by the quality on the first pre-selection day, the pickings were harder on day too. Still they have a green light to 22 colts. 
The offspring of Bordeaux and Apache did best with four and three offspring selected. De Niro, who had a large group in Ermelo present, underwhelmed and only two offspring move on to the second phase.
"We had a few very nice colts but we had to do a few concessions," said Bert Rutten, chair of the licensing committee. "We gave stallions based on their interesting pedigree the benefit of the doubt. Yesterday we had numerous stallions who moved well behind and get uphill in the forehand. Today we didn't see that as much. Also the quality of conformation varied a lot."
The colts selected for the second phase on the second pre-selection day are:
Joyride E.H. (by Ampère x Jazz)
Joker (by Ampère x Jazz)
Johnny Walker V (by Apache x Goldstar)
Jambeau (by Apache x Hitchcock)
Japatsie (by Apache x Flemmingh)
Jaqiedo (by Aqiedo x Jazz)
Jarlando (by Arlando x Goodtimes)
Jameson RS2 (by Zack x Negro)
Jackson (by Zack x Tuschinski)
Jensen (by Zee Me Blue x Hemmingway)
Jimmie Choo (by Bordeaux x Apache)
 Jackstar (by Bordeaux x Negro)
Jupiler (by Bordeaux x Vivaldi)
Jada da Mora (by ordeaux x Painted Black)
Jewel (by hagall xn Tuschinski)
Jamais (by Cover Story x Vivaldi)
Jackson Martinez (by Cupido x Gribaldi)
Destino (by Danciano x Diamond Hit)
Jambo (by Davino V.O.D. x Jazz)
Julian (by De Niro x Gribaldi)
Jefferson P (by De Niro x Florencio)
Just on Time (by Jazz x Negro)
Related Link
Twenty-Three Colts Picked on First Pre-Selection Day for 2017 KWPN Stallion Licensing