2016 CDI-W Salzburg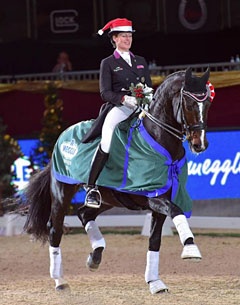 For Bernadette Brune the 2016 CDI-W Salzburg on 9 - 11 December 2016 became a memorable show as the German B-squad rider and her Oldenburg licensed stallion Spirit of the Age OLD bagged a sensational double victory in the Special tour at the Austrian indoor World Cup qualifier.
Brune has been juggling many jobs as of late. Not only did she just move her entire horse stock from Domaine Equestre des Grands Pins in Vidauban, France, to her newly built, state-of-the art and almost ready equestrian facility Gestüt Brune in Westerstede, Germany, where she will be better located at the centre of horse sport and breeding. She also switched trainers, seeking out help from German assistant team trainer Jonny Hilberath, who seemed to have unlocked a new performance level in the pair.
At the 2016 CDI-W Salzburg, Brune and the 12-year old Spirit of the Age OLD (by Stedinger x Donnerhall) won the Grand Prix for Special with 70.880% in a field of eight competitors. She topped that performance with a winning, personal best score of 72.647% in the Grand Prix Special.
"Spirit was exceptional in Salzburg," said Brune who is beaming with excitement. "He was really going for it and was not at all nervous. In the Grand Prix I was a bit too eager for the changes, so I had mistakes in both lines, but in the special I was more careful and had no mistakes. He felt so great. It felt like we were one. In the last piaffe I thought he started to fly! Wow, that was a great sensation."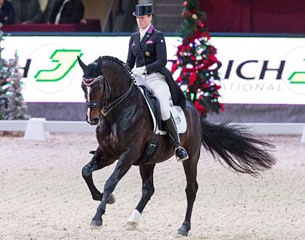 Bernadette proudly added that judge Stephen Clarke came up to her and said, "you had that look in your eye like today I am going to make it happen! I could just relax, sit back and enjoy judging that ride."
With Gestüt Brune in its last construction phase, a few details are still missing at her yard, but Bernadette knows how to work around the challenges. "Right before Salzburg everything was frozen at home as we still have no doors in the indoor, so I could only work on a circle for a week," she joked. "I concentrated on piaffe-passage and the result showed in the ring!"
Two weeks before Salzburg, Brune and her stallion competed at the CDI Oldenburg, where they already proved form with a 69.060% in the Grand Prix and third place finish in the Kur with 74.550%.
"He was pretty good in the freestyle in Oldenburg, but my trainer was not satisfied," Brune admitted. "He said 'you have the potential to do so much more, at home you show it and on the show you sell yourself short'. That gave me a big kick mentally. I tried to prepare myself differently by not thinking 'I hope I'll be good enough,' but by telling myself 'I will show him what I am capable of'."
For the past six months, Bernadette has been training with Jonny Hilberath and she is already reaping the fruits from that labour. She has been driving to Hilberath's yard every second week.
"It was a big change for me, but it is exactly what I was looking for," Brune stated. "He understands the horses so well and works with the right mechanic of the horse. It is not so much about the tricks, but more about the gymnastic of the horse. Once the horse and rider are in balance and the horse is really loose and supple, everything becomes easy. "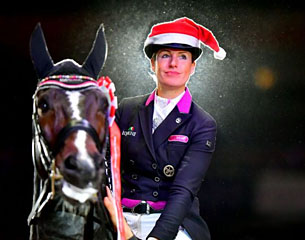 Brune was originally an international show jumper before a major back injury forced her to move out of the fast line and opt for dressage instead.
"Jonny has changed my riding completely. Although I am still struggling a lot with my back and often can't sleep from pain, he made me sit better. He helped me with all my horses and they are all going much better," Bernadette admitted. "He also helped me a lot mentally. His experience of how things go and happen, helps me to understand the dressage world better and it gives me confidence. Also, he knows exactly how to put the athlete under pressure, so they give 200%. I am so grateful that I have the privilege to train with him. He is so highly professional."
Bernadette attributes her recent improvement and score increase to these numerous factors: a new trainer, new techniques, less long-distance traveling for the horses now that she is based in Germany as well as her consistent and unperturbed dedication to development, growth and improvement in horse training and management.
"Spirit gained a lot of strength during the summer. Jonny taught me a new way to ride the piaffe just after Rio. In the last competitions he was a bit confused between the old and the new way. At shows I wasn't always able to show all the new things we learnt. We had many good moments, but then mistakes. In Darmstadt we had a very secure show. In Zakrzow unfortunately Jonny caught a bad flu so couldn't come and I was unsure again. In Oldenburg it started to show that we have things right now. I also do a lot of natural horsemanship with Spirit and together with Andrea Schmitz we are working on his fear for loud music and sounds. That has helped him incredibly to relax in the test. In Oldenburg in the Grand Prix I was a bit surprised that he was too relaxed but on the second day I knew how to work with it. In Salzburg he didn't care anymore about the surroundings."
Four years ago, Bernadette acquired the L-level competed Spirit of the Age OLD as a sales horse at the 2012 Oldenburg Spring Elite Auction in Vechta, Germany. At the time she was based in Vidauban and riding at small tour level with a bigger focus on sales than her own active competition career.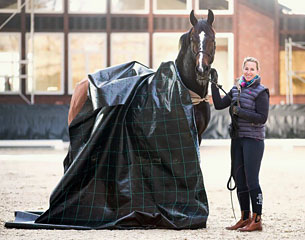 "I tried him one minute and a half. I did one half pass, which was horrible, one change which was very short and he was not very comfortable," Brune reminisced about trying out Spirit at the auction. "But he was beautiful and easy to ride. I told my life partner the budget I was willing to spend on him, but at auction he sold for almost twice when my partner raised his hand for the final bid. I told him, 'are you crazy? I'm never going to able to sell him', but he remained calm and told me that Spirit would be the horse of my life! Six weeks later we won our first international together."
With the 2017 show season rapidly approaching, Bernadette has set 75% as benchmark for the new year. She would love to compete at the CDI's in Doha and New York and has recently developed a new freestyle which she will ride at the World Cup qualifiers.
"A dream would be to get into the A-team in Germany, but that is only a dream. We have so many good riders," said Bernadette. "I will bring out my young ones who are getting ready for the Grand Prix tour: Di Magic, Diary Dream and Deborah. Also Lights is fit again after his injury at Rotterdam, so I will be doing a lot of riding in 2017." 
Photos © Rainer Dill - Michael Graf - Daniel Kaiser - private
Related Links
Scores: 2016 CDI-W Salzburg
Bernadette Brune on Spirit of the Age OLD, Her Once in a Lifetime Horse 
Bernadette Brune and Lights of Londonderry Crack 70% on International Show Debut at 2016 CDI Nice