KWPN Breeding News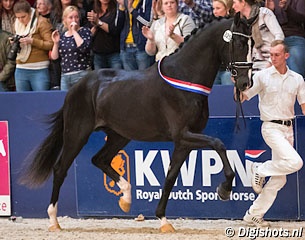 Jameson RS2 became the champion of the 2017 KWPN Stallion Licensing which concluded on Saturday afternoon 4 February 2017 at the Brabanthallen in 's Hertogenbosch, The Netherlands.
The second dressage day at the 2017 KWPN Stallion Licensing led to the committee accepting a further group of stallions for the upcoming stallion performance testings, a mandatory phase for stallions to achieve full KWPN licensing. The total amount of colts was brought to 38 accepted after two days of licensing.
Seven stallions were invited to the premium ring to battle it out for the champion's title. The black Jameson (by Zack out of keur mare Atilinda M (by Negro x Krack C) was proclaimed the champion of the year. He is bred by Willeke Bos and was acquired in utero by Saskia Lemmens and her husband Jacques of RS2 Dressage centre at the Prinsjesdag Foal Auction almost three years ago.
"Jameson RS2 has a fantastic canter, a great capacity to extend and collect and lots of self-carriage and balance in movement," said Bert Rutten, the chair of the stallion selection committee.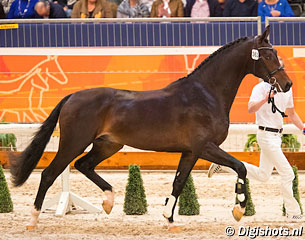 Jironn L (by Charmeur x Rubin Royal) was named reserve champion. He is bred by renowned KWPn breeder Jan Lamers.
Jewel (by Ferdinand x Santano), bred by Stud Farm De Hoeve VOF, ranked third in the premium ring.  Fourth place went to Jambeau (by Apache x Hitchcock), fifth to Jureno (by Negro x Johnson), sixth to Just Wimphof (by De Niro x Riccione) and seventh was Jackpot (by Ferdeaux x Metall).
A total of 38 stallions has been invited for the performance test. "We have selected very clearly on hind leg use. And also in the context of blood distribution we have been able to invite a lot of very interesting stallions for the performance test. We look forward to it," Rutten added.
At the KWPN Select Sale, the auction following the licensing, the top priced stallion was the licensed but non-premium stallion Jerez (by Vivaldi x Ferro) which sold for 160,000 euro to Dutch duo Eric Koele and Eugene Reesink.  Andreas Helgstrand acquired Jetlag (by Fellini x Florencio) for 150,000 euro.  Helgstrand also acquired Jack Sparrow (by Expression x Vivaldi) behind the scenes. The stallion was not accepted by the KWPN society, but members of the Oldenburg society accepted him straight away for Oldenburg breeding in Den Bosch. Helgstrand is also taking home Jambeau (by Apache x Hitchcock) after a private sale.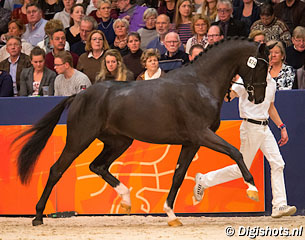 Many owners bought their own stallions back in the KWPN Select Sale. The reserve licensing champion Jironn L was bought back by his owners for 100,000 euro. Leunis van Lieren also bought back his Jim Bean (by Capri Sonne Jr) for 70,000 euro. Russian Nataliya Bronnikova of Kartsevo stud acquired Jewel Star (by El Capone x Krack C) for 84,000 euro. Russian junior rider Anna Guseynova purchased Just Mickey (by Lord Leatherdale x Negro) for 70,000 euro. 
Photos © Digishots
The approved stallions are: 
Jameson (by Zack x Negro)
Jironn L (by Charmeur x Rubin Royal)
Jewel (by Ferdinand x Santano)
Jambeau (by Apache x Hitchcock)
Jureno (by Negro x Johnson)
Just Wimphof (by De Niro x Riccione)
Jackpot (by Ferdeaux x Metall)
Joyride E.H. (by Ampere x Jazz)
Jaqiedo (by Aqiedo x Jazz)
Jupiter (by Bon Bravour x Flemmingh)
Jimmie Choo (by Bordeaux x Apache)
Jada da Mora (by Bordeaux x Painted Black)
Jim Beam (by Capri Sonne x Labo)
Joyrider (by Charmeur x Hotline)
Destino (by Danciano x Diamond Hit)
Jitterbug (by De Niro x Santano)
Jefferson P (by De Niro x Florencio)
Jesperado KM (by Desperado x Wynton)
Jansen (by Desperado x Fidertanz
nn (by Easy Game x Summertime)
Jewel Star (by El Capone x Krack C)
Jacky Ickx Texel (by Enzo Ferrari x Jazz)
Jumeaux (by Ferdeaux x Jazz)
Jerveaux (by Ferdeaux x Jazz)
Jakarta LE (by Fiver Star x San Remo)
Ferrero VDB (by For Romance x Don Crusador)
n.n. (by Gandhi x Don Vino)
Jackson STH (by JOhnson x Fidertanz)
Just Mickey (by Lord Leatherdale x Negro)
Jooop TC (by Ravel x Krack C)
Jalabert ASD (by Rousseau x Apache)
Jazzuan SVN (by Sezuan x Jazz)
Justum DBG (by Sezuan x De Niro)
Jayden HB (by United x Uphill)
Jonkheer ter Kwincke (by Uthopia x UB40)
Jerez (by Vivaldi x Ferroà
n.n. (by Zhivago x Locato)
n.n. (by Quasar de Charry x Londonderry)
Related Links
Twenty-One Colts Accepted for Performance Test at 2017 KWPN Stallion Licensing 
Valverde Drops Out of 2017 KWPN Licensing Process
2017 KWPN Select Sale Boasting Strong Collection, Priding Itself in Health and Customer Care