Danish Dressage News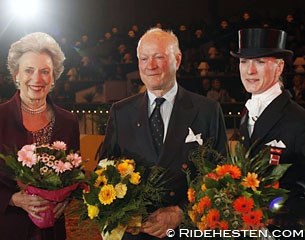 Prince Richard of Sayn-Wittgenstein-Berleburg, the father of Danish Olympian Nathalie zu Sayn-Wittgenstein and husband to Princess Benedikte of Denmark, has died unexpectedly at age 82 on 13 March 2017.
The Danish Royal Court announced the sad news this afternoon. Their statement read that, "His Highness died suddenly at the castle Berleburg yesterday evening, Monday 13 March. Her Royal Highness Princess Benedikte has travelled back home to Berleburg Tuesday morning after a short stay in Denmark."
HRH Prince Richard Casimir Karl August Robert Konstantin was the 6th Prince of Sayn-Wittgenstein-Berleburg. He was born 29 October 1934 in Giessen, Germany and had been the head of the House of Sayn-Wittgenstein-Berleburg since the death of his father in 1969. He is the husband of Princess Benedikte of Denmark, the younger sister of Queen Margrethe II of Denmark.
Princess Benedikte (72) was in Denmark on official duty, for the opening of the Copenhagen International School and a meeting with the Girl Scout's Confederation in Copenhagen. She also attended the 2017 Danish Warmblood Stallion Licensing in Herning on the weekend. 
Prince Richard lived at the family castle, Schloss Berleburg, in Germany. Together with Benedikte he had three children, Gustav, Alexandra and Nathalie.
Related Links
Nathalie zu Sayn-Wittgenstein To Focus on Consistent, Fair Dressage Training in Denmark
Nathalie Zu Sayn-Wittgenstein Claims Second National Grand Prix Title
Princess Benedikte Honoured at 2008 Danish Stallion Licensing
Princess Zu Sayn Wittgenstein on a Draught Horse at 2005 DWB Licensing in Herning
Nathalie zu Sayn-Wittgenstein's Rigoletto Passed Away
Nathalie Zu Sayn-Wittgenstein, 2002 Danish Champion, First Royal Dressage Champion Ever
Benedicte Stine Olsen, the Princess' Groom, On Gaffa Tape, Golf Carts and Metal Hook Thingies
HRH Princess Benedikte Vies for FEI Presidency
Princess Benedikte of Denmark, Patron of the 2005 FEI/PSI Freestyle Forum