2017 Van Olst Sales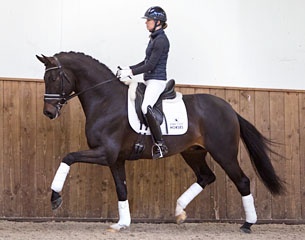 The licensed stallion Fireball (by Furstenball x San Remo) became the price highlight of the 2017 Van Olst Sales which took place in Den Hout, The Netherlands, on Friday 14 April.
The NRPS licensed Fireball, bred by H. Kolen, sold for 155,000 euro to a foreign investor, who will keep the horse in training at Van Olst. The same client also purchased the NRPS licensed Jason (by Johnson x Negro) for 110,000 euro.
Everdale (by Lord Leatherdale x Negro) provided a popular sire at the Van Olst sales with his offspring selling well. Joint Venture VE (by Everdale x Tenerife) sold for 96,000 euro. The 4-year old IBOP tested elite mare Icacia Peternella (by Everdale x Vivaldi) switched owners for 66,000 euro, while Jeno-rijk (by Everdale x Tolando) sold to Russia for 40,000 euro. The same price was paid for the NRPS licensed stallion Extra (by Everdale x Havidoff).
The 3-year old gelding O'Neill H (by Everdale x Donnerhall) sold for 36,000 euro. The 3-year old ster mare Just Me (by Everdale x Riverman) switched owners for 36,000 euro. 
The 2018 Van Olst Sales have been scheduled for next year's Easter weekend on Friday 30 March 2018. 
Related Links
2017 Van Olst Stallion Show: Breeding is a Collaboration between Stallion Owner and Breeder
2017 Van Olst Sales: Talented Youngsters For All Budgets
2017 Van Olst Sales Include Top Scoring IBOP Mares
2017 Van Olst Sales Boasts Diverse Collection of Talented Young Sport Horses
2017 Van Olst Sales Includes Licensed Stallions and IBOP Tested Mares
Save the Date: 2017 Van Olst Sales on 14 April 2017