British Breeding News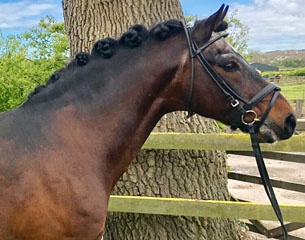 Godrics Stud in England is celebrating as their foundation pony stallion, Caesar 171, shows continual success through the offspring he has produced, as the British Dressage Pony Selectors have no less than four Caesar 171 progeny in the long list, out of eleven ponies selected for this summer's European Pony Championships.
Caesar 171, who celebrated his 28th birthday on 25 April 2017, was brought to the UK for Victoria Malloy to campaign for Pony Team trials and has represented Great Britain himself internationally and at the European Championships securing a Silver and Bronze medal with his team. Samantha Brown then secured the ride on the older Caesar as a schoolmaster. Caesar was officially retired from competition in 2008 after giving Samantha exposure to her first Premier League competitions. Samantha then went on to ride of Becky Moody's 'Kwadraat' where in 2009 this GB combination were the Best British combination at their debut European Championships. Samantha credit's her experience on the "legend" Caesar 171 as the grounding of her success.
In 2011 Caesar came out of retirement to show with Samantha at the Hartpury Stallion parade where he was a crowd favourite in his 22nd year. He returned again Ridden at the Northern Stallion showcase in 2013 and has since been officially retired at home during the Godrics Stud Stallion and Open day 2015, where Philippa Cole of the Sports Pony Studbook Society presented Caesar 171 with the Dancer medal for recognition of his British Bred progeny successes in 2014.
Caesar 171 also had progeny performing prominently during the last few weeks, with three of his offspring competing at Joosland, Holland and doing so very well for their riders. This week sees three competing in the CDI Saumur, France, as they gain valuable experience internationally and campaign for European Team places.
Caesar also has a new coming of age crop to look forward to with the young dressage star Giorgio Carlos Catleugh and his pony Godrics Coppelia working their way up the levels as his new ride, following his successes on his two fledgling ponies - Holmfarm Night Owl and Oakville Cream Cracker. Giorgio is mentored and coached by Samantha Brown and she is really looking forward to see this combination progress. "It is so great to be involved from the very beginning and then to find such talented riders for our ponies and help produce those to the best of their abilities."
Graded Sports Pony Studbook Stallion Godrics Campeggio with his then 14 year old rider, Anna Burns progressed down the showjumping route with Anna completing her pony years winning the Pony 1.10m Grand Prix. Last year Anna enjoyed progressing his training with an impressive win in the down and out class at our charity event against horses with a 1.40m spread. Campeggio was then sent to Stallion AI Services for collection to meet international client demands before he partners with his new rider this year.
Beverley Brown, Director of Godrics Stud said: "We have been very lucky having great riders for our ponies. LE Chiffre began his career in FEI just on his 6th birthday with Chloe Vell before making his debut European team with long term partner Lara Kuropatwa - seeing them both finish as the highest placed British rider at the Europeans 2016 in Vilhelmsborg, Denmark."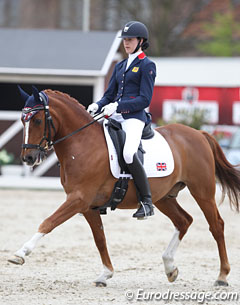 Charlotte McDowall (15) from Highleadon, Gloucestershire is on the long list with Samantha Brown's LE Chiffre (chestnut, gelding, 14hh, 10yrs, s. Caesar 171. Charlotte took over the ride in November last year following Lara and Peanut's swan song at the British Dressage National Convention. So despite only being a partnership for a short time they have really begun to develop and hitting the 70% + mark regularly in training and competition. A great season ahead for this combination as they develop further.
Joining Charlotte and LE Chiffre in Saumur this week are; Jessie Kirby (13) from Wallingford, Oxfordshire is on the list with Charlotte Dujardin's Cruz III (chestnut, gelding, 14.1hh, 8yrs, s. Caesar 171) and Sophie Williams (14) from Denbigh, Denbighshire with Kate Williams' Ella BS (grey, mare, 14.2hh, 8yrs, s. Caesar 171)
Another rider competing in Saumur is Sophie Taylor who rides Madams Miss Maria, owned by Becky Moody. Sophie purchased George Clooney BS from Julie Lockey and is progressing up the levels to FEI pony level / medium classes. Julie Lockey of Bramley Stud in Huddersfield is an avid supporter of Caesar 171 and she has used Caesar for a long time. George is also full brother to Sophie Williams' ride Ella. 
Clare Hole (15) from Bury St Edmunds, Suffolk is on the long list with Elizabeth Rawlingson's Rosewater I Claudius (chestnut, gelding, 13.3hh, 11yrs, s. Caesar 171)
In 2015 Bathleyhills Sea Wurzel was Novice Restricted Champion at the Winter Championships and with a new rider now is looking to return to the arena.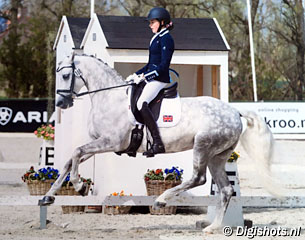 With a number of progeny of Ridden age are also competing in the showing world and in Eventing. Elaine Hack's Sonnenstrahl ridden by Lena Proctor has really showed his abilities and with a string of successes continues to impress the judges under his talented young rider. He was a Winner Pony Club Dengie Winter League Regional Finals 2017; qualified British Eventing JAS Finals 2016 at 90cm and 1m; successfully competing British Eventing at 90cm and 100cm; qualified Pony Club Championships Show Jumping 2016; competing HOYS Working Hunter tracks; NSEA Schools SJ Qualified 90cm finals at Windsor 2016 and 2017; team winner NSEA National Plate SJ 2016; qualified NSEA National Finals SJ at Bury Farm 2016 and 2017.
It is phenomenal to see that Caesar really can enhance the qualities of the mares as he passes on his cadence, expression and a super canter, coupled with a great temperament. His progeny show great diversity, noted at the World Championships when Germany's Heiner Lehrter and the Caesar 171 son "Cholin S" won the Team Gold in Driving for handicapped drivers, and individual Bronze for handicapped drivers. They were also German Champions in 2006.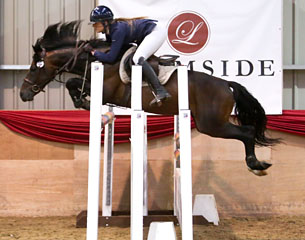 Godrics Stud aims to produce top performance ponies with a small selection of top quality young stock from foal to ridden for sale. Excitedly Godrics Stud has for sale LE Chiffre's full brother, a two year old, and a super prospect from LE Chiffre's Dam by Swedish European Team pony Danger 36, a yearling of great quality that impressed the Oldenburg Verband when presented last year. All Godrics Stud foals received Premium status and were very well received by the judging commission given the Stud has some of the best bloodlines in pony breeding.
Danger 36 and Godrics Campeggio, another Caesar 171 son are currently standing at Stallion AI Services in Shropshire.
For more information, visit www.godricsstud.com
Text by Abby Newell - Photos © Kevin Sparrow - Digishots - Astrid Appels
Related Links
Godrics Stud Celebrates Success of Caesar 171 Progeny
British Youth Rider Samantha Brown Combines Dressage and Breeding at Leamside Equestrian