American Dressage News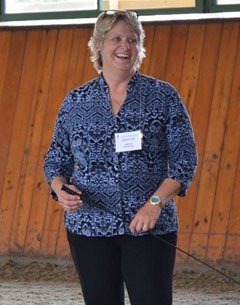 The United States Dressage Federation (USDF) announced that the 2017 USDF Sport Horse Seminar will be held August 5-6, at Iron Springs Farm in Coatesville, PA, with USEF 'S' and DSHB 'R' Judges Kristi Wysocki and Susan Mandas.
Comprised of both classroom lecture portions and hands-on evaluations, the sessions will provide valuable insight into four major areas; ideal movement and conformation of a sport horse, considerations when selecting breeding stock, show ring strategies, and competition rules and judging guidelines. Both instructors have a long list of judging credentials, and will each impart their vast knowledge in this personalized format.
Upon completion of this seminar, attendees will be able to spot the qualities desired in a sport horse and understand how to rate those qualities, which are essential tools for breeders, riders, trainers, and judges, as well as potential owners. Additionally, this seminar will serve as a prerequisite for becoming a USEF-licensed dressage/sport horse breeding judge.
Registration for the 2017 USDF Sport Horse Seminar will open through July 1, with late registration being accepted through July 21. For more information about the USDF Sport Horse Seminar, or other sport horse offerings, contact the USDF office at sporthorse@usdf.org, or call (859) 971-2277.
In May USDF is also hosting the 2017 USDF Sport Horse Prospect Development Forum. The forum, featuring presenters Michael Bragdell and Willy Arts, will be held May 13-14 at Isabella Farms in Cypress, TX.
USDF Sport Horse Prospect Development Forums are intended for all individuals with the goal of developing a consistent training foundation for sport horse prospects, and to bridge the gap as horses progress from in-hand to under-saddle, and eventual competition.
Riders selected to participate in the 2017 USDF Sport Horse Prospect Development Forum are Cynthia Hall (Sovereign WS, Churchill WS), Katelyn Kok (Carevaggio), Regina Milliken (Oliveira, Ricardo), Erika West Danique (Lucca), Marta Renilla (Senor Rubinstein), John Mason (Ion SWF), Bonnie Canter (Shakira) and Erin Bell-Altman (I Rose's Bloom). 
Related Links
Arts and Bragdell to Present the 2017 USDF Sport Horse Prospect Development Forum
U.S. Judge Kristi Wysocki Reports On FEI Judges' Course at 2011 CDI-W London
USDF to Host New Youth Outreach Clinics for Grassroots Youth Riders