Italian Dressage News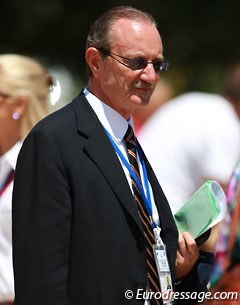 The Italian Equestrian Federation has decided to drop the lawsuit and all charges against Italian judge Enzo Truppa and his Monferrato Equestrian Centre for breach of contract after the sale of Eremo del Castegno. The two parties reached a settlement outside the court.
In December 2015 Enzo Truppa sold his daughter Valentina's number one Grand Prix horse Eremo del Castegno to the Brazilian millionaire Dr. Jorge da Rocha as his 2016 Olympic hopeful. By selling the horse Truppa broke the contract he had with FISE to keep the horse until the 2016 Olympic Games. Between 2012 and 2015 Truppa got 70,000 euro per year from FISE (30% of the federation's yearly budget for dressage) to preserve Eremo for Italy as an Olympic candidate. By 2015 Truppa had received 280,000 euro to keep Eremo and qualify for the 2016 Rio Olympics, which Valentina did, but the horse was not to be sold. Truppa motivated his sale of the horse in writing to the federation by stating that the horse no longer had optimal fitness.
FISE sued Truppa for breach of contract and suspended him from all his official positions as well as from travelling to Rio to coach his daughter Valentina there.  Enzo appealed the 4-month suspension but lost and was fined 10,000 euro by the FISE Federal Tribunal. He appealed two more times and lost each time. He even went up to CONI, the court of arbitration of the Italian Olympic Committee, but lost there too. 
It came as no surprise that the lawsuit was dropped and a settlement reached between FISE and Truppa. In January 2017 the Italian Equestrian Federation elected a new president, Marco di Paola, a candidate which Enzo publicly supported. Di Paoli succeeded ad-interim president Orlandi, who got elected after three commissioners of CONI were appointed to clean up the Italian Equestrian Federation after a major corruption scandal, i.e. 9 million euro was "misplaced" during the reign of previous FISE president Andrea Paulgross. 
On 22 May 2017 the FISE board members announced the dropping of the lawsuit.  The official motivation about FISE's decision reads: "After having obtained the opinion of law firm Donativi, in order to evaluate the opportunity to resolve the dispute amicably, evidence was presented for a bad outcome for both parties. So in the interest of the federation and its members a settlement was reached in which both parties dropped the charges made in court."
The specifics of the settlement were not released.
Photo © Astrid Appels
Related Links
Cesare Croce Appointed New Italian Dressage Co-ordinator
Truppa Loses Third Appeal Against FISE
Enzo Truppa's Students Not Available for 2017 Italian Team Selection
Enzo Truppa Suspended with Immediate Effect, Not Allowed to Coach in Rio
Enzo Truppa Loses Appeal and Gets Suspended by FISE Federal Tribunal
FISE Sues Truppa for the Sale of Eremo del Castegno