Australian Dressage News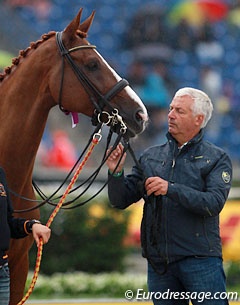 More than a week after Ton de Ridder made public that he will not be renewing his position as Technical Advisor for Australian Dressage, the equestrian federation of Australia (Equestrian Australia) has issued a statement.
Mismanagement and a lack of communication concerning the 2016 Australian Olympic team selection (especially the positive controlled medication test of Sue Hearn's Remmington prior to the Olympics) and the team selection for the 2017 World Young Horse Championships were amongst the breaking points for De Ridder's decision to step down.
Equestrian Australia sent out the following statement on 27 July 2017:
Equestrian Australia's (EA) Europe based Dressage coach, trainer and technical advisor Ton de Ridder has confirmed his decision to leave his post after almost eight years.
Ton de Ridder first started delivering clinics in Australia for the National Squads in October 2009 and was Australia's National Team/Squad Trainer for Dressage. He was Dressage Coach at the World Equestrian Games in Kentucky in 2010 and held that coaching role at all major championships that followed including the 2012 London Olympics, 2014 World Equestrian Games in Normandy and the Rio Olympics last year.
He also acted as Technical Advisor for Australia's dressage program in Europe.
"We accept and understand Ton's decision and want to express our sincere thanks for his contribution," said EA's High Performance Director Chris Webb. "He is well respected by the riders and has made a significant impact on the development of Australian riders and their performances in the European dressage scene. Both EA and the riders that Ton has worked closely with over many years are saddened by his decision to stand down but at the same time we are very grateful for what he has done during his tenure.
Dressage in Australia is moving in a new direction. In April this year the Equestrian Australia Dressage Committee, led by Prue Spurrett, announced plans to establish a new programme to enhance the development of the popular discipline
Plans are underway for the formation of an independent Dressage High Performance Panel that will work closely with EA's National High-Performance Director to ensure alignment of communication, planning campaigns and management of teams for WEG and major international events and provide support and back-up for National Selectors.  The Dressage High Performance Panel will also engage support personnel to advise and support Australian Dressage riders both domestically and internationally
The recruitment process for a volunteer Dressage Chef D'Equipe/Administrator is currently underway. The successful candidate will also be a member of the Dressage High Performance Panel. 
Photo © Astrid Appels
Related Link
Australian Federation and Dressage Team Captain Ton de Ridder Part Ways 
Sue Hearn's Remmington Tests Positive to Controlled Medication 
Australian Horses Selected for 2017 World Young Horse Championships