2017 Klosterhof Medingen Auction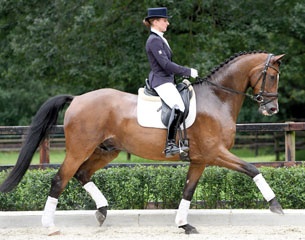 The 6-year old Danish warmblood Amazing Boy (by Don Romantic x Michellino x Märchenprinz) became the price highlight of the 2017 Elite Sport Horse auction held at Burkhard Wahler's Klosterhof in Medingen, Germany, on 23 September 2017.
Bred by Stine Ahm and Filip Kristensen in Denmark, the bay gelding was originally named Amazing Billy Boy F.S. and competed in Denmark in 2015 by Line Hougaard Host Johansen and Lone Bang Larsen. Via the Medingen auction he now sold to a sponsor of Finnish Grand Prix rider Emma Kanerva for 250,000 euro. 
The second most expensive horse was Donovan a licensed Oldenburg stallion by De Niro x Pik Noir. He sold for 245,000 euro. 
Dibaba (by Don Index x ) sold to an unidentified Grand Prix rider for 150,000 euro, while Dave Brubeck (by De Niro) sold to the U.S.A. for 120,000 euro. Canadian buyers acquired Faitful Rose (by Fidertanz) for 100,000 euro.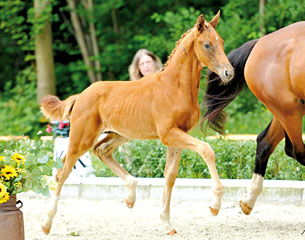 The most expensive foal in the collection was the sunning chestnut colt Buster Keaton (by Borsalino x Furst Wettin) which sold for 56,000 euro to Danish Grand Prix team rider Anna Zibrandtsen. 
Luxembourg clients paid 25,000 euro for Billy Ray (by Borsalino x De Niro), while Canadians bought Bond (by Borsalino x De Niro) for 20,000 euro. A Swedish customer purchased Bon Boniro (by Borsalino x Bonifatius) for 18,000 euro. 
The most expensive filly was Herzbeben (by Helium x Christ) who sold to a local client for 35,000 euro.  Quintessa (by Quantensprung x De Niro), fetched 27,000 Euro, while Quintus Antonius (by Quantensprung – Wolkentanz), sold for 18,000 euro to Hamburg. The Balkenhol family acquired the filly Quaterline (by Quantensprung x Lord Sinclair).
Nineteen sport horses and 40 foals were auctioned at the 2017 Klosterhof Medingen auction. They scored for an average price of 74,000 euro and 13,700 euro.