British Dressage News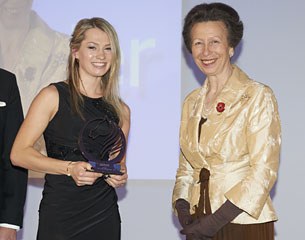 The annual AHT UK Equestrian Awards brought together British and equestrian royalty as they hosted the 2017 event at The London Marriott Hotel Grosvenor Square on Tuesday 31 October 2017.
AHT's long standing President and avid horse enthusiast, HRH The Princess Royal, welcomed professional riders, leading equine vets and horse welfare specialists to this year's special anniversary event. The Trust's work over the last 75 years has aimed at improving the health and welfare of all equines, from elite competition horses to beloved family ponies. The event was the perfect forum to celebrate the Trust's vital research into equine infectious diseases and injuries, which has supported many of the guests present, ensuring the good health of horses today and in the future. In particular, the Princess highlighted some of the charity's greatest achievements – including the pioneering use of MRI for animals, huge steps forward in treating skin cancers in horses, and the Trust's contribution to our Olympic and Paralympic teams in keeping their equine athletes safe and in the best form.
This event is not only a wonderful exhibition of equestrian excellence, but is an essential fundraiser for the AHT to continue its work for benefit of dogs, cats and horses. Every penny of profit made or raised by the AHT is reinvested into their industry-leading science and care for animals.
2017 winners with a dressage background were:
Harvey Spack Field Dressage Award for Michel Assouline

Record breaking Para Team Trainer Michel Assouline - Michel has been a fundamental part of the team's success over the last 12 years. During this time Britain has been unbeaten on the international stage and winning an incredible 121 medals in total, including 64 gold, 44 silver and 13 bronze. Michel became the UK Para-Equestrian Dressage Team Coach in 2005 and has led Team GBR riders to win Team Gold medals at six European Championships, three World Equestrian Games and three Paralympic Games between 2005 and 2017. In Rio last year, the team returned with a total of seven gold and four silver medals in all their classes contested, which was a record breaking result for our para riders.
Charlotte Fry Wins Under 25 Star of the Future Award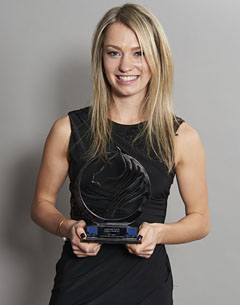 A young lady who is going places in dressage, Charlotte Fry - In 2016 Charlotte took up the opportunity of a life time to be based in the Netherlands with iconic breeding stud and producers, Van Olst Horses and it has propelled her career to a new height. Her riding skill has evolved and she has been given some high profile rides at prestigious competitions, where she has more than held her own against dressage's top names. In August, she travelled to the World Breeding Championships in Ermelo with three horses for the Van Olsts including one of the sport's most promising young stallions, Everdale. She won the Prix St Georges and finished second in the Inter I in the 'Stallion of the Year' section.
Animal Health Trust Special Award for Lady Harris

With this award, the Animal Health Trust wants to thank Lady Harris for her tireless commitment to the health and welfare of animals. In 2014 she volunteered to chair the Committee for this very event, where she helmed the event for a very successful three years - in 2016 alone raising over £130,000 for the AHT.
"We'd like to thank everyone who attended the evening, bid online for an auction lot, or sponsored one of our awards," says Director of Fundraising Kevin Clements. "You support is greatly appreciated – the dogs, cats and horses we help can't thank you themselves, but we can! We look forward to the next 75 years in action."
Related Links
Charlotte Fry and Dark Legend Rise to the Top at 2017 CDI Roosendaal
Michel Assouline, 2000 French Dressage Champion
Hexagons Ollright Passed Away
Dane Rawlins Declares for Ireland