Westfalian Breeding News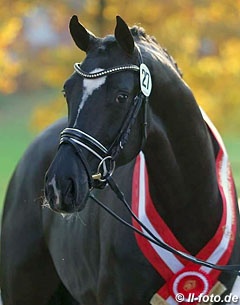 Fashion in Black (by For Romance x Lauries Crusador xx) became the champion of the 2017 Westfalian Stallion Licensing in Munster-Handorf on 19 - 22 November 2017. Twenty-four stallions out of a collection of 44 dressage colts were licensed, 10 of them were named premium.
From the start on the hard surface, through the lunging phase and the freedom phase, Fashion in Black (by For Romance x Lauries Crusador xx x Donnerhall) bred by Matthias Böckermann was a favourite of the public. The Westfalian Licensing committee, which includes Theo Lohmann, Michael Settertobulte, Heinrich Plaas-Beisemann, Gerd Könemann and Wilen Treu, proclaimed him champion of the licensing. Fashion in Black is owned by Wilhelm Holkenbrink and was not for sale. 
Dutch breeders did excellent business in Westfalen with two premium dressage stallions bred in The Netherlands. The reserve licensing champion was the black Arcachon (by Apache x Hotline x Sunny Boy), bred in Holland by Tonny Aan de Stegge. The Dutch amateur breeder has experienced a dream year. In 2015 he bred only two foals - Kaiser Milton and the for him nameless Apache son. The former became the Trakehner Licensing Champion, the latter the Westfalian reserve champion. Presented at the licensing by Thomas Berger, he was ranked second in the premium ring and sold for 140,000 euro to  Gestut Fohlenhof in Rhineland Pfalz, who named the colt Arcachon.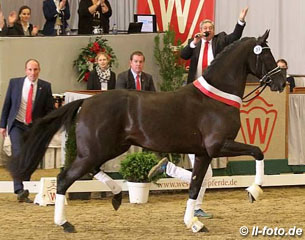 Burkhard Wahler, who is still hoping to see his 320,000 euro back after returning Kaiser Milton, the Trakehner licensing champion, for lameness, is spending money in Munster-Handorf. He also bought the third ranked premium stallion, an Escolar x Conello x Carpaccio, bred by Silvia Palster and owned by Gestut Sprehe. Wahler paid 185,000 euro.
The majority of the seven other premium stallions sold for excellent prices at the auction. The undoubted price highlight was Gestut Sprehe's Maracana (by Millennium x Lord Loxley), bred by Heike and Werner Pleines. Sprehe had bought the black as a foal named Martindale at the 2015 Westfalian Spring Elite Foal auction for 26,000 euro. Now at the licensing he sold for 700,000 euro to Gestut Bonhomme, which has now acquired barn competition for their own the Oldenburg licensing champion Morricone (by Millennium x Rubin Royal) as both stallions are quite similar in type and both expressive movers.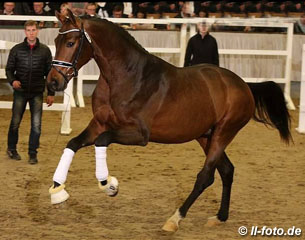 Westfalian stallion owner Matthieu Beckmann had golden times happening in Munster this year. He is listed as the owner of two premium stallions. His Furst Samarant (by For Romance x Furst Nymphenburg), which Christa and Ludger Welling bred, sold for a whopping 400,000 euro.
The other premium stallions  were Matthieu Beckmann's Benicio x Dancier x Weltmeyer, bred by Madonna Hedberg. This colt sold for 170,000 euro to the Warendorf State Stud. Kerstin Klieber's Flanell x Laurentio x De Niro, bred Johannes Toennies, sold for 120,000 euro to Australia.  Marianne Böckenhoff's Florstan x Jazz sold for 87,000 euro, and Helmut von Fircks' Follow Me x Sir Donnerhall I, which was bred by Urs and Barbara Schweizer. He found a new owner from Bavaria for 180,000 euro.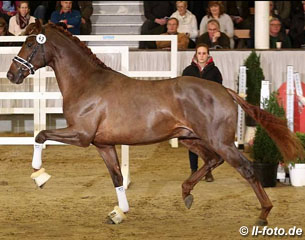 The tenth premium stallion was Helen Langehanenberg and Wilhelm Berning's liver chestnut pocket rocket by Vitalis x Johnson x Houston. Bred in The Netherlands by Wim ten Pas and KWPN registered, this 163 cm standing colt was not for sale. Langehanenberg has named the stallion Tesla, but it is not yet sure if it will stay that one as the German tradition is that names have to start with the first letter of the sire, V in this case.
With five colts accepted for the licensing, the KWPN bred Goldberg (by Amazing Star x San Remo) was the top producer at the 2017 Westfalian licensing. Two were accepted, two rejected and one was a no-show. One of the licensed ones was Golden Globe. Bred by Christian Becks and owned by his daughter Jil-Marielle becks, Golden Globe is by Goldberg out of the Bundeschampion mare Damon's Delorgange (by Damon Hill x Rubin Royal).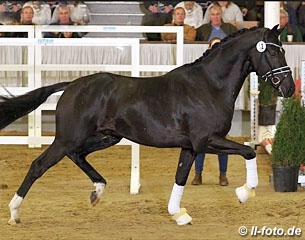 The most expensive non-premium stallion at auction was the black Vitalis x Dancier, bred by Franz Olbring and owned by FK Sport Horses. He sold for 200,000 euro to the U.S.A.
The average price for a licensed stallion was 115,828 euro. Ten non-licensed stallions were auctioned and they sold for an average price of 25,800 euro
Photos © LL-foto
Related Links
Valverde, Champion of the 2016 Westfalian Stallion Licensing
D'Egalite, Champion of the 2015 Westfalian Stallion Licensing 
Borsalino, Champion of the 2014 Westfalian Stallion Licensing
Rock For Me, Champion of the 2013 Westfalian Stallion Licensing
Like A Diamond, Champion of the 2012 Westfalian Stallion Licensing
Dubrovnik, Champion of the 2011 Westfalian Stallion Licensing
A La Carte, Champion of the 2010 Westfalian Stallion Licensing
Silbermond, Champion of the 2009 Westfalian Stallion Licensing
Flanagan, Champion of the 2008 Westfalian Stallion Licensing
Coronas, Champion of the 2007 Westfalian Stallion Licensing
Estobar NRW, 2006 Westfalian Licensing Champion
Cornado 2005 Westfalian Licensing Champion
Fidertanz, 2004 Westfalian Licensing Champion
Dancing Dynamite, 2003 Westfalian Licensing Champion
Rosencharmeur, the 2002 Westfalian Stallion Licensing Champion
Don Bedo, 1998 Westfalian Stallion Licensing Champion