2017 CDI-PJYR Aachen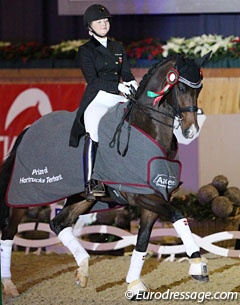 Junior rider Karoline Rohmann and young rider Paulina Holzknecht became the overall winners in their age division after three days of competition at the 2017 CDI-PJYR Aachen on 23 - 26 November 2017. The brand new Aachen Youngstar Indoor competition drew out a mixed field of home side competitors and other European rivals.
Danish junior rider team member Karoline Rohmann was the measure of all in her division winning all three classes aboard the 10-year old Danish mare Noosa Melody (by Don Romantic x Schwadroneur). She scored 72.838% in the team test, 72.368% in the individual test and 74.625% in the Kur to Music. 
"I'm so proud and honored to have a horse like Noosa Melody," said an ecstatic Rohmann. "I'm super happy. The entire show was very well organized. It is so nice here. If they allow me, I'd love to come back next year."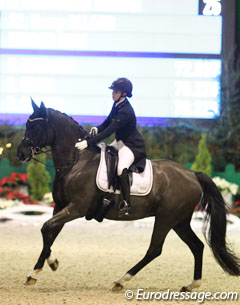 Rohmann twice had German Junior Champion Romy Allard on her heels. Allard and the 8-year old Oldenburg mare Summer Rose (by Sir Diamond x Rubinstein) was second in the team test (71.216%), sixth in the individual (69.430%) and second in the Kur (73.375%). Allard is trained by young rider Anna Christina Abbelen. Russian Anna Guseynova placed second in the individual test with 70.658% but was unfortunately unable to keep a consistent form throughout the weekend despite respectable scores.  Trained by Adelinde Cornelissen in The Netherlands, Anna was 9th in the team test with 68.874% and 11th in the Kur with 69.083%. Luxembourg's Emma Lou Becca and the 13-year old Hanoverian Komet (by K2 x Wolkentanz) certainly found their groove in Aachen and were third thrice with 70.225%, 70.395%and 73.042%. Becca is coached by Fie Skarsoe.
In the young riders division the overall victory went to 19-year old German Paulina Holzknecht who jumped ahead of country mate Alexa Westendarp by winning the Kur to Music after placing second in the team and individual test. Aboard her 2015 European Junior Championship medal winning horse Wells Fargo, a 14-year old Hanoverian gelding by Welser x Fabriano, she scored 72.149%, 73.289% and a winning 77.750% for their freestyle.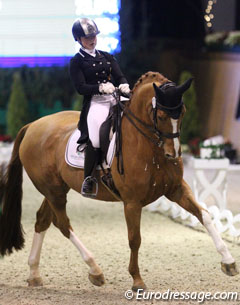 "We wish each other the best and will toast with a glass of sparkling wine," Holzknecht said about her rival Westendarp. "I'm already in love with this show. It is truly cool."
Alexa Westendarp and her 10-year old Hanoverian Der Prinz (by Diamond Hit x Davignon) won the team test with 73.070%, and the individual test with 73.596%, but landed second place in the freestyle with 76.292%. Switzerland based Grecian Theodora Livanos and her 14-year old Dutch warmblood gelding Winston (by OO Seven x Cocktail) proved consistency and was third three times with solid scored of 71.228%; 70.921%, 74.542%.
Photos © Astrid Appels - NO REPRODUCTION ALLOWED
Eurodressage was on the scene taking photos. If you are interested in ordering prints or digital files for Facebook/instagram, please send us your name and we will mail you the proofs of the photos for you to choose from.
Related Links
Scores 2017 CDI-PJYR Aachen 
Treffinger and Top Queen H on Song at 2017 CDI-PJYR Aachen