2017-2018 KWPN Stallion Competition Circuit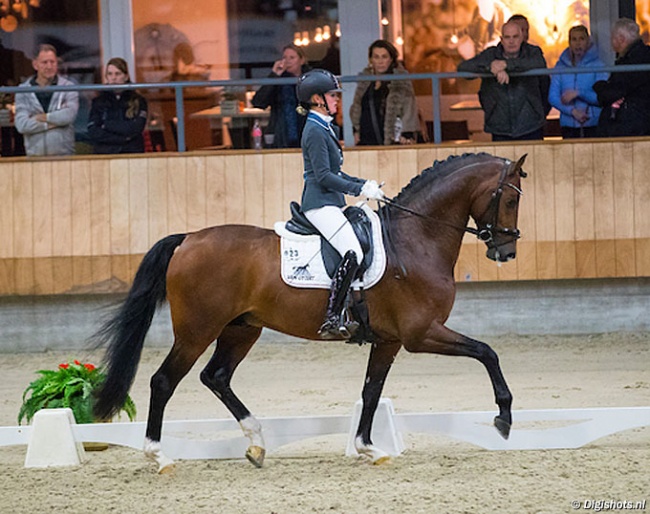 The rising 5-year olds In Style and Imposantos, the rising 6-year old Total U.S. and the rising 7-year old Giovanni won the third and final qualification leg of the KWPN Stallion Competition circuit held in Zuidbroek, The Netherlands, on 2 January 2018. The classes were judged by Monique Peutz and Gert van den Hoorn.
At L-level two stallions shared the victory with 85 points: In Style and Imposantos. Renate van Vliet steered Joop van Uytert's In Style (by Eye Catcher x Lorentin) to a winning score earning 8,5 for his gaits, rideability and potential. Van Vliet trains her horses with Diederik van Silfhout and Edward Gal. Bart Veeze and the black Imposantos (by Wynton x Krack C) finished on the same point total. Diederik van Silfhout and Paul Schockemohle's Oldenburg bred Furst Jazz (by Furst Romancier x Painted Black) landed third place with 84 points. The winner of the second leg, Indian Rock (by UB40) was absent from the third qualifier.
At M-level division for 5 year olds who just turned 6 as of 2018, Dinja van Liere dominated the pack aboard Paul Schockemohle and Joop van Uytert's German bred Total U.S (by Totilas x Sir Donnerhall). She scored 90 points for the victory. The black stallion scored 9 for walk, harmony and potential. The trot earned 9.5. Adelinde Cornelissen and the Gelderlander bred Henkie (by Alexandro P x Upperville) were the runners-up with 86 points. 
Only two horses have been competed in the Z-level division. In Zuidbroek the winner of the first leg was back on top: Franka Loos on Giovanni (by Chippendale x Scandic). They scored 82 points and were just a fraction ahead of Dana van Lierop on Gunner KS (by Belissimo M x Vincent) with 81 points.
The 2018 KWPN Stallion Competition Finals will be held at the 2018 KWPN Stallion Licensing in 's Hertogenbosch on 2 February 2018.
Photo © Digishots
Results - 2018 KWPN Stallion Competition qualifier - Zuidbroek
L-level
1. Renate van  Vliet - In Style (by Eye Catcher x Lorentin) - 85
1. Bart Veeze - Imposantos (by Wynton x Krack C) - 85
3. Diederik van Silfhout - Furst Jazz (by Furst Romancier x Painted Black)  - 84
4. Joyce Lenaerts - Iconic B (by Bon Bravour x Jazz) - 84
5. Charlotte Fry - Inclusive (by Everdale x Uptown) - 82
6. Femke de Laat - Intro K (by Apache x Rousseau) - 82
7. Moisis Jover Azuar - Imagine (by Chippendale x Jazz) - 80
8. Hans Peter Minderhoud - Dettori (by Desperado x De Niro) - 80
9. Diederik van Silfhout - Impression (by Don Schufro x Ferro) - 79
9. Danique Janssen - Indigro (by Negro x Jazz) - 79
11. Hans Peter Minderhoud - Incognito (by Davino VOD x Vivaldi) - 77
11. Franka Loos - Inverness (by Everdale x Johnson) - 77
13. Nicky Snijder - I'm Perfect (by Zack x Fidertanz) - 76
14. Benjamin Maljaars - Inspire (by Everdale x Don Romantic) - 75
15. Carlijn Vaessen - Invershin (by Charmeur x Balzflug) - 73
16. Marjan Hooge - Hoogadel (by Hofrat x Del Piero) - 71
M-level
1. Dinja van Liere - Total U.S. (by Totilas x Sir Donnerhall) - 90
2. Adelinde Cornelissen - Henkie (by Alexandro P x Upperville) - 86
3. Dinja van Liere - Hermes (by Easy Game x Flemmingh) - 84
4. Kirsten Beckers - Habanna (by Vivaldo x Van Gogh) - 83
5. Kirsten Brouwer - Hummer (by Westpoint x Farrington) - 82
6. Remy Bastings - Hennessy (by De Niro x Jazz) - 79
6. Diederik van Silfhout - Hometown (by Apache x Ferro) - 79
8. Bart Veeze - Daily Diamond (by Daily Deal x Furst Heinrich) - 78
9. Laura Zwart - Bright's Hero SB (by Bright Speed x Samber) - 71
Z-level
1. Franka Loos - Giovanni (by Chippendale x Scandic) - 82
2. Dana van Lierop - Gunner KS (by Belissimo M x Vincent) - 81
Related Links
Intro K, Henkie, Gunner KS Win Second Leg of 2017-2018 KWPN Stallion Competition in Kronenberg
Indian Rock, Total U.S, Giovanni Win First Leg of 2017-2018 KWPN Stallion Competition in Ermelo