2018 World Cup Finals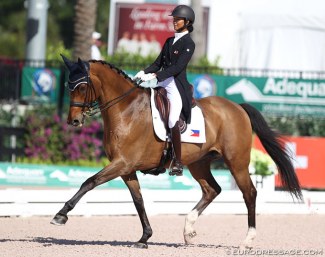 The Philippines' equestrian federation confirmed that their sole Grand Prix rider Ellesse Tzinberg has received the second of two extra starting places available to compete at the 2018 World Cup Finals in Paris, France, on 13 - 14 April 2018. 
Aside from the title defender, 9 Western European League riders, 2 Central European League riders, 1 Pacific league rider and 1 non-league rider, the FEI keeps two "extra starting places" open of which one is allocated to a rider of the host nation, for Paris that will be French Ludovic Henry (who scored 36 WEL ranking points). 
The FEI has notified Ellesse Tzinberg that she has received the second and last starting place for Paris yesterday.  
Ellesse has been campaigning the 18-year old Dutch warmblood gelding Triviant (by Olivi x Saluut) in Wellington, Florida. She scored CDI-W kur marks of 69.425%, 67.000%, 65.950% in Wellington, and got 70.125% at the CDI-W Saugerties earlier in September. 
Domiciled in Wellington, Florida, and riding for the Philippines, Tzinberg competed in the North American League but was not ranked, as she is considered a non-league rider.
She was allocated the starting place based on FEI Rule 5.2.1: "Permanently domiciled athletes who qualify in the League where they are domiciled (Art. 8, max one extra starting place)."
Tzingberg Elated
"My country is going crazy! This is a first time in history," an elated Tzinberg told Eurodressage. "I found out from FEI last night and burst into tears! I can't believe we did it! I am so grateful the FEI is giving us this opportunity. This is such a shock to us since I've been zoning in focusing on qualifying for WEG! We just need one more score to qualify, but, wow, is this a huge achievement! This is the confidence boost we needed to push through to fight for weg! Philippines is determined to join more world class events. "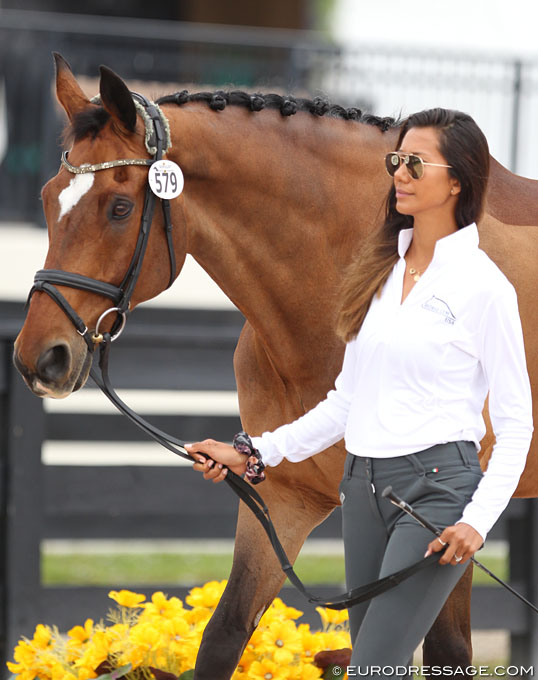 Tzingberg had applied for the extra starting place but it was a nail-biter until the announcement. "The FEI did a press conference on denbosch and mentioned it was a very close call who would take the final spot," she explained. "People were messaging me from Holland all excited for me but I was too scared to get my hopes up and then get let down."
Arbitrary Allocation of Starting Places?
The last extra starting place was highly debated as the World Number 3, Cathrine Dufour, had applied for that "wild card" after winning the Western European League qualifiers in Herning (85.945%) and Gothenburg (88.200%) and scoring 40 points on the ranking. She was denied the place. Another route to go was to select the first reserve on the Western European League (Morgan Barbançon) but she was not chosen.
The FEI's 'Extra Starting Place" system, also called wild cards, but the FEU renamed them into "additional invites" or "extra starting places," raises eyebrows year after year as the allocation of the spots might seem done clearly by rules, but the final pick often appears arbitrary.  See the related articles below.
Remarkably, both Ludovic Henry and Ellesse Tzinberg received confirmation through their national federation that they have received the extra starting place for the World Cup Finals. The FEI, however, tells Eurodressage that "it is still too early to say who will qualify for the extra starting places - we'll let you know as soon as we have the info."
Photos © Astrid Appels
Related Links
Wild Wild Card
Four Wild Cards Distributed, Entry Field Still Changing for 2015 World Cup Finals
Jebsen Receives 2013 World Cup Finals' Wild Card, Fortmuller By-Passed
No Las Vegas 2009 Wild Card for Salinero, Western European Qualificants Known
Janssen to Find a Way for Anky to Compete Salinero in Las Vegas
Clarification Concerning 2006 World Cup Wild Cards
No 2004 World Cup Finals' Wild Card for Ulla Salzgeber
Confusion About Wild Cards 2003 World Cup Finals