2018 CDI Alter do Chao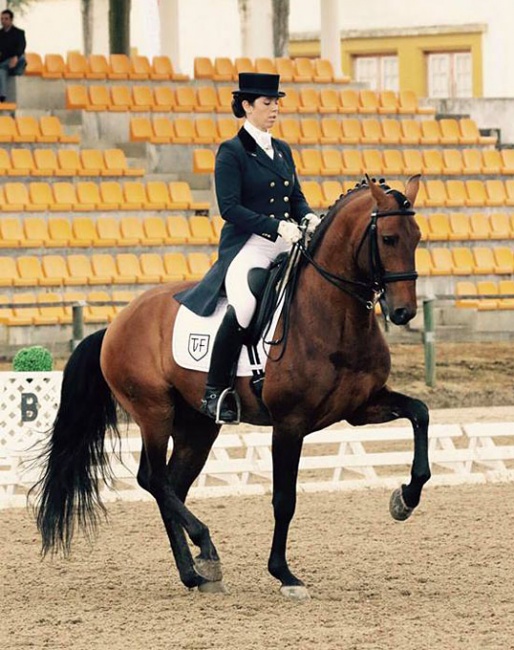 The days that Iberian bred dressage horses were the piaffe stars with lesser basic gaits in the international Grand Prix ring are over. More and more Portuguese bred Lusitanos are captivating the crowds and judges with their spectacular movements in all three gaits and innate talent for piaffe and passage. Grand Prix rider Maria Pais do Amaral and her husband Rodrigo Torres are competing rising Grand Prix stars in 2018.
Lusitanos Take the Spotlight
At the 2017 European Dressage Championships in Gothenburg, Sweden, the Portuguese dressage team stunned the audience with outstanding, classical dressage riding on highly gifted Portuguese bred Lusitanos. The judges have been enthusiastically rewarding these combinations with top marks and the major gap in quality between traditional warmbloods bred in Germany, Holland, or Scandinavia and the Iberian stars is fading!
Modern Lusitano breeding aims for ground cover in the gaits, a superb talent for the collected gaits, as well as great rideability for both professionals and amateur dressage riders. Portuguese Grand Prix rider Maria Pais do Amaral can attest to this fantastic trend in Lusitano horse breeding and competition. 
"The Lusitano breed has had a very positive evolution in the last ten years, regarding breeding horses that will be competitive on the international dressage scene," Amaral explained. "Improved gaits, increased strength, and a taller size have been variables which have been added to this breed's highlights, while keeping their talent for collection and rideability. Some breeders have been working for years to achieve it, and the results are finally here. A growing number of powerful and competitive lusitanos are showing already on the international scene with good results"
Amaral praises the rideability and character of the Lusitanos.  While some older Lusitano lines can still deliver too much hotness, the conscientious Lusitano breeder that picks the right lines produces horses that are gifted for the upper level work, yet not too hectic and sensitive to ride. 
"While gaits have improved, rideability and talent for collected work haven't been lost, and remained the breed's high points," said Maria. "Lusitanos are horses with high rideability, demonstrating great cooperation with riders, as they have hard working and brave characters. I believe the breed is well integrated in the sport, and the potential of the lusitano for dressage is increasingly recognized."
Grand Prix Stars in the Pipeline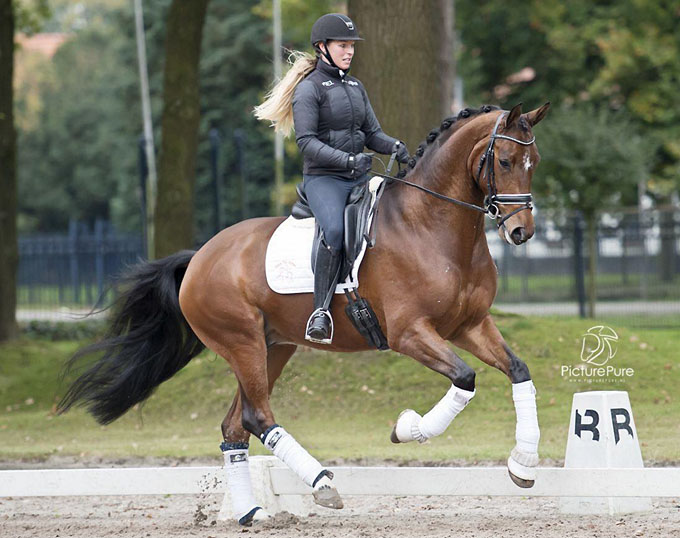 The 30-year old Maria Pais do Amaral and Grand Prix rider Rodrigo Torres are training and competing a number of high quality dressage prospects. They train and compete horses bred by Rodrigo's studfarm – Coudelaria Torres Vaz Freire – as well as high quality warmbloods which are acquired in partnership with German horse dealer Jochen Arl. The partnership has been fruitful, having acquired and trained high-quality warmbloods, which have been sold successfully throughout the years.
In March Amaral and Arl sold the up and coming small tour horse, 8-year old Danish warmblood gelding Gronskovlunds Romeeo, to Akiko Yamazaki in the U.S.A.
Arl recently scouted and purchased the 6-year old Dutch warmblood gelding Highlander (by Zhivago x Gribaldi x Ulft) in The Netherlands and further secured another rising Grand Prix talent in Germany for Maria to ride.
"Highlander is working well and we are starting to get to know each other and build a partnership," said Maria. "For me his main quality is his strength and ability to collect. He has three good gaits and is an energetic horse. I'm very excited to start our journey together."
Maria is currently competing her young super talent Fidalgo TVF, an 8-year old licensed Lusitano stallion by Rico out of Abetarda (by Raja), bred by Coudelaria Torres Vaz Freire. The pair made its international debut in 2017 at CDI Abrantes in 7 year old horses test, achieving scores over 76%. They won after that the Portuguese Small Tour Champion's title later that year. As Fidalgo is brimming with Grand Prix talent, Maria has decided to make the jump to the highest level this year. 
Early this year they debuted at Grand Prix level at the nationa CDN Alfezeirão, having scored promising results of 72,7%.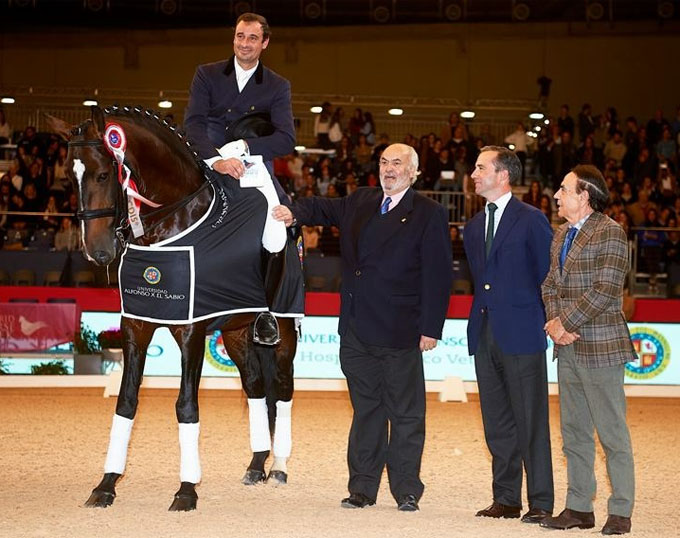 "Fidalgo is a young lusitano stallion just starting his Grand Prix career. He is still green in the ring. However he is already showing potential, especially in movements such as passage, piaffe and pirouettes. I believe he has a great progression margin, as he gives me already wonderful feelings in his work and in the Grand Prix exercises. He is only just starting to compete."
The horse's talent has already sparked interest from buyers, but the owners have for now postponed a sale as Maria wants to compete him at Grand Prix level this year.
Maria and Rodrigo's barn is filled with talented Grand Prix horses. Alongside Fidalgo, the couple also owns the Lusitano licensed and confirmed Grand Prix stallion Califa II (by Raja x Habil). Rodrigo and Califa II won the Grand Prix at the CDI Abrantes in June 2017 and the Grand Prix Special at the CDI Lisbon last September. At their last CDI together in Madrid, they put 72.275% on the board and finished third.
Lately Maria and Rodrigo debuted two Grand Prix horses – Fidalgo and Fogoso - at international show CDI Alter-do Chão, having landed at 1st and 2nd place at the Grand Prix Special. Besides the adverse weather conditions, both horses delivered nice tests, with very positive comments from judges at scene.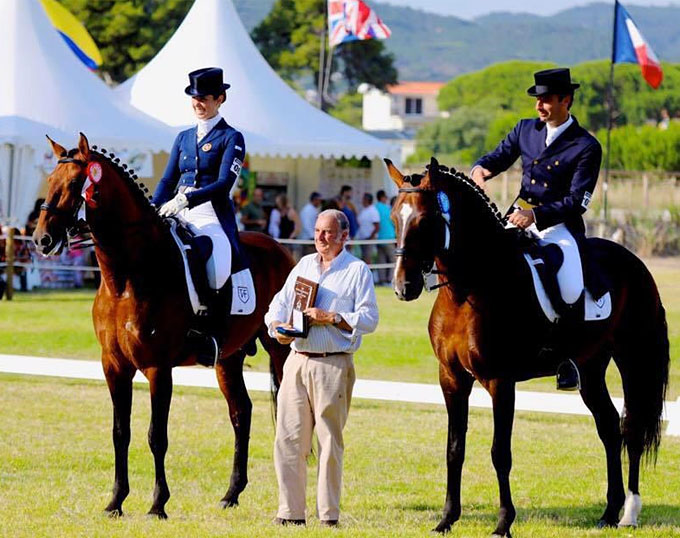 When asked if a WEG team spot is the objective, Maria admitted "A WEG team spot would be the cherry on top of the cake for us. We are working to deliver good results, knowing at the same time, that Fidalgo and Fogoso are young and that we will focus on giving them the time they need."
"We will see how they develop and adjust the plan to their performances and well-being. The Portuguese team has been improving with a growing number of competitive riders, having achieved a strong team 6th place at the Europeans last year. I'm sure Portugal will be able to take yet another strong team to Tryon this year." explained Amaral.
Photos © Aurelio Grilo - Picture Pure
Related Links
Gronskovlunds Romeeo Sold to Akiko Yamazaki
2017 Lisbon International Dressage Show Sets the Bar, First Step towards CDI Series
Three Rising Grand Prix Horses Find Their Way to the U.S.A.