KWPN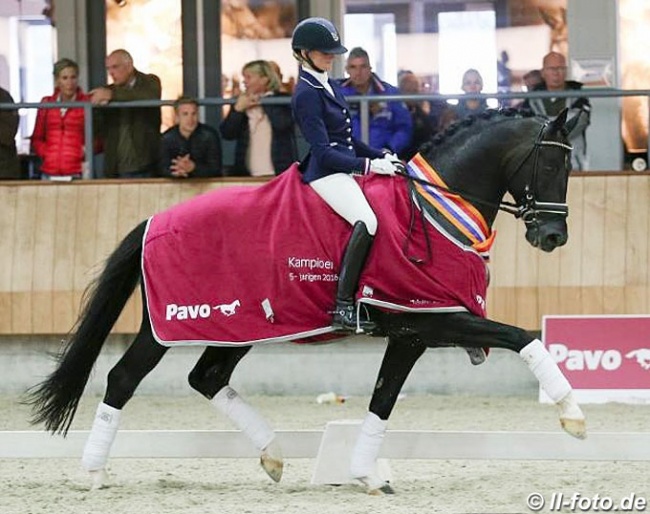 The KWPN society has revealed the statistics of the KWPN registered foal births in The Netherlands in 2017. Remarkably the two most popular dressage breeding stallions in The Netherlands in 2016 were Hanoverian bred!
The Hanoverian stallion Toto Jr was the most used stallion in 2016, resulting in the highest amount of foals born in 2017.
The KWPN society registered 10,500 foals in 2017 of which 4,300 were dressage bred, 5,500 show jumping bred, almost 600 are harness bred and 160 are registered as Gelderlander. 
The black Hanoverian stallion Toto Jr (by Totilas x Desperados) was the most used breeding stallion in 2016 with 369 foals born in 2017.
The second most popular stallion in Holland in 2016 was the Hanoverian Daily Diamond (by Daily Deal x Fürst Heinrich) with 222 KWPN registered foals born in 2017. 
The third ranked stallion is Dream Boy (by Vivaldi x Ferro) with 174 foals born in 2017, followed by Hennessy (by De Niro x Jazz) with 168 foals and Franklin (by Ampere x Ferro) with 141 foals registered.
Ferdeaux (by Bordeaux x Ferro) sired 125 foals and Guardian S (by Bodyguard x Trento B) produced 118 foals.
Seven stallions were able to sire over 101 KWPN registered foals in 2017. Only 12 stallions were able to sire between 51 - 100 foals. Sixteen stallions produced between 11 to 25 foals.  No less than 224 different stallions sired either 1 - 10 foals in 2017.
Photo © LL-foto
Related Links
Glamourdale, Most Popular KWPN Breeding Stallion in 2015
Charmeur Most Popular KWPN Breeding Sire of 2011
Uphill Most Popular KWPN Breeding Stallion of 2009