2018 CDI Aachen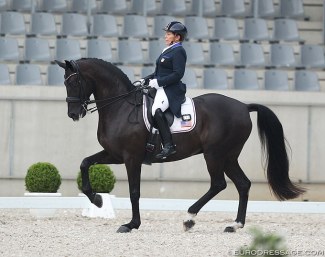 American Shelly Francis and Patricia Stempel's 14-year old Hanoverian gelding Danilo were in front at the 2018 CDI Aachen on Tuesday 29 May 2018 by capturing first place in the Grand Prix for Special in a field of 28 competitors.
The 2018 CDI Aachen is the second of two outdoor CDI competitions hosted at the world famous Aachen show grounds by Renate and Franz Josef Dahmen. The competition circuit is called the "Aachen Dressage Days" but insiders refer to these events as "Small Aachen" as the crowds are lacking, but the conditions are optimal. Dahmen has infused much atmosphere in the dressage show grounds with lots of plants and flower decorations and riders are alll thrilled to compete their rising Grand Prix horses at this top venue.
At their seventh CDI of 2018 collecting miles and more, Francis and Danilo booked their fifth international Grand Prix victory in their career and their first on European soil in Aachen. The Grand Prix for Special was judged by Eisenhardt, Romanov, Verbeek, Stukelj and Holler and they rewarded Francis' ride with 72.261%. Danilo (by De Niro x Andiamo) stands out with his outstanding classical piaffe-passage work and he went through the movements with much routine. The contact with the right rein could still be more elastic so that the gelding closes his mouth more. 
After placing highly on her 2016 Rio Olympic ride Buriel at the 2018 CDIO Compiègne two weeks ago, Swedish Juliette Ramel also made herself count aboard her second Grand Prix horse Wall Street JV, an 11-year old Hanoverin by Wie Weltmeyer. The sporty chestnut moves with much expression and energy, but could be slightly more open in the throat latch. They posted 72.239% for second place.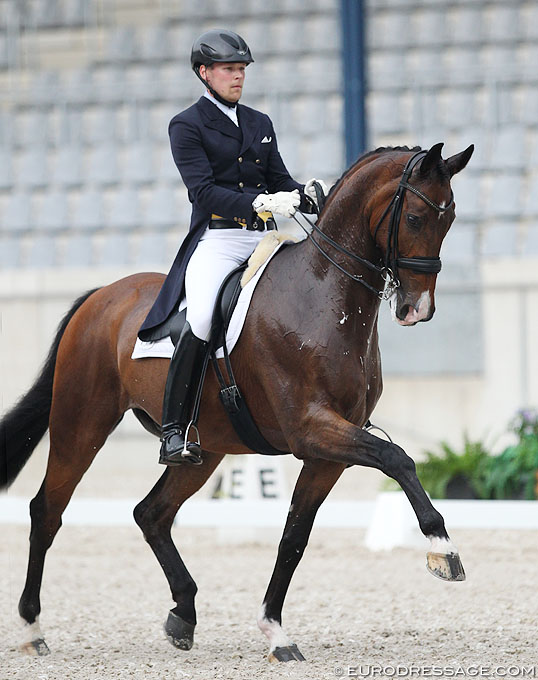 Finnish Henri Ruoste returned to the Aachen Dressage Days for his second CDI aboard his not so young, but brand new Grand Prix horse, 13-year old Hanoverian Roccabar (by Riedinger x Compliment). The very elegant and hot bay gelding looked more settled in the Aachen arena than in April, but was still tight in the neck. The talented pair went on to score 71.457% with marks ranging 68.261% to 74.022%.
Tommie Visser and the 11-year old KWPN gelding Chuppy Checker CL (by Osmium) struggled to find their stride at the CDI Joosland at the beginning of April, but at their third CDI of 2018 in Aachen the pair was on greater form. Visser controlled every movement meticulously but overall the horse needed to be more elastic in the topline and swinging with a forward tendency. They scored a respectable 70.413% for fourth place.
After missing out on the German outdoor season opener in Hagen in April, Anabel Balkenhol and her number one GP horse Heuberger TSF, an 11-year old Trakehner by Imperio x Michelangelo, were back in action. They scored 68.957% to finish fifth and had French Stephanie Brieussel on the 13-year old Dutch warmblood Amorak (by Special D x Inspekteur) right behind her with 69.130%. Now trained by Richard White, the pair showed great improvement and more confidence in the Grand Prix work. 
Belgian dup Fanny Verliefden and the 10-year old Belgian warmblood stallion Indoctro van de Steenblok (by Rubin Royal) also regained their confidence after having to retire from the 2018 CDIO Compiegne in France. The black stallion was extremely spooky there. In Aachen Verliefden had him on her aids and the horse was more up in the bridle. They finished seventh with 68.783%.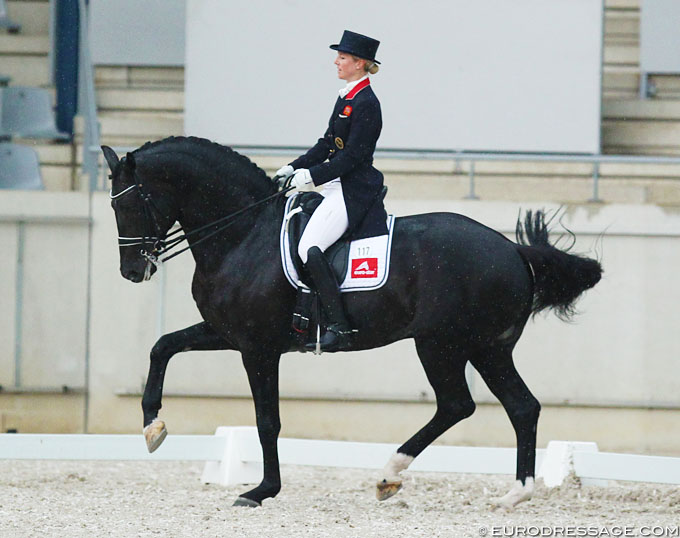 British Laura Tomlinson-Bechtolsheimer made her long awaited CDI come back on the now 11-year old Dutch stallion Capri Sonne JR (by Rhodium x San Remo) after a three year break from competition. Their last start was at small tour level at the 2015 CDIO Hagen. The chunky black stallion, who looks a bit ponesque in the hindquarters, but impressively masculine and stalliony in front, has much cadence in trot but tends to get a bit too passagy in the collected work. The extended walk was brilliant, but in the collected walk he lost elasticity and rhythm. The passage was active and elevated but in piaffe he still gets wide in front. Two big mistakes (a faulty canter strike off and a missed change in the zig zag) pushed the score down. They finished 8th with 68.348%.
Text and Photos © Astrid Appels - No Reproduction Allowed
Eurodressage was on the scene in Compiegne. If you are interested in photos for prints or social media, send us an email
Related Links
Scores: 2018 CDI Aachen
Action Packed Programme with World Elite during 2018 Aachen Dressage Days
Freshman Victory for Henri Ruoste's Roccabar in 2018 CDI Aachen Grand Prix for Kur
Faurie and Dono Di Maggio Blow Away Competition at 2018 CDI Aachen