U.S.A.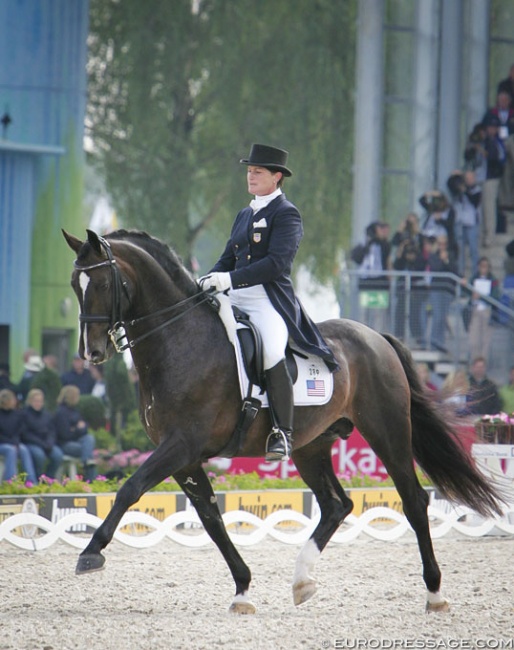 American Grand Prix rider Leslie Morse had to say goodbye to her 2006 WEG team bronze medal winning horse Tip Top. The Swedish warmblood licensed stallion was 24 years old.
Tip Top was euthanized on 31 May 2018 due to testicular cancer. The dark bay stallion was diagnosed with the disease a year ago.
"Tip Top has spent his last seven years watching babies play in the fields, enjoying trail rides, grazing in his pasture, and visiting friends laden with carrots, apples. He loved his well earned retirement after a brilliant and successful career," Leslie Morse told Dressagedaily.
The 1994 born Swedish warmblood stallion was by Master out of Hortensia (by Chagall x Figaro x Sombrero). He was bred by Poul Erik Lang in Sweden.
As a youngster he competed in Sweden under legendary trainer Kyra Kyrklund and was the first horse ever to win the Swedish Young Horse Championships (Breeder's Trophy) three years in a row. As an 8-year old the stallion sold to American Leslie Morse who trained him to Grand Prix level.
Tip Top and Morse made their small tour debut in 2003, won the 2004 U.S. Small Tour Championships. In 2004 he moved to Grand Prix level and his career at top level extended until 2010. 
Their highlight year was 2006: they represented the U.S.A. at the 2006 World Cup Finals in Amsterdam (11th place) and earned bronze at the 2006 World Equestrian Games in Aachen, Germany.
In 2007 they competed at the World Cup Finals in Las Vegas (12th place). In 2009 they became U.S. Grand Prix Champions.  Colic surgery in March 2010 briefly interrupted Tip Top's career but he returned to compete at the 2010 U.S. Dressage Championships and trials for the 2010 World Equestrian Games.
Tip Top was retired from sport in 2011 at age 17.
As a breeding stallion Tip Top left his mark in Sweden. He was fairly popular there as a young licensed stallion with 148 offspring. Most famous of those are Per Duvefelt's internationally competed Edvin, as well as the licensed stallion Trenton and the now disappeared Tellwell, who was internationally competed by Patrik Kittel and Laura Bechtolsheimer.
Read More about Tip Top's life on Dressagedaily.
Photo © Astrid Appels
Related Links
Eurodressage Photo Database: Tip Top
Leslie Morse's Tip Top 962 Retired to Stand at Stud
Leslie Morse's Tip Top Underwent Colic Surgery
The Weather Wins the War at the 2009 U.S. Dressage Championships
Tip Top Wins Grand Prix at 2009 U.S. Grand Prix Dressage Championship
Peters, King and Morse Qualify for U.S. Team to Compete at 2007 World Cup Finals
Euro-Tour of Duty for Leslie Morse and Tip Top
Viva Las Vegas - Leslie Morse and Tip Top Going For for Freestyle!
Leslie Morse, Raising the Bar For 2005
Kyra Kyrklund's Tip Top Sold to Leslie Morse