2018 Spanish Dressage Championships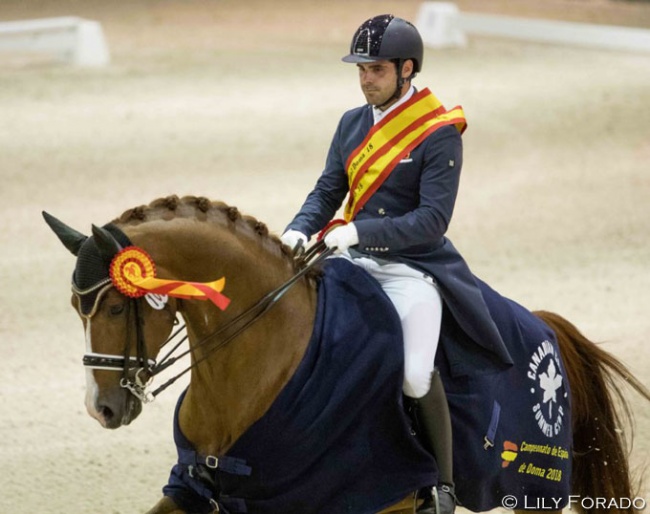 Small tour rider Antonio Laiz Zandio and big tour rider Beatriz Ferrer-Salat became the grand champions and gold medalists at the 2018 Spanish Dressage Championships held at the Amtuna equestrian centre in Castilla y León near Madrid, Spain, on 31 May - 2 June 2018. 
Dutch based Under 25 Grand Prix rider Antonio Laiz Zando has achieved new levels in his career since he was appointed head rider at the Indonesian owned Platinum Stables in Riel, The Netherlands. Laiz Zando got the ride on the World Young Horse Championships medal winning Eye Catcher and with this chestnut stallion he's setting new records in his personal career, starting with the 2018 Spanish Small Tour title. 
Laiz Zandio and Titan Wilaras' 9-year old stallion Eye Catcher (by Vivaldi) was second in the Prix St Georges with 68.353% but won the Intermediaire I (72.382%) as well as the Intermediaire I Kur to Music (73.250%). His overall total of 213.985 points put him on the highest step of the podium, well ahead of the silver and bronze medal winners.
"Eye Catcher has made a lot of progress lately," Laiz Zandio told Eurodressage. "The feeling in the test is getting better and I think there still is a lot more room for improvement. Although he surprised me a bit in the tempi's in the first test, I was very happy the trot part where he really showed his qualities. In the Inter I  we had the communication straight again and we could show a really nice test with highlights in the extended canter and the tempi's. I think until now it was our best test of the season. In the freestyle he repeated his great work from the day before and I can only be very happy with a horse like him."
When asked if he expected to win, Laiz Zandio confirmed it could happen. "I knew that there was a possibility to win gold with a horse like Eye Catcher, but I aimed to ride the best possible test we could do at that very moment, and I think we managed quite well," said Antonio who will now take the stallion to the CDIO Aachen next after which he'll be prepared for Grand Prix.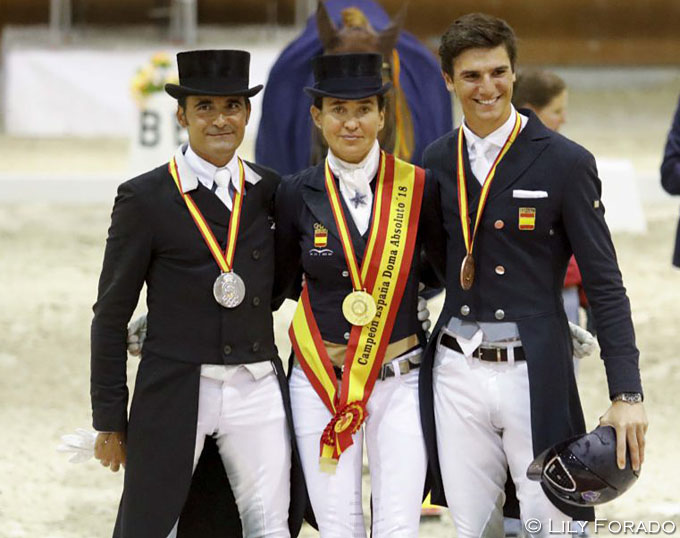 The silver went to Juan de Dios Ramirez Garcia on Antonio Carrillo's 8-year old Hanoverian stallion Quaterback (by Quaterback). The pair won the Prix St Georges with 69.559%, was second in the Inter I (69.853%) and third in the Kur (70.745%). With 210.157 points he placed second overall. Valvanera Palacios Ortuna and the 11-year old Spanish Sport Horse bred Goya A (by Tornado) scored the bronze medal with 206.711 points. She was third in the Prix St Georges (68.029%) and Inter I (69.147%) and fifth in the Kur (69.535%).
Spain's long-time ruling Grand Prix rider Beatriz Ferrer-Salat was a measure of her own at the 2018 Spanish Grand Prix Championships aboard her top horse Delgado, a 17-year old Westfalian by De Niro x Weltmeyer. The pair was unbeatable in all three rounds. They scored 74.022% in the Grand Prix, 74.702% in the Special and 82.425% with their brand new freestyle. With a total of 231.149 points they got the title, the gold medal and stayed miles ahead of all competition. 
"I am so proud of Delgado, I went so well and nice," said a thrilled Beatriz Ferrer-Salat. "I won the Grand Prix with 74,022 %, and even though I expected more, I'm still delighted, because no judge who insists on keeping my score down will be able to delete the feeling of harmony and empathy I have with Delgado. It's wonderful to be able to feel how he delivers and every time he gives me his all."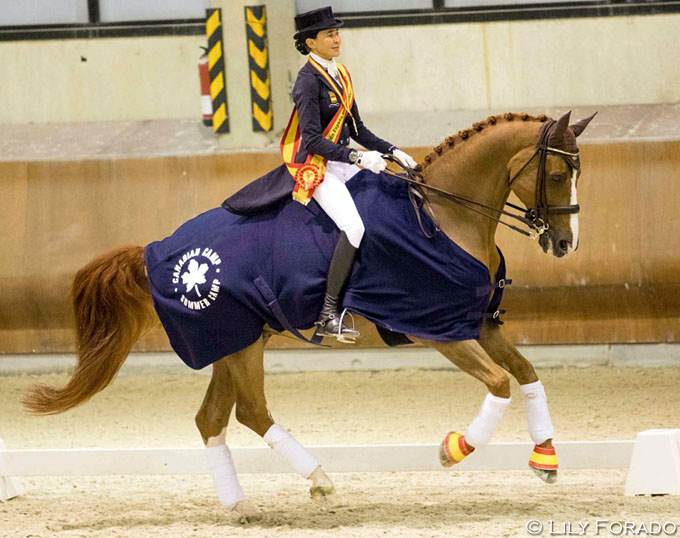 Claudio Castilla Ruiz and his 13-year old chestnut Lusitano stallion Alcaide (by Lobito) were well on their way to earn silver after placing second in the Grand Prix (73.022%) and in the Special (72.617%) but they did not compete in the freestyle as Castilla opted to ride his second horse Icaro MG in the Kur. This opened up room for Jose Antonio Garcia Mena to move into the silver medal position with 218.641 points on Mercedes Freixas' 12-year old Dutch warmblood Benzi Landro (by Olivi x Inspekteur). He was third in the Grand Prix (71.522%), third in the Special (71.234%) and second in the Kur (75.885%).  Wellington, Florida based Spanish Young Rider Juan Matute Guimon captured his first senior Grand Prix medal, a bronze, with Yeguada de Ymas' 12-year old Hanoverian gelding Quantico (by Fighting Fit). The pair was fourth in the Grand Prix (69.674%), fifth in the Special (69.979%), and third in the Kur (75.740%). They totaled 215.393 points.
Photos © Lily Forado
Related Links
Scores 2018 Spanish Dressage Championships
Matute Guimon and Ferrer-Salat Win 2017 Spanish Dressage Championships
Ferrer-Salat Grabs Grand Prix Title at 2016 Spanish Dressage Championships
Carmen Naesgaard Wins 2015 Spanish Grand Prix Championships
Jose Daniel Martin Dockx and Grandioso Win 2014 Spanish Grand Prix Championships
Jose Antonio Garcia Mena and Norte Win 2013 Spanish Grand Prix Championship
Martin Dockx Captures First Grand Prix Title at 2011 Spanish Championships
Beatriz Ferrer-Salat Recaptures National Title at 2010 Spanish Championships
Scores: 2009 Spanish Dressage Championships
Munoz Diaz, 2008 Spanish Grand Prix Dressage Champion
Juan Matute, 2007 Spanish Dressage Champion
Rafael Ortiz, 2006 Spanish Dressage Champion
Jimenez Wins 2005 Spanish Dressage Championships in Home Town